Top Hair Tips
August 16, 2018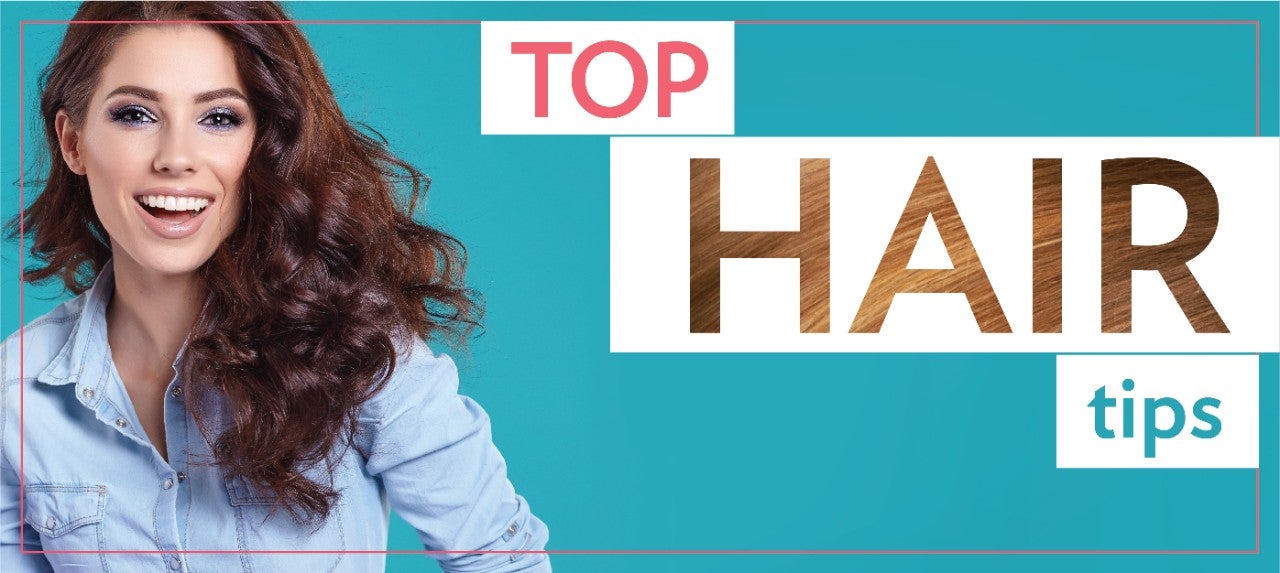 From freezing winter temperatures to bright summer sunlight, your hair takes a beating every day. Your hair also takes a lot of damage from dyeing, highlighting, flat ironing, and curling; it's time to show it some serious love. Remember, regular and consistent care for your hair helps avoid damage, breakage, and thinning.
However, all hair is different. Each one needs its own specific brand of TLC. Here are some simple ways to care for your locks, no matter what type of hair you have.
Straight Hair
Shampoo often. This sounds like a no-brainer, but straight hair actually needs more shampooing than any other hair type. When fine, straight hair becomes oily, it can look limp and greasy. Make sure to use a shampoo that thoroughly cleans without drying out your beautiful straight hair.

Try dry shampoo. Let's be real—we don't always wash our hair as much as we should. If you're in between showers, try spraying on some dry shampoo to soak up some of the oil, sweat, or product buildup. Once you spray it on your roots, massage it through your hair to get rid of that grandma look.

Take it easy on the conditioner. If you have fine, straight hair, it's best to stick with a lighter conditioner. One that is thick and creamy can weigh the hair down and eliminate any volume. Pick a conditioner that is weightless and hydrating for your specific hair type.
Curly or Wavy Hair
Scrunch up with some gel. This might sound a little retro, but gel is actually a great product for curly or wavy hair. Gel can maintain your waves, especially when paired with a creamy hair product. To get rid of any crunchiness, don't touch your hair while it's drying. Once it's dried, fluff it up a bit to get rid of the crunch and add volume.

Stick with hydration. When considering shampoos and conditioners, your goal should be hydration. Pair a hydrating shampoo with a rich, creamy conditioner for a double dose of moisture. Using both will lock in water after you've washed your hair, and will make sure every strand is soft, smooth, and frizz-free.

Don't over-wash your hair. Curly hair doesn't need to be washed as often as straight hair because it's often thicker and naturally drier. Your scalp actually regulates the amount of natural protective oils you have. If you wash it once or twice a week, you'll ensure your hair isn't being stripped of these beneficial oils.
Kinky Hair
Detangle with your fingers. Thick, kinky hair can quickly become damaged from using a hairbrush. To detangle without pulling out or breaking off hair, spray in some leave-in conditioner while your hair is still wet and use your fingers to gently undo any knots or tangles.

Deep condition with a hair mask. Maintaining beautiful kinky hair requires a little extra attention than straight or wavy hair does. A deep-conditioning hair mask can provide your curls with essential nutrients to prevent strands from splitting or breaking off. Use once a week or so, especially after wash day.

Seal with an oil. Sebum, or your hair's natural oil, is important for retaining moisture. Kinky hair can often become dry so it's important to lock in as much moisture as you can. After you style your hair with a cream or gel product, make sure to seal your curls with an oil, such as argan, jojoba, or black castor oil.
Tips for All Hair Types
Avoid hot showers which can dry out your hair. Take warm showers instead.

Drink lots of water to keep skin and hair hydrated.

Protect your natural oils and don't over-wash your hair.

Use a clarifying shampoo every week to remove buildup, oil, and air toxins.

Use a conditioning mask once a week to hydrate and smooth cuticles.

Be gentle if blow drying and always air dry if possible.
With the right products, caring for straight, wavy, curly, or kinky hair doesn't have to be hard. Nu Skin's natural hair care products were created to cleanse and moisturize all hair types, leaving you with gorgeous, healthy locks. Take a look at Nu Skin's hair care line to find the right products for you.
To get the most from your hair care routine, Nu Skin recommends following this hair care chart.