g3 Juice: A Powerful Punch of Superfruit Nutrients in One Delicious Bottle
April 19, 2016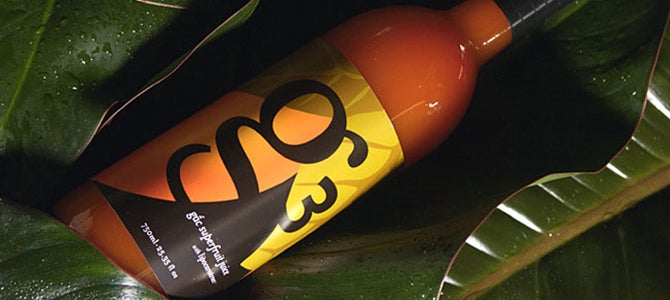 You have probably read a number of articles on the health benefits of fruits and vegetables. However, have you learned how to incorporate the right amount of each into your diet to reap the benefits? Think about your diet from day to day. How well are you meeting the recommended intake of fruits and vegetables? Sometimes we tend to overestimate how well we truly are consuming these beneficial foods. Fruits and vegetables contain a variety of beneficial ingredients including phytonutrients and antioxidants. These ingredients are believed to contribute to some of the known benefits of fruits and vegetables.
According to a survey from the National Health and Nutrition Examination Survey (NHANES), less than 11% of nearly 24,000 individuals achieved the recommended guidelines for both fruit and vegetable consumption [1]? Have you considered where you would you measure up in this study? If you are someone who is currently meeting the minimum guidelines for fruit and veggie intake, you should pat yourself on the back. However, I would encourage you to be aware that you may still be able to improve in terms of the variety, amounts, and types of fruits and veggies you consume. On the other end of the spectrum, if you are one of many who falls short of recommended guidelines, it's important to make a change and take the steps necessary to improved health and wellness. To help you better meet the criteria, continue on for a quick overview of g3. This fantastic fruit juice is unlike anything you've seen at your local market, and is packed with a delicious blend of unique superfruits.
Nu Skin's Search for Fruits Worthy of Superfruit Status
There are a wide variety of nutritious juices on the market to help bridge the gap between the number of fruit and vegetables we regularly consume and the number we should be consuming. Because of the many options available, and an increasing demand for a high-quality juice product, Nu Skin began its search to formulate a potent blend of superfruits containing:
• Extraordinary antioxidant efficacy
• Extraordinary nutritional contents
• Quality of scientific efficacy data
• Impeccable safety data
• History of traditional folklore usage
• Unique fruits
We set out to create something that was unique and different from the typical fruit juices that can easily be obtained in local produce stores. This process involved searching for fruits with extraordinary antioxidant and nutritional content above those presently available. Most importantly we looked for fruits that were backed by good scientific data. We discovered four superfruits that met our scientific criteria: Gâc, Siberian Pineapple, Chinese Lycium, and Cili. There is substantial research on the benefits of these individual superfruits. While each of these ingredients are spectacular in their own right, gâc is one of the most unique and beneficial superfruits available.
The Unique Superfruit Qualities of Gâc
Gâc is a traditional fruit of Southern Asia. It is a rich source of carotenoids—especially lycopene and beta-carotene, which is what contributes to the vibrant red-orange color of the juice. Gâc is very unique from most fruits and vegetables because it delivers these carotenoids bound together in a matrix of fatty acids. This matrix is what we call lipocarotenes. Clinical studies show that gâc lipocarotenes are much more bioavailable (40%) than carotenes from supplements and green leafy vegetables [2]. Because this combination of carotenoids and lipocarotenes is so rich with nutrients, the gâc fruit is an outstanding superfruit. When it comes to nutrition, you are not only what you eat—you are what you absorb!
Putting g3 to The Test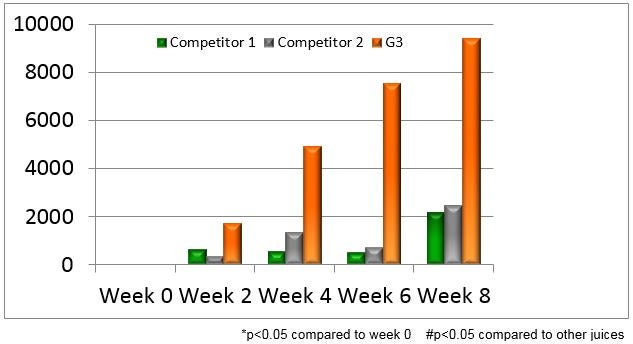 Now that we had discovered these powerful ingredients, we decided to put their absorption to the test using our patented biophotonic scanner, a cutting edge tool that non-invasively measures carotenoid levels in living tissues. To determine the bioavailability of carotenoids in g3, we conducted a clinical study comparing biophotonic scanner scores following g3 ingestion over a period of 8 weeks [3]. We found an average increase of about 9000 points after 8 weeks of drinking the product.
g3 truly is an amazing blend of superfruit juices that can be enjoyed by the entire family. If you haven't yet had the opportunity to try g3, I invite you to enjoy the refreshing flavor, reap the health benefits of its powerful ingredients, and watch your scanner score improve over time.
Written by:
Tanner Gibb
Technical Communication & Education Manager
Pharmanex
Sources:
1. Casagrande SS, Wang Y, Anderson C, Gary TL. Have Americans increased their fruit and vegetable intake? The trends between 1988 and 2002. Am J Prev Med. 2007 Apr;32(4):257-63. PubMed PMID: 17383556
2. Vuong le T, Dueker SR, Murphy SP. Plasma beta-carotene and retinol concentrations of children increase after a 30-d supplementation with the fruit Momordica cochinchinensis (gac). Am J Clin Nutr. 2002 May;75(5):872-9. PubMed PMID: 11976161
3. Mastaloudis, A. (2005) Effect of G3 and Other Juices on Antioxidant Network Status As Measured by the Biophotonic Scanner, NuSkin Enterprises, Inc.
Have you ever wondered about the power behind ageLOC Youth's ingredient blend? Acquiring LifeGen gave us exclusive ownership of a large anti-aging gene expression database. This proprietary knowledge has led to a deeper understanding of gene expression and the way specific ingredients target and modulate gene expression.