Nu Skin Americas Convention 2018
October 25, 2018
Nu Skin's Americas Regional Convention took place last week at the San Diego Convention Center with over 3,500 people in attendance.
The Product Experience area served as the central meeting point for the event. There, attendees could learn about Powerlips, the LumiSpa, the Pharmanex product line, and how to utilize tools for social media. The store also included a VIP Lounge and a workout area where attendees could shoot hoops and gain tips on how to live a more active lifestyle. Attendees also had the opportunity to purchase Nu Skin swag and a limited edition pink LumiSpa.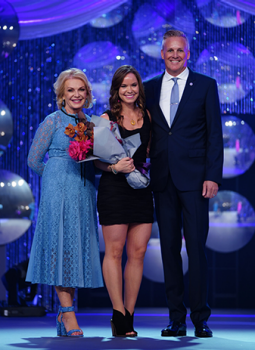 On Thursday evening, female guests attended the Woman to Woman dinner where they were able to hear from Sandie Tillotson and Tyler Whitehead. Woman Entrepreneur of the Year awards were given to Sol Bria from Argentina, Naiting Liu from Canada, Ashley Robichaud from the United States, and Rebecca Morris from the United States.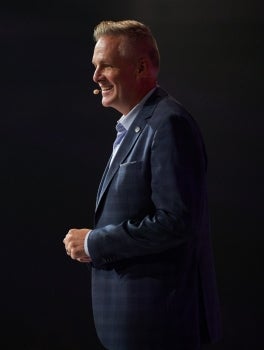 At the Friday morning general session, attendees had the pleasure of hearing about Nu Skin's foundation from Sandie Tillotson. Tyler Whitehead (right) then spoke about the growth that the Americas Region is experiencing and what the strategy is for the future. Motivational speaker, Nick Vujicic, then regaled the audience with his inspiring story of overcoming obstacles in his life.
Friday afternoon was filled with a variety of workshops. Guests had the opportunity to learn more about specific products, the Velocity compensation plan, and how to be a better Force for Good in the world.
Recognition night was filled with energy and excitement as we celebrated the success of our distributors. The night was capped off by an amazing performance by singer Keala Settle from The Greatest Showman. Keala also shared moments from her life that helped shape her into the woman she has become.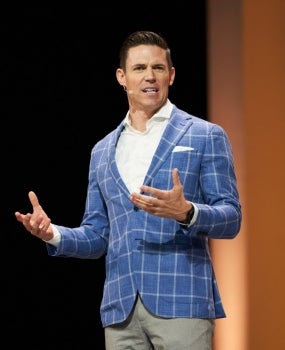 The Saturday morning closing general session featured keynote speaker Randi Zuckerberg –who shared her story that began with her being on the ground floor when Facebook was founded, to her current burgeoning media company. Randi also talked about the importance of finding a balance between staying connected to the world via social media and staying connected to those around us. Nu Skin President Ryan Napierski (left) spoke about the "gig economy" and Nu Skin's unique position in the worlds changing economic landscape.
To view more photos from the Convention, click here.
At Nu Skin, we live and breathe innovation. We were founded on innovative principles of doing things differently and believing that cosmetic and personal care products needed to be better than they were. Without innovation, Nu Skin would simply cease to exist.

From freezing winter temperatures to bright summer sunlight, your hair takes a beating every day. Your hair also takes a lot of damage from dyeing, highlighting, flat ironing, and curling; it's time to show it some serious love. Remember, regular and consistent care for your hair helps avoid damage, breakage, and thinning.