Celebrating 6 Years, with Hope of a Brighter Future
November 14, 2016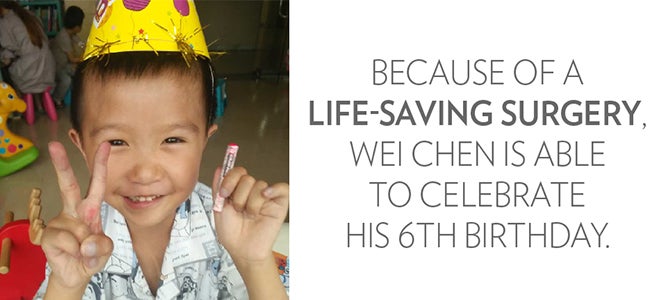 When Wei Chen was 6 months old, he was diagnosed with pulmonary atresia. By the time he was 2, Wei had gone through two surgeries to help with his condition and his parents went deep into debt with family and friends in order to pay for the surgeries. During the next four years, they worked hard doing menial labor to repay all their debts. That's when they found out that Wei would once again need surgery.
Scraping together what money they could, family and friends once again offered their help. Fortunately, the Greater China Children's Heart Fund became aware of their situation and financed the operation. Wei Chen is now recovering and celebrating his sixth birthday. Because of the generosity of the Greater China Child's Heart Fund Wei Chen's father is committed to paying the gift forward by raising up his family to be a force for good in their community.
To learn more about Nu Skin's Force for Good efforts, visit foreceforgood.org.