Face Moisturizer: How to Apply It & How Often
10/4/22 2:50 PM
Why Moisturizing Is Important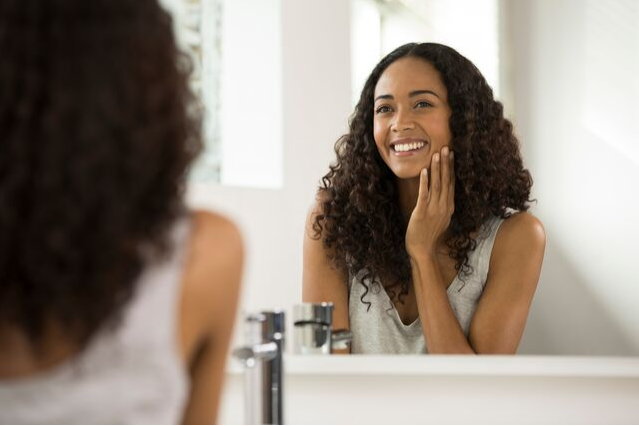 Our wearied bedtimes and bustling mornings may make us consider skipping steps in our skincare regimens. But don't give in to temptation! Every step is important. Especially the final crucial step—moisturizing.
Benefits of Moisturizing Your Face
As we know, moisturizers can help hydrate the skin. But that's just the beginning. Moisturizing your skin can also help repair it. Think of it: our skin goes through the wringer every day—weather, pollution, and stress can all wreak havoc on an otherwise healthy complexion. All of these things can lead to dehydration and (gasp!) signs of aging. That's where its moisturizer to the rescue! A good moisturizer can help nourish and quench thirsty skin. And, if it has SPF, it can also help protect your skin from UVA and UVB rays—score!
So, the signs of aging we mentioned? Glad you asked. They're the villains we all know and most certainly do not love—wrinkles and sagging and dull skin. Oh my! But when you regularly apply a moisturizer, it can help keep these baddies at bay, leaving you with visibly healthier, glowing skin. Yes, please!
Now, if you're prone to blemishes, or blemish-prone, and worry that adding more moisture will bring out the dreaded breakout, you're not alone. But don't fear this common misconception. Because contrary to popular belief, excess oil means your body is trying to make up for a lack of hydration by producing more oil. So, if you give your skin more moisture so your body doesn't have to go it alone, you're actually helping. It's a win-win for you and your skin.
Dry, patches? Not on your skin! And bothersome, red spots? Hard pass. Another great thing a moisturizer does is soothe and calm the skin. So, if your skin is throwing a hissy fit, leaving rough patches in its wake, stop the tantrum right now with a timeout (aka, a nice smooth application of a moisturizer containing soothing ingredients like chamomile or aloe vera).
Tips on Moisturizing Your Face
First and foremost, apply moisturizer at least twice a day, as the final step of your morning and evening skincare regimens. For day, you'll want to use a moisturizer with SPF for that all-important sun protection we mentioned. For night, opt for a moisturizer that helps support skin's natural recovery process and moisture retention while you sleep.
To apply your moisturizer, after cleansing and applying toner and serum, put a quarter-sized amount onto your fingertips and gently apply it to your face, neck, and décolleté (don't skip the neck!) in an upward-outward motion. Make sure to avoid stretching your skin or pressing too hard. Instead, let the moisturizer settle and absorb for maximum moisturization power!
Pro tip: moisturizers can help set your makeup and aid in its "laying down" benefit. Woo-hoo!
Face Moisturizer by Skin Type
Let's start with day moisturizers. Our picks all contain SPF to pull double-duty by helping moisturize and protect as you go about your day.
Our favorites for everyday hydration that also amp up protection are Nutricentials Biodaptive Skin Care™ Day Dream moisturizers. Not only do they contain SPF 35 to help shield skin from UVA and UVB rays, but also a special Blue Light and Infrared Filtering Blend that helps protect against blue light and infrared. Choose the lotion formula for a lightweight moisturizer or the cream for a richer formula.
If you're looking for more anti-aging power, we recommend Nu Skin 180°® UV Defense Hydrator Broad Spectrum SPF 18. It's specially formulated with photosomes—marine plankton enzymes that use energy from the sun to help protect skin (how cool is that?). Defense Hydrator also helps reduce the appearance of age spots, sagging, and fine lines & wrinkles. What more could you want?
Now let's get to know some moisturizers that you should use when you snooze.
One of our favorites is Nutricentials Bioadaptive Skin Care™ Dew All Day Moisture Restore Cream. This creamy, dreamy formula helps smooth, soften, soothe, nourish, and condition skin—plus it provides immediate hydration and 24 hours of continuous moisturization. Now that's serious moisturization stamina! As if that weren't enough, Dew All Day also supports skin's natural recovery process, helping promote healthy skin while you get your beauty sleep.
For ultimate anti-aging power, we love Nu Skin 180°® Night Complex. It enhances the skin's natural recovery process by helping protect against free radical damage, fortifying the skin's natural barrier, and protecting skin from environmental stressors.
Another favorite multitasking moisturizer is ageLOC® Tru Face® Essence Ultra Uplifting Cream. It's specially formulated with Tru Face FirmPlex to deliver visibly firmer skin. But that's not all. It also delivers rich hydration, reduces the appearance of fine lines and wrinkles, and helps soothe, nourish, strengthen, and protect against environmental aggressors. At this point, you may be wondering what this moisturizer can't do. Quite honestly, so are we.
Take Your Moisturizing to The Next Step
Hydrate on the go with NaPCA Moisture Mist, a light moisturizing spray that features moisture-binding ingredients like sodium PCA and hyaluronic acid. This blissfully hydrating mist helps support your skin's natural ability to stay hydrated, helps protect skin from the damaging effects of your environment, and even helps hair feel silky soft. Smooth, supple-feeling skin is just a spray away!
And why not indulge in some much-deserved "me" time with a moisturizing mask two to three times a week? Nutricentials Bioadaptive Skin Care™ Pillow Glow Sleeping Mask is a moisture-recharging gel-cream mask that delivers an intense rush of immediate and long-lasting overnight hydration. Just apply it before bed to support your skin's natural moisture barrier throughout the night and wake up to skin that is glowing, radiant, and 150% more hydrated.
There you have it. Now that you know how important it is to keep skin hydrated, make sure to add moisturizers to your daily regimen. Want more "skinspiration"? Check out nuskin.com to explore more skincare must-haves.