Tahiti Kick Off Meeting
March 06, 2013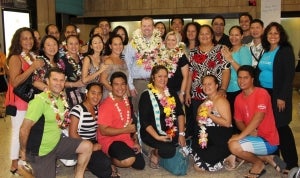 Iorana! Who doesn't want to be in beautiful Tahiti? On January 26, the Pacific Region launched their 2013 Kick-Off Meetings in beautiful Tahiti, French Polynesia. The event held more than 400 attendees, who learned about exciting 2013 initiatives for the region, enjoyed presentations from local leaders and attended fun recognition events. Special recognition also was given to two sales leaders who qualified for the Pacific "Go Double Challenge."
 Also in attendance at the Tahiti Kick-Off Meeting was Chief Scientific Officer Joe Chang, President, Pacific Region and Southeast Asia Region Melisa Quijano, and Vice President of Sales and Operations, Pacific Region Mike Colvin.
For further information on Nu Skin Pacific Kick-Off Meetings and incentives please visit our websites and the Nu Skin South Pacific Facebook page for the latest information.

---
You Might Also Like:

We are excited to announce that London is now home to Nu Skin's newest business resource: The Spark Centre. On January 12, enthusiastic distributors, together with management representatives, kick-started this powerful tool for doing business in the UK, and it has had a fabulous start.