Nu Skin Greater China Enjoys a Trip to Hawaii
May 05, 2017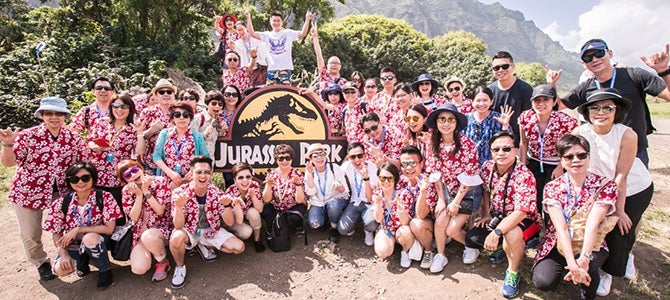 Last month, Hawaii welcomed over 4,000 Nu Skin sales leaders from Greater China, among the largest business tour groups ever, to celebrate their success achieved in the past year.
The trip lasted 14 days, with all attendees arriving in Hawaii in five separate groups . Charlene Chiang, regional president of Greater China, joined this trip, as well as Vincent Cheng, Antonia Chang, and Patrick Yeung, presidents from three markets of Greater China.
Gala Dinner on Ford Military Base
The military themed gala dinner was held in the No.79 hangar on Ford Island of Pearl Harbor. Over 50 fighter planes from WWII were parked there.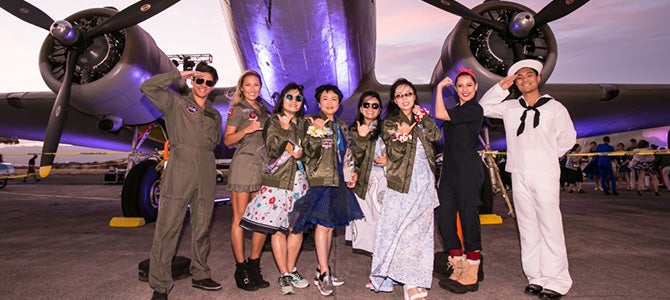 Greater China's Growth Service team congratulated guests for their outstanding performance, and encouraged them to continue their hard work after announcing their goals for the next five years.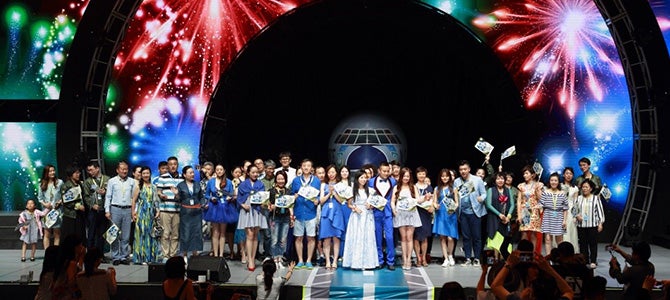 Additionally, the destination for the 2018 success trip was also announced – Toronto, Canada.
Exclusive Island Trip for Star Creators
For four-star creators, sales leaders who recruited four sales managers over the past year, a privileged experience awaited them. Four-star creators set out three days before the rest of the group to enjoy additional time on the islands of Oahu, Maui, and Kauai. The islands featured several special activities, including overlooking Kauai from helicopters, swimming with dolphins, and adventuring on Kipu farm. For attendees, it was a unique, once-in-a-lifetime experience.
ALOHA! Group Reunion at Kualoa Ranch
Taking group pictures is always a highlight of every trip. Kualua Ranch is a renowned tourist site on the island of Oahu; several Hollywood classics were filmed there. The big footprint in Godzilla and scenes from Jurassic Park could still be seen.
Nu Skin Greater China also sent out a warm greeting from the group photo. Each group of sales leaders formed a letter in 'ALOHA', which in Hawaii stands for Hello or Welcome. The letter O was formed in the shape of ageLOC Me.
The group visited the film sets on garden cars converted from school buses. They even had the opportunity to explore the ranch to discover places appearing in films, an exclusive experience reserved for those on the trip!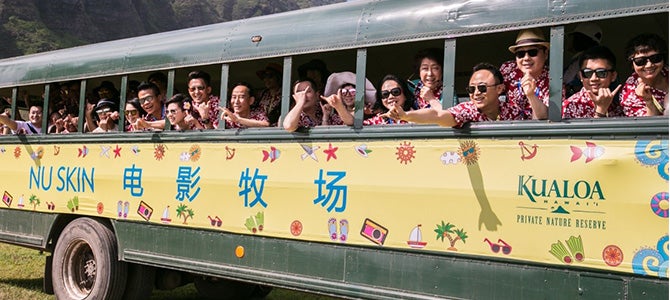 A Look Back in Time on the Missouri Battleship
The huge Missouri battleship, located on Ford Island, is where Japan signed the surrender documents, bringing WWII to an end. The battleship symbolized victory and peace. It was a memorable experience for all!