Aloha from Kauai!
May 07, 2013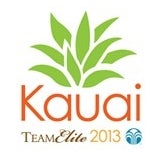 The 2013 Team Elite trip is underway! Qualified Team Elite Executives and their family members will arrive in beautiful Kauai, Hawaii today.
These hardworking sales leaders will receive VIP treatment and enjoy an array of activities including:
Accommodation at the luxurious Four-Diamond Grand Hyatt Kauai Resort & Spa.
Welcoming party, enjoying delicious food and traditional Hawaiian entertainment.
Traditional Hawaiian rodeo and BBQ dinner for Team Elite platinum Executives.
Awards Gala at the historic and beautiful Kilohana Plantation.
And finally,
Farewell Beach Party filled with a magical night of entertainment and exciting surprises.
Among the fun activities and events, Team Elite Executives leaders will attend leadership and training meetings and receive a glimpse into what lies ahead for Nu Skin.
Nu Skin's annual Team Elite trip is always an exciting and luxurious event that honors our remarkable Team Elite Executive leaders. Preparations are currently being made for the next trip— the 2014 Mediterranean Cruise. Start qualifying today and be part of an amazing trip you will remember for a lifetime!
Don't forget to visit our Facebook page www.facebook.com/nuskin to see updates and pictures from our Team Elite Executives on Kauai.
Let's talk about it: How are you preparing to attend next year's Team Elite trip?
To qualify for any pin level you must meet all requirements of the Sales Compensation Plan, including retail sales.  There are no bonuses paid for recruiting.  All bonuses and commissions are paid only when qualifying products are sold.  There are no guarantees of financial success. For a complete summary of the Sales Compensation Plan, please contact the company at 800-487-1000 or go to www.nuskin.com.
You Might Also Like:

Today Nu Skin announced record first-quarter results with a 19 percent improvement over the prior-year period. "We kicked off the year with tremendous momentum, generating 22 percent local-currency revenue growth this quarter," said Truman Hunt, president and chief executive officer. "We are pleased with the overall direction of the business, particularly with trends in the North Asia and Greater ...

Nu Skin has been named one of Utah's fastest growing companies by Utah Business magazine for the fourth consecutive year. In 2012, Nu Skin's record-breaking annual revenue of $2.17 billion was driven by strong sales of its anti-aging product portfolio and healthy growth of sales leaders and customer base.