#NUvember
November 07, 2014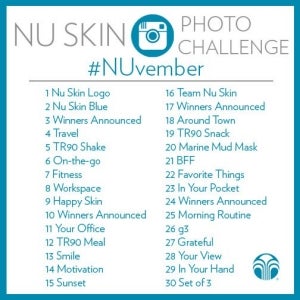 Nu Skin Photo Challenge Terms and Conditions 
1. Snap a photo according to the calendar.
2. To enter your photo via Facebook: Post the photo in the comments section of our daily post.
3. To enter your photo via Twitter/Instagram: Post the photo using #NUvember.
4. Wait to be notified through social media if you become a semifinalist. Only semifinalists will be notified.
5. Once notified that you have become a semifinalist, submit your photo using our online photo submission form to continue to the next round of the Challenge.
6. We will email you at the address obtained from your submission form, requesting your home address to send you your prize.
7. If your photo is chosen to be a semifinalist, it will be entered in a "like contest" during the month of December. The photo with the most likes will win a grand prize.
8. You will only be eligible to win a prize for one photo per week.
GENERAL TERMS AND CONDITIONS: 
1. Nu Skin reserves the right, for any reason or no reason, to refuse to post any submitted photos, or to remove any photos that have already been posted in connection with the Challenge. 
2.  All photos posted to social media must conform to Nu Skin's Distributor Policies and Procedures and Nu Skin's Distributor Social Media Policy.  If you post any photos that are not in conformity with these policies, you will be immediately disqualified from any further participation in the Challenge and may face action by Nu Skin's Distributor Conduct department.
3. All rewards are subject to availability. Nu Skin reserves the right to modify the award without prior notification.
4. Nu Skin reserves the right to withhold final approval of any and all Challenge awards pending verification of compliance with the Challenge rules, terms and conditions. Nu Skin reserves the right, in its sole discretion, to suspend or discontinue the Challenge if any suspected participant misconduct or other such actions impair the integrity of the Challenge, or if otherwise required by law.
5. This Challenge will terminate on December 31, 2014, unless terminated earlier by Nu Skin at its sole discretion 
6. Nu Skin reserves the right to amend the terms and conditions of the Challenge and awards in its sole discretion. Nu Skin also reserves the right to interpret the rules of the Challenge at its sole discretion and all company decisions shall be final. 
7.  Nu Skin reserves the right to disqualify and/or exclude from the Challenge, in its sole and absolute discretion, any individual or distributorship for any reason or for no reason, including without limitation, violation of any portion of these official rules. 
8.  All Challenge deadlines are subject to change without notice. The value of awards may be considered taxable income to the Challenge participants, and all taxes are the sole responsibility of the participants who receive any awards. The Company reserves the right to decide which and how any awards of the Challenge will be given and all Company decisions shall be final.
9.  The Challenge is void where prohibited by law and subject to all federal/provincial/state/local laws and regulations. Nu Skin reserves the right to substitute awards of equal or greater value. 
10. The laws of the State of Utah shall govern the Challenge, and participants in the Challenge hereby consent to the resolution of any disputes with regard to the Challenge solely through the process described in the Mediation and Arbitration Policy noted in the Distributor Policies and Procedures. All such mediation and arbitration will be performed within the exclusive jurisdiction and venue of Utah. Each participant waives any and all objections to jurisdiction and venue and dispute resolution procedures. By participating, participants release and hold harmless Nu Skin Enterprises, its subsidiaries, affiliates, directors, officers, employees and agents from any and all liability for any injuries, loss or damage of any kind arising from or in connection with the Challenge or receipt or use of any awards. Award recipients may not use awards as income claims in promotion of the business opportunity.
11.   Acceptance of any award shall constitute and signify the award recipient's agreement and consent that their name, address, likeness, before and after photos, testimonials or other material submitted in connection with the Challenge and/or award information can be used for promotional purposes by Nu Skin Enterprises, Inc., or any of its subsidiaries or affiliates without further payment or consideration to the award recipient.  Nu Skin shall have the right to copyright any materials provided under this contest and to use the materials, in whole or in part, in any medium and for any purpose whatsoever.