Nu Skin Taiwan Treats EB Patients To Macau Trip
March 26, 2015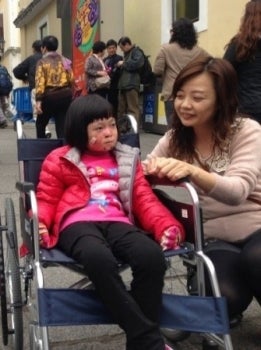 When your skin is as fragile as butterfly wings and tears, blisters and scabs at the slightest touch, sight-seeing at a popular tourist attraction, or any outdoor excursion for that matter, is a risky proposition to your health. Nu Skin Taiwan employees and sales leaders were confident they could provide a tourist-like experience to patients who suffer from such a rare skin condition called Epidermolysis Bullosa (EB) without posing a health risk – and they did.
Nu Skin Taiwan has sponsored the Taiwan Foundation for Rare Disorders since 1999. Since 2005, Nu Skin Taiwan has sponsored a One-Day Volunteer Campaign that involves sales leaders and employees who volunteer their time to provide EB patients and their families with the opportunity to leave their homes and see the outside world.
This year, to celebrate the 10th anniversary of the One-Day Volunteer Campaign, Nu Skin Taiwan organized a trip to Macau for 40 EB patients by raising more than US$15,500. The trip was made possible by 26 Nu Skin sales leaders and 25 Nu Skin employees who volunteered to accompany the patients and their family members to visit the ruins of St. Paul's, a famous tourist spot in Macau.  This trip not only provided an opportunity for EB patients to have fun with their families in Macau, but also fulfilled their dreams of traveling "just like ordinary people."
Over the past decade, EB families have traveled to places all over Taiwan, including Taipei, Hsinchu, Hualien, Nantou, Changhua, Chiayi, Ilan and Taichung. They even visited Hong Kong in 2006. Nu Skin Taiwan is committed to continuing its support of EB for another decade so each year patients can have an outdoor experience to remember without the fear of risk to their health and well-being.■
For more information, visit http://www.forceforgood.org/.  
YOU MIGHT ALSO LIKE:
Failing to provide basic needs for eight children was not acceptable to Matolino and Oliveta Zimba. Days of malnourishment from missed meals, stress from debt after borrowing money to survive and struggling to harvest enough food from year-to-year were intolerable and not something the couple was willing to do any longer. In 2013, when Children's Brighter Future (CBF) offered them the opportunity ...

Moyenda and Masiye Milazi are recent graduates of the School for Agriculture for Family Independence (SAFI), in the Mtalimanja Village of Malawi, Africa. The couple chose to participate in the two-year program to learn modern farming techniques and help their family improve their standard of living.