Nu Skin - Membuat Jutaan Senyuman | Nu Skin Indonesia
Membuat Jutaan Senyuman
"Mencapai tonggak sejarah sejumlah 400 juta makanan yang dibeli dan didonasikan bagi anak-anak penderita malnutrisi merupakan cara yang tepat untuk melengkapi perayaan hari jadi kami yang ke-30," ungkap Steven J. Lund, chairman of board of directors Nu Skin Enterprises. "Sejak didirikan, kami menginginkan Nu Skin untuk menjadi kekuatan untuk kebaikan di dunia. Tonggak sejarah ini merefleksikan kemurahan dan kebaikan hati parasales leader, pelanggan dan karyawan Nu Skin di seluruh dunia dan kami berterima kasih kepada semua yang telah membantu mengatasi masalah malnutrisi pada anak dengan donasi VitaMeal."
ANDA MEMANG BERBEDA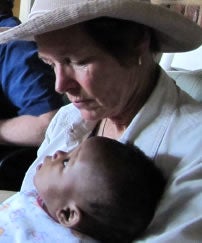 Nu Skin Enterprises, Inc. mengumumkan lebih dari 400 juta makanan telah dibeli dan disumbangkan untuk membantu anak-anak yang mengalami malnutrisi di seluruh dunia melalui inisiatif Nourish the Children. Didirikan tahun 2002, program usaha sosial yang inovatif ini memungkinkan para sales leader, pelanggan dan karyawan Nu Skin untuk membeli VitaMeal®* yang kaya nutrisi untuk disumbangkan melalui mitra kemanusiaannya yang mengirimkan produk tersebut ke anak-anak yang membutuhkan di lebih dari 30 negara.
Mengapa Nourish the Children?
Melalui Nourish the Childern, Anda memiliki kepercayaan pada donasi Anda. Anda tahu apa yang Anda berikan: VitaMeal yang bernutrisi. Anda tahu bagaimana uang Anda akan digunakan: untuk memberikan nutrisi bagi anak-anak kurang beruntung. Anda tahu bahwa donasi Anda akan kami manfaatkan: dengan donasi yang kami samakan dan melalui program pencegahan penyakit dan donasi. Dan Anda tahu bahwa Anda menciptakan perubahan: dengan lebih dari 100,000 anak-anak yang terbantu setiap harinya. Keyakinan!
Tidaklah sulit untuk Memberikan Nutrisi bagi Satu Anak lagi.
Membeli dan donasikan lagi satu kantong VitaMeal setiap bulan, atau undang orang lain untuk melakukan hal yang sama.