Nu Skin Pacific Region Creates History
August 06, 2014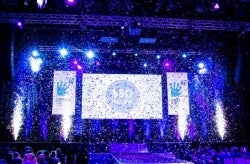 Nu Skin concluded its largest ever Pacific Regional Convention where sales leaders from Australia, New Zealand, French Polynesia and New Caledonia came together at The Star in Sydney, Australia. They gathered to celebrate the success of the Nu Skin Pacific region, share success stories, and learn about the incredible future Nu Skin has planned.
The conference opened with the Woman-to-Woman event where Melisa Quijano, president of Pacific and Southeast Asia Regions, spoke about how women can recognize their leadership potential and are a crucial driving force within Nu Skin. "It is not about equality between men and women, but equal opportunity for both men and women," said Quijano in the presentation. "And as a meritocracy, Nu Skin offers equal opportunity for all. At Nu Skin, we celebrate the contributions of women leaders like you."
After Quijano spoke, the 2014 Nu Skin Pacific Woman Entrepreneur of the Year Award was presented to Blue Diamond Executive Pauline Lindsay for her dedication in building her Nu Skin business though outstanding leadership and her ability to empower her teams.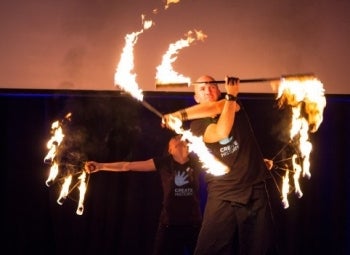 An evening reception greeted attendees with canapés, photo booths and an interactive product area featuring exclusive convention-only merchandise.
Truman Hunt, Nu Skin president and CEO, opened the second day by speaking about the Nu Skin 3.0 vision.  In the ageLOC session, Dr. Joseph Chang, Nu Skin's chief scientific officer, presented the anti-aging formula science behind Nu Skin's ageLOC products and hinted at new and exciting ageLOC products coming out in the near future.
Other guest speakers presenting throughout the convention included Nu Skin sales leaders and members of market leadership such as Alan Nagao, Ong Gee and Patricia Acosta.
A favorite of the Convention was the product experience area where convention attendees went through an ageLOC journey and had their passport stamped to receive ageLOC product samples. To finish the convention, recognition events for Star Creator, Blue Diamond, Team Elite and Million Dollar Circle members were held as fans got together to celebrate their part to CREATE HISTORY at Nu Skin.
You Might Also Like:

Nu Skin's Southeast Asia (SEA) region held its largest convention yet last week, when 6,000+ enthusiastic sales leaders created history as they gathered to connect, network and share their successes with one another. The three-day SEA Regional Convention welcomed visitors from Thailand, Malaysia, Indonesia, Philippines, Singapore, Brunei and Vietnam to the Singapore Expo Convention and Exhibition ...

Nu Skin Greater China recently held their regional convention in Hong Kong. Approximately 30,000 sales leaders from the Greater China region, including Mainland China, Taiwan and Hong Kong attended the three-day event. During the regional convention, more than 15,000 sales leaders were recognized for their accomplishments. Convention attendees participated in seminars and celebratory events as wel...