Nu Skin Greater China Celebrates Success in Sydney, Australia!
4/26/16 11:44 AM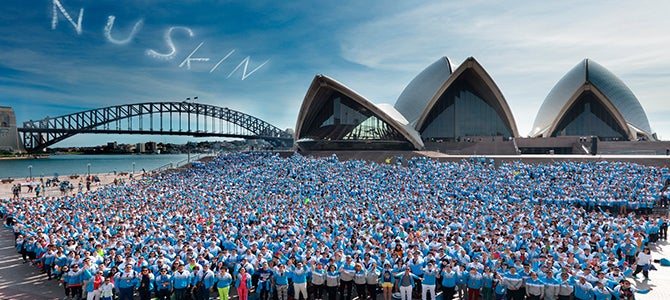 Nu Skin held its 2016 Greater China Success Trip in Sydney, Australia, this month, hosting business partners from regions such as Mainland China, Hong Kong, Macao and Taiwan to celebrate their success. With more than 4,000 participants, the trip has been recorded as the largest single wave company trip to ever visit Sydney! Ryan Napierski, Nu Skin president of global sales and operations, participated in the trip to congratulate and encourage these exceptional business partners.
The trip began with an exclusive welcome party held at Darling Harbor, a widely recognized and popular venue for major events. Shannon Gobell, a well-known stage director who has directed international events such as Australia Day and the Olympic Winter Games, arranged a four-sided floating stage with a mobile floating runway, the first of its kind in the world. Lucas Newland, executive creative director of Australia's first art institute, designed a brilliant water dance and fireworks performance. Gobell and Newland led Bec Morris, one of the world's top 10 dancers, and Deon Ellison, a premier water acrobatics director in Australia, to devise a breathtaking water acrobatics performance. During the on-the-water recognition ceremony, 10 sailboats mobilized and more than 50 aqua show entertainers performed on the floating stage.
Climbing The Sydney Harbor Bridge
Another exciting highlight from the trip was climbing the Sydney Harbor Bridge. This activity set a record for the most people from a single corporate group to climb the bridge! More than 4,000 Nu Skin participants completed the task of climbing the bridge over a four-day period. Exclusive climbing routes were led by more than 10 Chinese-speaking coaches.
Creating Smiles Worldwide
With a "Force for Good" theme, Nu Skin invited attendees to create the world's largest 'smile' mosaic with a total area of 55,000 square centimeters, symbolizing Nu Skin's solidarity and commitment to becoming a force for good and creating smiles worldwide. A group of 3,633 individuals used woodblocks to create the mosaic, breaking the previous record made by 529 participants using 2,623 woodblocks in September 2015.