Nu Skin 2015 Team Elites Enjoy a Trip to Norway!
May 28, 2015
Qualifying Nu Skin Team Elites set sail to Norway last week in celebration of their hard work, dedication, and success. Throughout the weeklong cruise aboard the Celebrity Eclipse, attendees explored several of the country's most stunning cities, from the whimsical Art Nouveau architecture of Alesund to the breathtaking fjord of Flam. Over 900 sales leaders embarked on the trip of a lifetime experiencing all that Norway had to offer in true Nu Skin style.
Prior to their time aboard the ship, a group of 120 1-4 star Team Elite Platinum leaders spent a day in London, taking in the sights on a double decker bus tour. Following their day of sightseeing, attendees enjoyed an exclusive-after hours tour of the Tower of London. The tour included the breathtaking Crown Jewels Exhibition, showcasing the crown jewels of the British Monarchy. Team Elites dined in the tower, joined by a few of Nu Skin's executives in period costume. Attending sales leaders were privileged to hear from Sandie Tillotson who thanked them for their hard work and presented gifts in recognition of their success.
The seven-day cruise included nightly on-board entertainment, breathtaking scenery and sightseeing, inspiring business conferences, recognition ceremonies, delicious dining, and networking opportunities. The overarching theme for the trip, "Celebrate Stars," encouraged sales leaders to continue to empower people by improving lives.
The first evening on the ship, sales leaders participated in the "Celebrating Stars General Session," where they heard from executives Steve Lund, Truman Hunt, Ruth Todd, and Dan Chard, each one expressing their optimism and confidence in the bright future of these sales leaders. Attendees also learned the necessary tools to continue their progress and accomplishments. The evening celebrated the long term success of these Team Elites and gave them motivation to continue their efforts.
Near the close of the cruise, attendees were treated to a Nu Skin awards dinner and gala. Long term Team Elites were celebrated for their continued excellence and achievements. Also recognized this evening were the 1-4 Star Team Elite Platinums. Attendees enjoyed familiar show tunes from popular Broadway hits in this "Broadway Show" themed awards night, such as "Jersey Boys, Wicked, Les Miserables, Billy Elliott and West Side Story.
One of the highlights included exploring Flam, the "little place between steep mountains." While in Flam, Team Elites enjoyed a barbeque picnic lunch, taking in the beauty of the fjords, mountains, and waterfalls that surrounded them.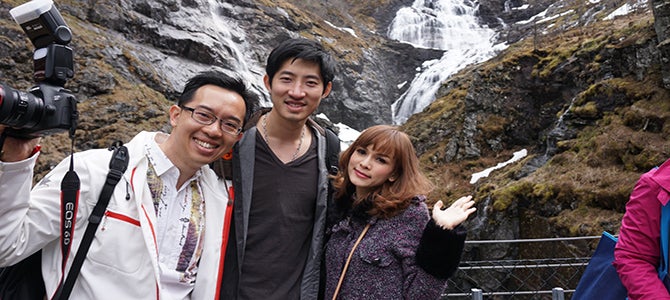 On the final day of the trip, Team Elites enjoyed a "Shape your Future: Call to Action" meeting. Here attendees heard from Dan Chard who provided them with tools and training to continue their success. Following Dan's remarks, Regional Presidents introduced sales leaders from their regions who shared their tips for success and growth. At the close of the meeting, Steve Lund, Nu Skin Chairman, conducted an activity that encouraged Team Elites to shape their future through continued commitment to success, as well as to continue to be a force for good throughout the world. ■
To see more pictures of Nu Skin's 2015 Team Elite Norway Trip, please visit: facebook.com/nuskin.