Innovation Center Opens its Doors to Provo Nu Skin Employees
September 12, 2013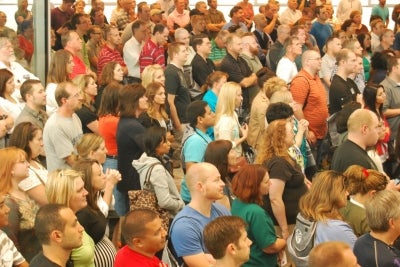 Nu Skin employees located in Provo, Utah gathered yesterday to celebrate the employee opening of the Innovation Center and become acquainted with their new work environment.
More than 800 employees were treated to speeches from Truman Hunt, Steve Lund, Sandie Tillotson and Dan Chard. The presenters focused on the past, present and future of innovation at Nu Skin and introduced some key features of the new building.
"Innovation has always been core to our success," Hunt said, adding that the building is a representation of the hard work of Nu Skin's employees and sales force.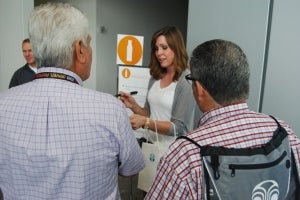 Employees were then organized into groups to tour the Innovation Center and experience many of its features such as:
New science labs for continued product research, innovation and development
Modern workspaces for employees as they support Nu Skin distributors
Sales leader recognition areas
Theater space and training rooms for group presentations
The Spoon café with many healthy, ageLOC TR90-based meals
While employees begin to occupy their workspaces, finishing touches are being done to other areas in the building to prepare for the grand opening and ribbon cutting as part of the 2013 Global Convention. The Team Elite Pavilion that will provide temporary workspaces and meeting rooms for distributors is currently under construction and is expected to be completed in the first part of 2014.
You Might Also Like:

Nu Skin's Global Convention is just one week away. Fianl preparations are being made for an exciting week in which we Create History. Executives are finalizing speeches, merchandise is being packed for purchase, and interactive displays are being set up, all to make convention a memorable one for you!

Nu Skin concluded its bi-annual global sales convention, highlighted by the largest product launch in the company's history and the official opening of the Nu Skin Innovation Center. The global convention was the biggest in the company's history with more than 15,000 attendees from more than 50 countries.