Nu Skin 2018 Malawi Trip
June 19, 2018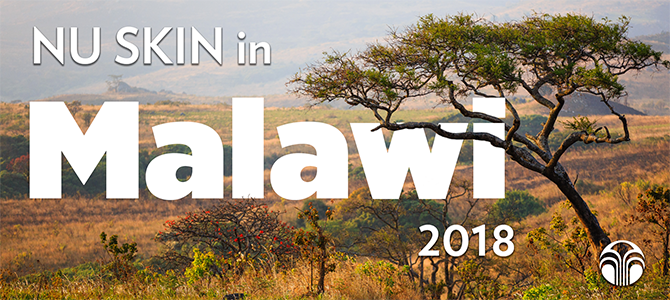 In May 2018, our Nu Skin family returned to Malawi to witness the efforts of our Force for Good (FFG) Foundation projects and Nourish the Children (NTC) initiative. As we work to combat the devastating effects of malnutrition and overturn generational poverty, we also want to highlight the social ties that make the world a smaller place. Following, is a brief recap of the group's daily activities along with photos from the trip that share the Nu Skin commitment to making a difference.
Nourish the Children is one of Nu Skin's initiative that enables Nu Skin brand affiliates and customers to purchase bags of Vitameal that is donated to charitable organizations. The development of this product is to help feed malnourished children around the world.
The price of Vitameal includes the cost of manufacturing, general overhead, distribution and sales. As is the case with other Nu Skin products, brand affiliates are paid commissions and Nu Skin earns a profit margin from each sale of Vitameal. The commissions earned by distributors provides them with an added incentive to make the initiative sustainable.
Following, is a brief recap of the trip to Malawi along with the group's daily activities that share the Nu Skin commitment to making a difference.
Nu Skin sales leaders and executives had the opportunity to contribute to the healing effects of Vitameal by distributing over 1,500 bags to children in the Malingunde village. That is equal to 45,000 meals! Developed by our nutritional scientists, Vitameal is fortified with vitamins and minerals that are essential for malnourished children.
The group then visited the Vitameal plant. By employing more than 75 people and producing approximately 110,000 bags of Vitameal per month, the plant benefits many families and individuals suffering from financial stress and hunger. By grounding our experience in the deeper complexities of our host's minds and hearts, we were able to open ours.
At the close of the first day, the group visited Mtendere Orphanage where children are nourished with Vitameal. The orphanage houses children in kindergarten, primary school, high school, and college, who all welcomed The Nu Skin group with song and dance. It was a gift to learn from their culture. Our sales leaders then gave small gifts to the children and enjoyed some recreational play time in the courtyard in front of the orphanage. We learned about the children's values and humor. Their optimism renewed our helper's purpose and we left with greater global awareness.
On the second day, we traveled to multiple villages to visit Community Based Child Care (CBCC) centers. Upon arrival, the group was warmly greeted by the village chief and traditional song and dance. The true beauty of the trip was not in the new things we saw but in how we saw them. It's good to be giving, but we were also here to exchange practices and contextualize our visit with Malawan ways of life.
We learned that approximately 75 bags of Vitameal are delivered to the Kalumba village each month. Each bag contains 30 meals, providing hope through health. While we worked to define Malawan challenges, we also explored their ideas for solutions. Before departing the village, the group also gave gifts to the villagers, including blankets, clothing, crayons, and construction paper.
In the afternoon, the group visited M'bwatalika where a School of Agriculture for Family Independence (SAFI) extension is located. The skills taught in the school enable villagers with the knowledge to grow enough food for their families and sell their surplus crops for extra income. Our sales executives met more than 60 families practicing proper farming techniques for greater economic opportunity. We saw our company mantra of "Discover the Best You" come to life in a way that honored our hosts' voices, perspectives, and experiences.
On day three, the group joined the celebrations at SAFI as more than 35 families received their diplomas! Now educated in sustainable farming, drip irrigation, and more, these graduates have the tools to lift themselves out of poverty. We were deeply impressed with the graduates' achievements.
During the ceremony, Goodwell Banda, Napoleon Dzombe, Ruth Todd, and Steve Lund shared words of encouragement and wisdom for the graduates and their families. Nu Skin's lasting product philosophy to produce "all of the good, none of the bad" was echoed by Steve and Ruth, who encouraged all in attendance to look for opportunities to be a Force For Good in the world.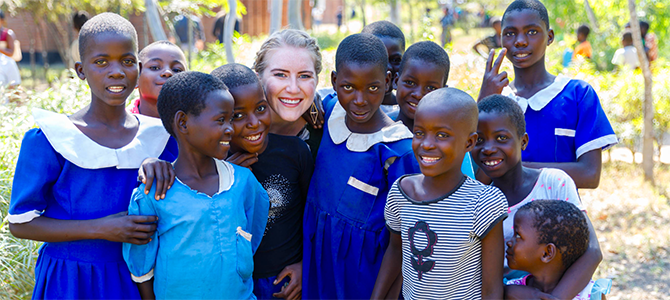 Afterwards, several families shared how SAFI has changed their lives and inspired them to be better and do better. Sales leaders witnessed this empowerment firsthand as we took a tour of the campus to learn about the different farming techniques that these families are taught. Seeing students' dedication to provide strength to their communities reaffirmed our trip's foundation of mutual respect.
On day four, our employees and sales leaders distributed VitaMeal to thousands of underprivileged children whose diets lack nutrients fundamental to their brain, bone, and immune system development. Eating a healthy diet including VitaMeal will help them enjoy happier, healthier, and more active lives. Witnessing the consistent, equitable solution, that is possible through the Nourish the Children initiative, made the international collaboration authentic and meaningful.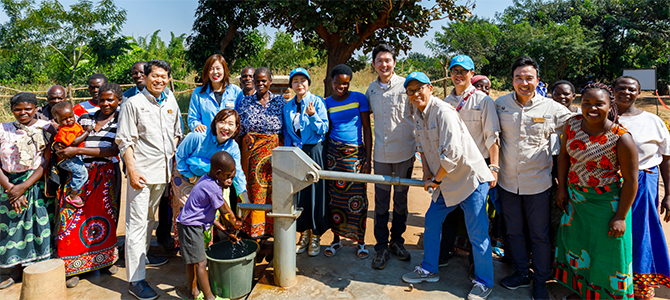 On one of the last visits of the trip, the Nu Skin family visited the village of Kasiya to dedicate a new borehole water well. The installation of this borehole will save time and improve the lives of this community. Before receiving this well, members of the village would walk several kilometers, two or three times a day, to get enough water for drinking, cooking, cleaning, and gardening. This water was often contaminated and caused illness in the community. This new borehole provides fresh, clean water to hundreds of Malawians in the Kasiya village. Everyone celebrated together with a ribbon cutting and traditional Malawian songs and dances. While the Nu Skin family evaluated privileges at home, an asset-based mindset of those who received our donations ensured both cultures learned with and from each other.
The smiles from our time spent in Malawi will never fade. We are grateful to our Malawian hosts and look forward to continued opportunities to make ends meet for those in need and spread the ideals of self-sufficiency.