Meet The Children
Children should never go to bed hungry. They should have access to food and a bright future–but virtually every country in the world has hungry children. Meet some of the children who are helped through the Nourish the Children initiative.
Meet Anderson
Anderson Sikedi's mother died when he was very young, and his father was unable to care for him. Anderson's 12-year old sister took on the responsibility of caring for him and dropped out of school. While his sister did her best, there was never enough food, which left Anderson constantly malnourished. When Anderson was nearing death, workers from the Mtendere Orphanage found him on the side of the road.
During his first week there, the chief of his village told the people that they were wasting their time because Anderson wouldn't make it through the week. Luckily, however, Anderson fought forward. Because of the VitaMeal Anderson eats at the orphanage, he's grown healthy and active. Anderson said, "I am looking healthy and strong–thanks for Nu-Skin for the VitaMeal." Anderson is now 13-years old and continues to thrive.
Meet Wei
Wei is a bright, motivated, 15-year-old boy from China living with his father and two siblings. Wei's mother passed away, and his father worked hard to make ends meet, but at times, it was not enough to put food on the table. Wei and his siblings often went hungry and didn't have enough energy because they lacked a balanced diet. However, the VitaMeal served at Wei's school changed everything. He doesn't go hungry anymore and can study harder. Wei dreams of going to college and becoming a mathematician–all while having a positive effect on society.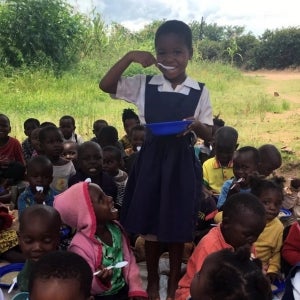 Meet Bridget
Bridget is a young girl who dreams of one day becoming a nurse. She is four years old and lives in Malawi. Her parents are struggling farmers, and because of their low income, they have not been able to support Bridget with the resources she needs to grow and develop healthily. Bridget's parents took her to the Chikondi Child Care Center in hopes of their daughter receiving the food necessary for healthy growth. Through the Joyce Banda Foundation, the Chikondi Center began providing children with VitaMeal, a vitamin dense porridge crafted by Nu Skin nutritional scientists to improve the health of malnourished children and to encourage healthy weight gain.
With the help of Vitameal and the Joyce Banda Foundation, Bridget is eating regularly and consuming the vitamins and nutrients she needs for a healthier lifestyle. She has more energy to learn and play and is continuing to chase her dreams.
Meet Louise
Louise is a brave young girl in the Philippines who has had a difficult life. Louise's mother has been sick for some time, and her brother recently passed away from unknown causes. Because of the instability in Louise's family, her primary responsibility has been caring for her sick mother and two younger siblings while her father works.
When Convoy of Hope partnered with Louise's school to provide VitaMeal, her life changed. She believes that the food she eats at school helps her be a more productive student. She's planning on running for class valedictorian and hopes to be an engineer one day. She's grateful to Convoy of Hope and Nu Skin's Nourish the Children initiative for providing food she needs to sustain her throughout the day, enabling her to be a better student and take care of her family.
Meet Carlos
Carlos may only be 13 years old, but those who meet him know he has a bright future. Intelligent and naturally charismatic, he has the makings of a leader in his community.
Things may not have looked as bright for Carlos without the help of VitaMeal and our fantastic partner Convoy of Hope. Because Convoy has a presence in the orphanage he lives in, Carlos is fed a balanced meal every day. That stability gives him the chance to focus on his studies. With a belly full of nutritious food and a clear mind, he also has the energy to do the thing he loves most—playing goalie in his soccer matches.
Carlos is one example of how proper, regular nutrition makes a huge difference in the lives of the children we serve. Thank you for your steadfast support. Nourish the Children couldn't fulfill its mission without its dedicated donors and partners.
Nu Skin is a for-profit distributor of nutritional and skin care products and is traded on the New York Stock Exchange (NUS). Nourish the Children is an initiative of Nu Skin and is registered in some states as a commercial co-venture. The initiative enables Nu Skin's brand affiliates and customers to purchase VitaMeal from Nu Skin and donate it to charitable organizations to help solve the complex world problem of feeding malnourished children. The price of VitaMeal includes the cost of manufacturing, general overhead, distribution and sales. As is the case with other Nu Skin products, brand affiliates are paid commissions and Nu Skin earns a profit margin from each sale of VitaMeal.