History
History
About SEA Children's Heart Fund

Nu Skin's Southeast Asia Children's Heart Fund (SEA CHF) is a fund that came into being with the vision of helping children all over Southeast Asia who suffer from congenital heart disease and require medical treatment. SEA CHF through Nu Skin offices in Thailand, the Philippines, Singapore, Malaysia, Brunei, Indonesia and Vietnam raise funds for medical treatments through sale of products, corporate and donations from the Southeast Asia's sales leaders..

In the Southeast Asia region, more than 50,000 children suffer from heart defects each year. Less than 5,000 kids are able to undergo heart surgery every year, meaning patients will have to wait very long before they get a chance for medical treatment. Some children will die before they receive a treatment; some will become disabled despite the long queue time.
Board Members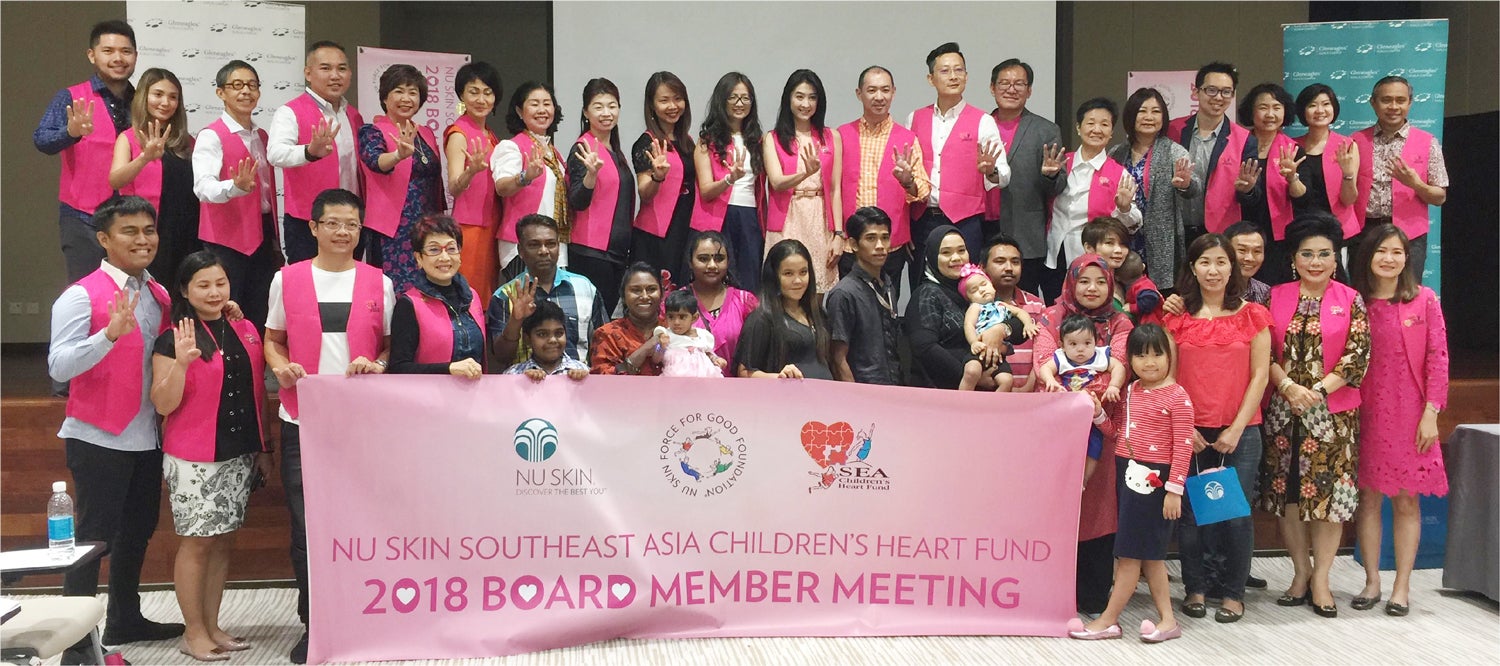 The Nu Skin Force For Good culture is supported by a group of individuals who is dedicated to our mission of creating a real and lasting change in the lives of children in need in Southeast Asia.
Southeast Asia Children's Heart Fund Honorary Board Member
Anchalee Vergara & Tarida Sukavanich
Angela Liew & Rayne Ho
Chua Syer Cin & Emily Yap
Jonathan Chong & Evelyn Lai
Lanny Sutiarto & Ronny Soeprajogi
Mary Tan
Monica Lam & Ambassador M. Haron
Pax & Gina Paculaba
Trin Vichaidith & Jirawan Vichaidith
Vibulyos Iamranond & Pachareepan Sattabanasuk
Yusanidah & Abi Purdi

Southeast Asia Children's Heart Fund Board Member
Andy Wong & Annie Woo
Daniel & Ella Laogan
Henny Djuwita Santosa
Hilda Pang
James Chia & Jackie Chia
Joanna Wiraatmadja & Helena Lee
Marlon & Josephine Ilagan
Ratchadawan Ingkawimonsri & Soncedar Teanpakkul
Selenium Chai & Neo Poh Lin
Willing Tan & KC Kang
Pham Thi Duc Hanh & Trinh Le Thuong
Pattarawan & Pichet Sukkaniwast
Sahatad& PakakornNutithawat
Tran ThiBichNga, Ngugen Ngoc Anh & Nguyen Ngoc Nam Phuong
Benefactors
Albert Sia Ah Bong & Amy Khor Lay Hoon
Ati Puspanita & Piang Awal Kalim
Carine Ong Hui Khim
Chaunchom Maunpasitporn & Ratanaporn Sangasang & Chana Lohasaptawee
Chayasorn & Thanakrit Somkiatkul
Derrick Tia & Frann Ng
Eddie Poon
dr. Fusinovana & Dody Hartono
Desmond Teoh & Christine Khor
Glenda Lee & Oliver Lim
dr. Harikhrishnan
Heni Aska Daulika & Kristian
Howard & Annie Lim
Jason Lai
Lai Chun Yen
Lee Kah Seng & Lim Siang Joo
Lee Keem Shiong & Loh Fong Yee
Lim Siang Joo
Lilian Ong
Lim Kheng Yeow
dr. Lina Lusifah & dr. Satria Pratama
Manassanan & Chanoknart Somkiatkul
dr. Muhammad Taufiq
Naphat & Chansith Yodpruedtikarn
Ong Gee & Jenny Ding
Ong Hock Seng
Pannisa Tananan & Chalermkiat Kemtit
dr. Ridha Revidha & dr. Dianart Fazli Zulkifli
Rona Katrina Jasa
Sanny Himawan
Sarucha Dolpariphat & Pirasak Wittayajaroenpong
Siamy Tan & Xavier Leung
Siwaporn Suratossaporn
Sri Resnowati
Theera & Umaporn Phetmalaigul
To Lay San
Wendy Kea
Wong Chee Siong
Wong Mei Se
dr. Yulia Sari & Firman Ramdhani
Mission

In view of the large and growing number of children suffering from heart defects in Southeast Asia, Nu Skin hopes the SEA CHF will be able to help address and reduce the long waiting list of heart patients in need of surgeries and treatment.