Regulatory Corner
Nu Skin is strongly committed to ensuring that both the company and its sales leaders remain compliant with local laws and regulations.

One of the cornerstones of our Company is our set of core values. These values are the essence of who we are and what we continuously aspire to be—Innovative, Compassionate, Optimistic, Ethical, Honest, and a Force for Good. These values are integrated in everything that we do—from our product development, our social responsibility projects, our goals, our programs, the way we deal with one another, and in the way we conduct our daily business activities.

In order to assist our sales leaders in this endeavor and to better help them understand their obligations as Independent Distributors, Nu Skin has created the following policies and guidelines. As our leaders actively apply these guidelines to their daily business activities and cultivate these principles within their sales teams, we are confident that each will have built the foundation necessary for establishing a successful Nu Skin business.

If you have any additional questions, please feel free to contact our Distributor Compliance Department (vncompliance@nuskin.com) for further guidance.
BUSINESS ADVISORIES
From time-to-time, the company will issue important updates or "advisories" that could have a meaningful impact on a Brand Affiliate's business and the company's reputation. We ask that Brand Affiliates check back often, as business advisories can and will change on a regular basis. Please be advised that violating any of the advisories listed below could result in disciplinary action. Please see the "Contact Us" section for information on how to contact the company with questions or report violations.
Given the recent COVID-19 outbreak, the company wishes to highlight several important principles to ensure Brand Affiliates are appropriately promoting our products and business opportunity.
- As we all know, Nu Skin and its Brand Affiliates are prohibited from making claims or representations that our products can cure, treat, or prevent any disease or medical condition. This prohibition includes any statements or images that our products will in any way prevent or minimize the risk of COVID-19.
- Brand Affiliates should not, either directly or indirectly, reference COVID-19 when talking about our products. Such references imply the same inappropriate claims mentioned above, and can include language such as "Given the outbreak," "Under the current circumstances," or "In times like these" and/or using images of doctors or face masks.
- Brand Affiliates should not use COVID-19 or the economic impact of the pandemic in their marketing materials or promotion of the business opportunity.
- Brand Affiliates should not market or promote that our products have been designated as "essential." Nu Skin is working hard to treat them in this manner, but any promotion of this may incorrectly imply that we have received government endorsement or approval.
- Brand Affiliates may not use the Nu Skin name or products to solicit or facilitate in-kind donations to third-party organizations (health care workers, hospitals, charities, etc.). Brand Affiliates may, however, promote donations and relief efforts undertaken by Nu Skin as announced on official company websites and social media pages.
Notwithstanding the above, Nu Skin encourages all Brand Affiliates to continue promoting both the products and the business opportunity in accordance with policy. We will continue to be a force for good by empowering and uplifting others through our products and opportunity.
Important Notice on COVID-19 Claims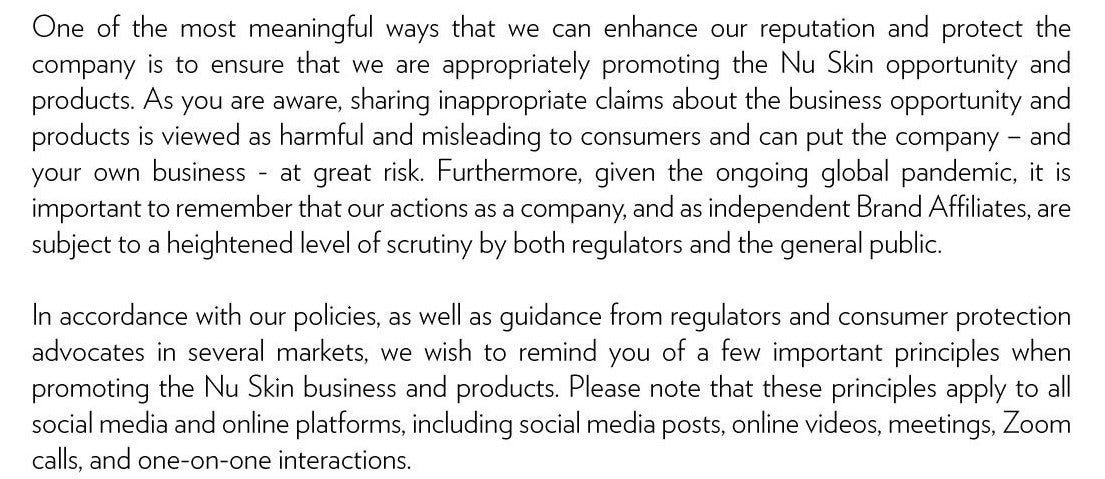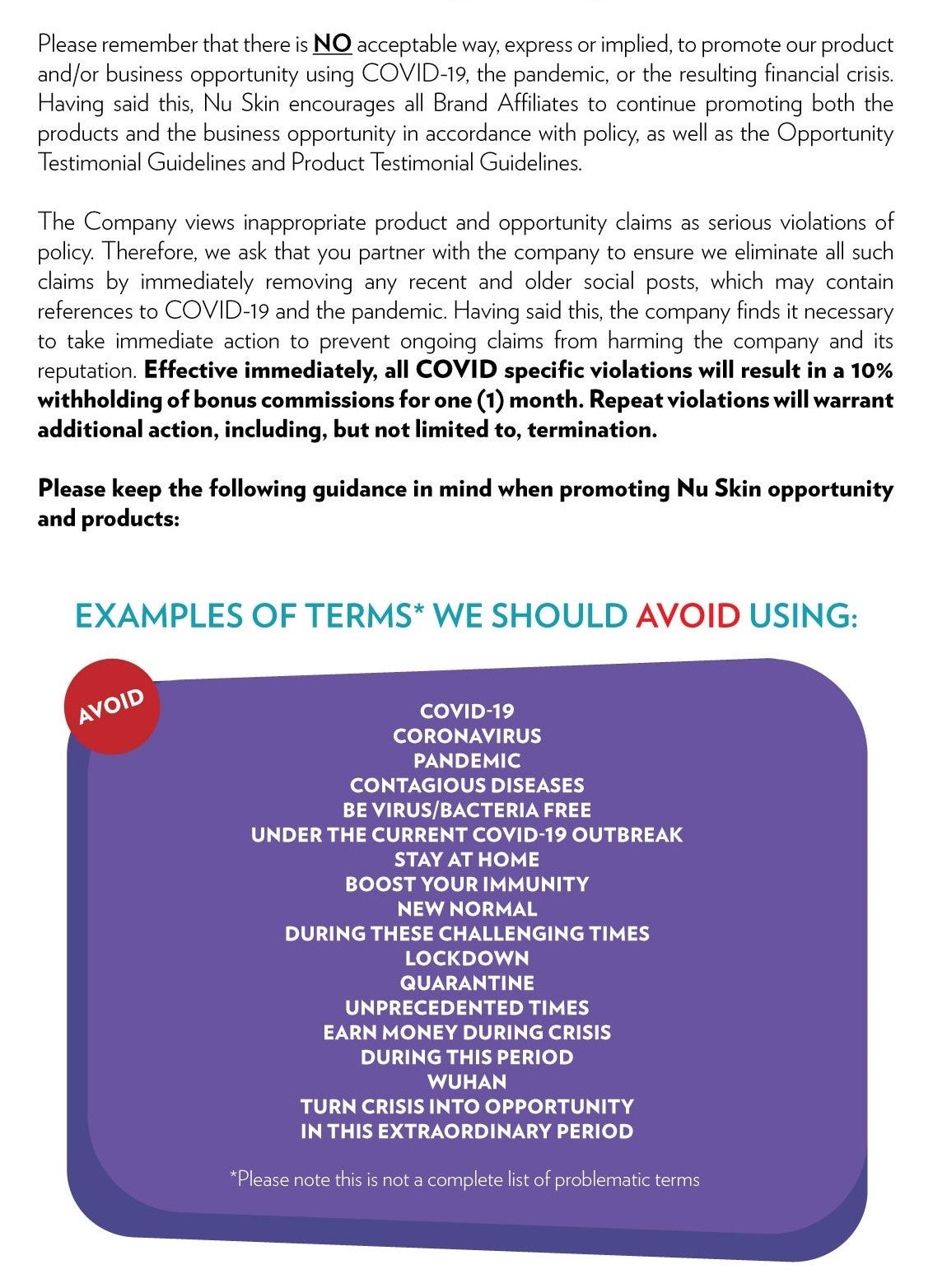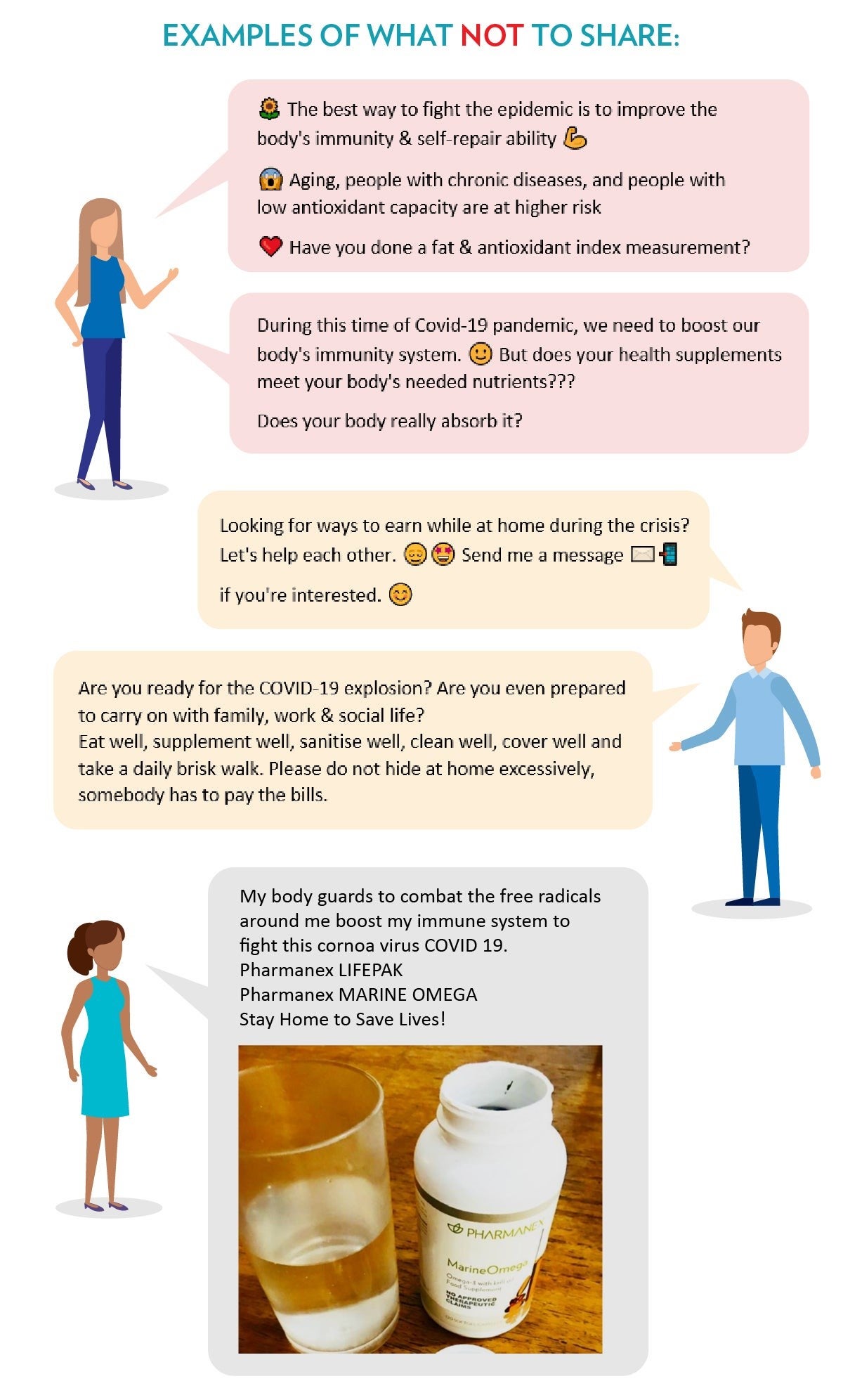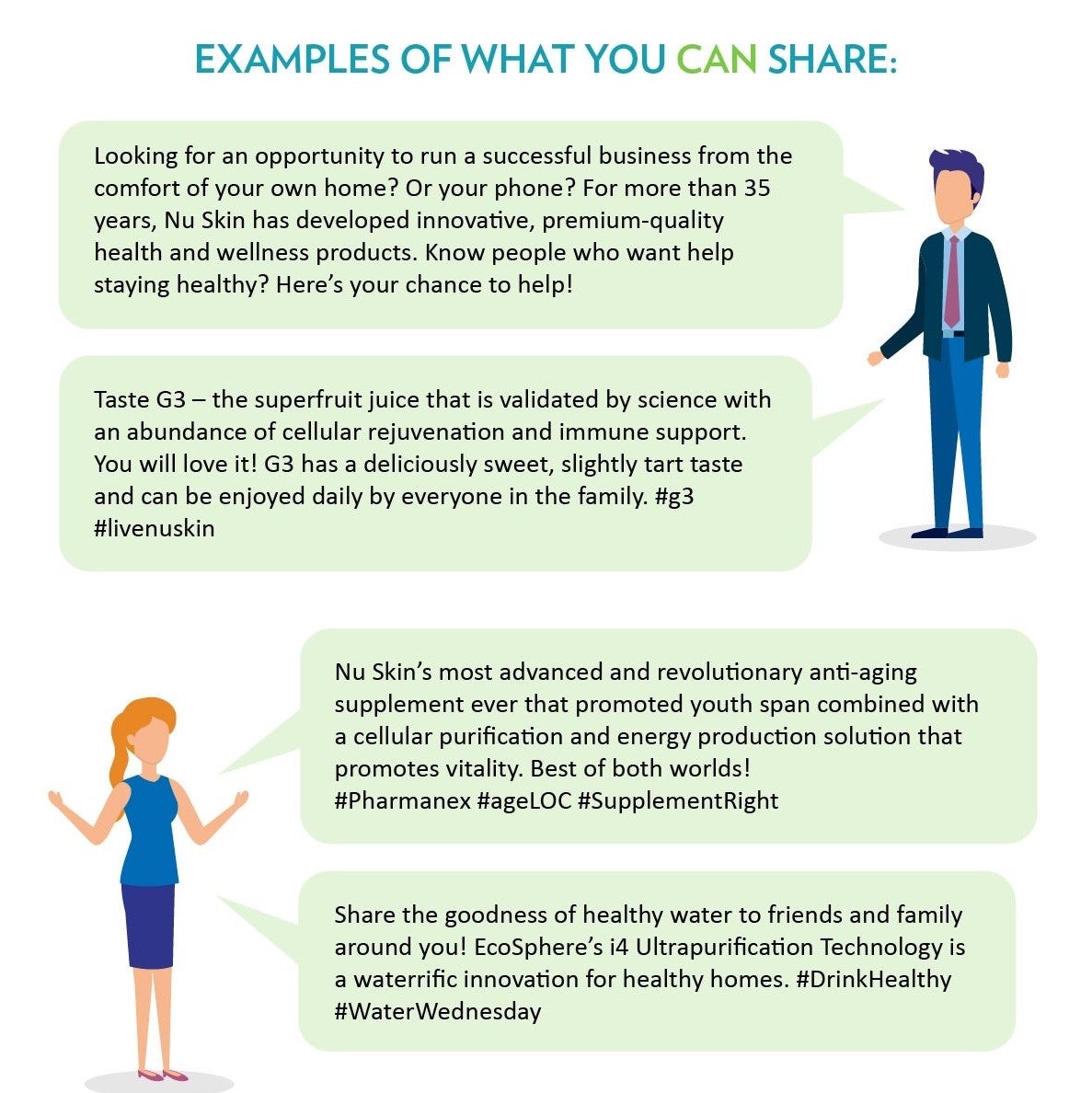 We ask for your cooperation and assistance as we work to protect the company and its reputation and set a standard for marketplace trust. We must continue to be a Force for Good throughout the world.
If you have any questions regarding this notice, please don't hesitate to contact your Account Manager or send an email to vncompliance@nuskin.com
Best regards.
RELATED TO TIKTOK
It has recently come to the company's attention that TikTok, the popular video-sharing platform, has updated its Community Guidelines to prohibit the posting or sharing of content that promotes or depicts multi-level marketing schemes. Consistent with our mission to be a force for good, and in order to uphold the company's reputation, we are asking that all Brand Affiliates immediately cease any and all promotion of the Nu Skin products and business opportunity through the TikTok platform. Please note that Brand Affiliates may continue to utilize TikTok for non-Nu Skin related personal use.
We are continuing to monitor the situation and will provide further guidance within our Social Media Guidelines, as required.
RELATED TO WHATSAPP
WhatsApp, a well-known global messaging platform, recently updated Business and Commerce Policies for its standalone business application – not to be confused with the personal WhatsApp application. The policies, which apply to all business tools, including the WhatsApp Business app and WhatsApp Business Solution, prohibit businesses from transacting in products or services related to multi-level marketing. Consistent with this policy, any Brand Affiliates utilizing the standalone WhatsApp business application or tools must immediately cease any and all promotion of the Nu Skin products and business opportunity using the business platform.
Nu Skin Code of Ethics
At Nu Skin, our mission is to be a "Force for Good." It is what drives us and makes us different. It requires Nu Skin, its employees, and its Brand Affiliates and Brand Representatives to stand out and represent the principles on which our founders built this business. These core principles must guide our actions everyday if we are going to be successful in achieve our mission. As Nu Skin's Brand Affiliates and Brand Representatives, you must adhere to the following Code of Ethics.
· You must operate your business honestly.
· You should indicate clearly and transparently to prospective customers and participants who you are, why you have contacted them, and what products you are selling.
· You may not make false or misleading claims about potential earnings under the Velocity Sales Program or about the benefits of using the Company's Products.
· You may not pressure any participants or prospective participants to operate in a financially irresponsible way, including, but not limited to, pressuring them to (i) buy more products or sales aids or services than they can reasonably use or sell, or (ii) to maintain specific inventory requirements.
· You must not encourage or recommend that participants or prospective participants incur debt in order to participate in the business.
· You must explain how to return products or cancel an order.
· You must not represent to prospective participants that they are required to purchase products or product packages to become a Brand Affiliate or to become a Brand Representative.
· Prospective participants must be informed that they can sign up as customers or that they may purchase products individually and not in product packages.
· You must comply with the company's policies and guidelines and with applicable law.
Reputation
Reputation is everything! Following these principles will help you to build greater trust with your team, your customers, and your audience.
Your Rights
Have you ever wondered what your rights are as a Nu Skin customer or Brand Affiliate? Jason walks us through the basics in this video.
Your Business
As a Brand Affiliate, it's critical that you know how Nu Skin works as a business.
Opportunity Claims
There are many ways to talk about the Nu Skin opportunity. Learn how to sincerely share your experiences and the opportunity without putting yourself at risk.
Policy
n case it's been a while since you've last gone through the Policies and Procedures, Jason provides an outline of major policies you'll want to follow.
Products
Alicia shares more tips and principles about how to protect yourself when offering the products to others.
Product Claims
Your ability to effectively talk about the products is critical to both finding and retaining customers. Alicia explains how to do this and answers some frequently asked questions.
Lifestyle
What do your pictures say about you? Jason provides insight on how to share content about your lifestyle while keeping things real.
Social
Social media is here to stay! Alicia shows us the basics of how to effectively build a Nu Skin business online.