ageLOC® Nutriol®

---
MOST ADVANCED
SCALP & HAIR SYSTEM
---
Meet ageLOC® Nutriol® Scalp & Hair System
ageLOC® Nutriol® System nourishes, treats* and revitalizes your scalp and hair to help improve the appearance of thin, stressed hair for a healthier look!
A holistic hair beauty system, ageLOC Nutriol Scalp & Hair System products contain powerful ingredients for a scientifically advanced treatment that, when combined with ageLOC Galvanic Spa, delivers instant benefits for your hair and lasting results up to your scalp.
Enjoy a healthier hair appearance that looks & feels thicker, fuller, stronger, softer, shinier. Invest in hair up to your scalp, it's the crown you wear everyday!
*Treat refers to how ageLOC Nutriol products help to restore damaged hair by providing deep nourishment every use.
---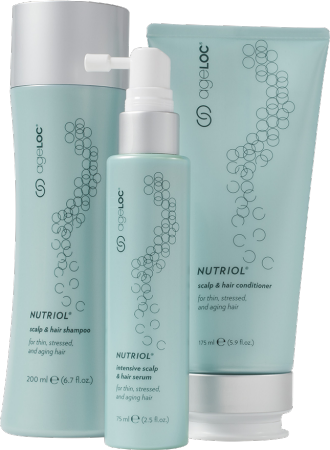 HOW TO USE AGELOC NUTRIOL SCALP AND HAIR SHAMPOO
1. Apply ageLOC Nutriol Scalp & Hair Shampoo to wet hair.

2. Gently massage into scalp and hair.
3. Rinse thoroughly with warm water.
4. Follow with ageLOC Nutriol Scalp & Hair Conditioner.
5. Leave on for 3–5 minutes and then rinse.
6. Spray ageLOC Nutriol Intensive Scalp & Hair Serum directly onto the scalp and roots by parting hair. Use on towel-dried or dry hair.
7. Use fingers to gently massage the serum into scalp and roots.
8. Comb away any unruly strands.
9. Begin your 2-minute ageLOC Galvanic Spa treatment. Using the scalp conductor and selection number five, touch the conductor directly to the scalp, and move from front of your hairline backward, keeping in contact with the scalp. Do not rinse. Style as usual.
---
HOW TO USE AGELOC NUTRIOL INTENSIVE SCALP SERUM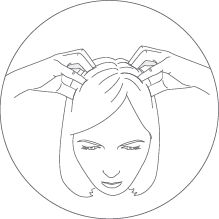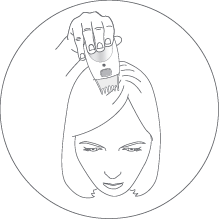 ---
STUDIES AND OTHER PRODUCT INFORMATION