5 Simple Steps to prepare your skin for winter
5 Simple Steps to prepare your skin for winter
April 09, 2017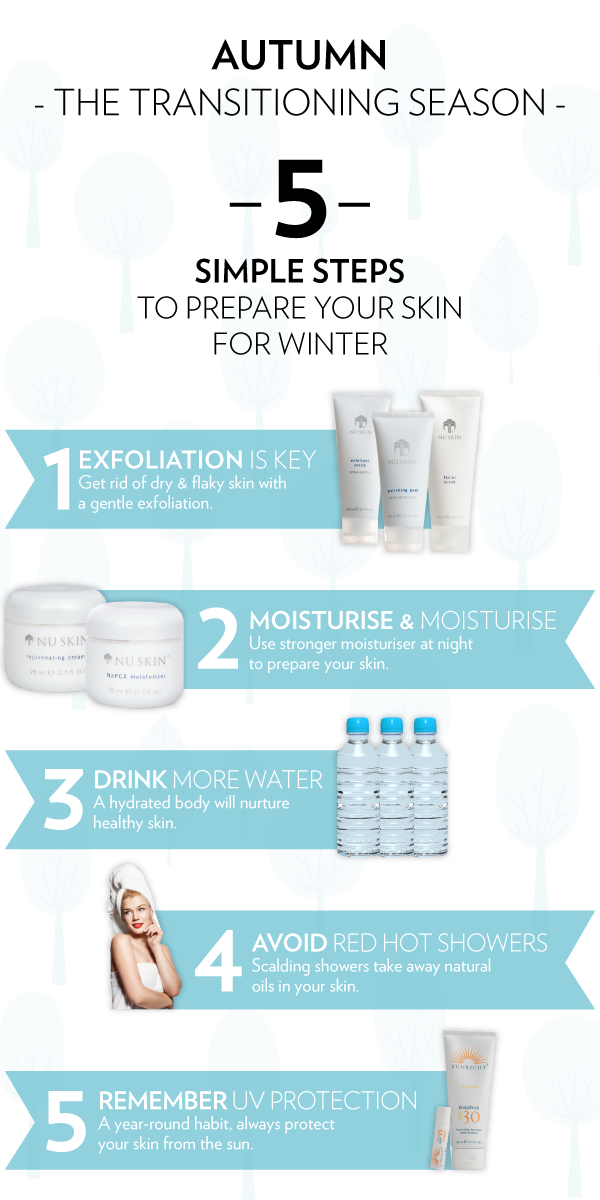 Autumn is here – time to update your skincare routine!
In the same way that changing seasons means changing wardrobes, your skin will be affected by the weather outside just as much as the fashion.
Your skin has different needs depending on the season, with autumn being the most important transition. Summer is ending and the cooler weather is starting to come out, which means that it's the perfect time to rectify any leftover summer damage and to prepare the skin for winter.
View our 5 simple steps to get your skin where it needs to be before winter hits!
1. Exfoliation is key
You would think that summer is the best time to exfoliate your skin due to the sweat and extra layers that tend to stick, but it's the cooler months when you need exfoliation the most. In Autumn and Winter, your skin becomes more dry and flaky. By using a gentle exfoliant during these seasons, you will exfoliate away the dead skin cells that build up to create dry skin.
Try our Gentle Exfoliant Scrub.
2. Moisturise & moisturise
After exfoliation, use a stronger moisturiser than your summer pick to combat the dryness of winter. Try our Night Supply Nourishing Cream for the perfect Autumn skin care switch. By moisturising at night with a thicker cream, your skin will soak up the much needed moisture which in turn optimises your skin's repair process.
3. Drink more water
The amount of water you drink has a direct association with your skin hydration. Up the H2O in order to avoid the dry skin that comes with cool seasons. After all, your skin is made up of cells, which are primarily made up of water!
4. Avoid red hot showers
When you wash your skin and face with scalding hot water, it strips away the skin's natural oils. Use lukewarm water instead, and the dryness you experience in Autumn and Winter will decrease.
5. Remember UV protection
A common skin care misconception is that your skin only requires sun protection during the summer months. Although the temperature has taken a dive, the sun is still shining strong. Carry over your protective measures into the cooler months. Use a sunscreen or morning moisturiser containing a broad spectrum SPF to shield your skin from harmful UV rays. To maintain youthful skin, you must include year-round sun protection in your skin care routine.