Health and Fitness | The Source

---
---
HOW TO GET YOUR SUMMER BODY READY
Wouldn't it be great to kick of summer feeling fit, energetic and confident in your summer body? Well when you focus on your metabolism you can start looking and feeling younger. The following Nu Skin supplements and lifestyle choices are recommended for maintaining and boosting bodily functions, including metabolism, and supporting good weight control
---
The Science Behind Ageing Well
Researchers have found that there are many factors that play a key role in living and ageing well. Check out our tips below on how to slow down the ageing process and age well.
---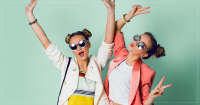 It's and New Year and it's time to discover the best you!
"I'm going to start eating healthy and working out more this year"
Has this New Year's resolution been on your list for the past few years? Have you struggled to stick to it? Don't worry, we have all been there. Statistics show that 80% of New Year's resolutions fail by February, as we automatically return to our old habits¹. If this is you, then we are here to help you focus on starting, continuing and remaining fit and healthy this year.
---
Incorporating Protein Sources Into All Three Meals
The ageLOC TR90 eating plean recommends six portions of protein per day, spread troughout the day. Here are a few easy strategies to help you successfully incorporate protein with breakfast, lunch and dinner.
---
DNA Protection and Repair Mechanisms
Have you ever stopped and wondered if your DNA is functioning properly? If you never have, you're not alone. Although your DNA processes aren't always on your mind, protecting and repairing your DNA is vitally important to maintaining your health.
---
g3 Juice: A Powerful Punch of Superfruit Nutrients in One Delicious Bottle
You have probably read a number of articles on the health benefits of fruits and vegetables. However, have you learned how to incorporate the right amount of each into your diet to reap the benefits?
---
5 Simple Factors for Maintaining a Healthy Weight
There are a variety of important factors that contribute to a healthy lifestyle. Maintaining a healthy weight and body composition is one of the best ways to prevent many of the health complications that can come as a result of an unhealthy lifestyle.
---
3 Easy Ways to Boost Your Brain Health
The human brain is perhaps our most incredible organ. Figuratively speaking, it serves as our main control center. It enables us to walk, talk, taste, and smell, and controls our breathing and heart rate with no conscious effort on our part. It's truly amazing! We are also fortunate to live at a time when science is making great leaps in brain health, and the technology now exists for us to understand more about the brain than ever before.
---
The Power to Defy Your Age
The human body is a miracle. It naturally learns, evolves, and repairs itself. In fact, it is designed to live young. We are all born with internal Ageing Defence Mechanisms (ADM's) designed to resist the effects of ageing. These ADM's are the body's way of fighting off and maintaining resistance to ageing aggressors which include things such as pollution, sun exposure, poor diet, and stress.
---
Detoxification and Stress Response Mechanisms
Detoxification and stress responses are found in tissues and cells throughout the entire body to neutralise and expel cellular toxins, as well as defend against internal threats or stressors. Unfortunately, over time, the function of our detoxification and stress response mechanisms decline or become dysregulated due to several internal and external influences. 
---
How Stress Impacts Your Health and Wellness
How often have you found yourself feeling burdened down or overwhelmed by the stresses of every day life? Stress in one form or another is something that impacts just about all of us.
---
Introduction to Ageing Defense Mechanisms (ADMs)
Did you know there's a battle going on inside your body? This ongoing battle ultimately determines how you age at the cellular level. Every day you are exposed to ageing aggressors that can cause or accelerate ageing.
---
Your ageLOC Y-Span Questions Answered
Nu Skin's most advanced anti-ageing dietary supplement, ageLOC Y-Span, delivers unique benefits regardless of diet, age, or lifestyle. ageLOC Y-Span's powerful nutritional and phytonutrient blend was carefully formulated to support the years you can enjoy life being more active, energetic, and healthy.