Boost your Immunity this Winter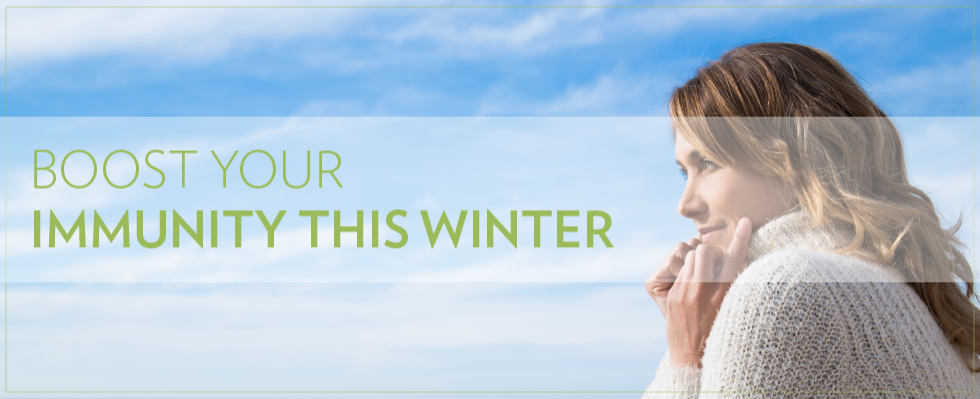 Winter is definitely here! And you would rather want to enjoy all that this season has to offer than stay at home with a cold or flu, right? For this reason it is so important to keep a strong and balanced immune system to avoid no wanted infections.
There are plenty of things that you probably know on how to take care of yourself in the winter as keeping a healthy diet with the ingestion of whole foods, whole grains, nuts and seeds, fresh fruits and vegetables; drinking plenty of water to stay hydrated; resting and sleeping 7 to 8 hours per day; working out regularly; getting some doses of vitamin D from the sun (be sure to do this when the sun is not at highest) and last but not least: relax, laugh and enjoy life – stress can be really harmful for our immunity.
But what you might not know is that there are also some great and simple ways to give your immune system an extra boost so you can take the most of the chilly weather outside! Adding dietary supplements and superfruit juices to your winter health program can be the perfect combination to cellular rejuvenation and immune support.
ReishiMax GLp® is a dietary supplement formulated to provide long-term nutritional support for a healthy immune system. ReishiMax GLp® has been demonstrated to support healthy immune system function and stimulate immune cell proliferation. ReishiMax GLp® is a proprietary Reishi extract, containing the highest level of actives currently on the market. This standardised product also incorporates cracked spores, a unique technology that releases Reishi's active ingredient, providing unique immune activity not found in other Reishi products.
g3® is a nutrient-rich juice from the prized gâc "Superfruit" of Southern Asia, whose nutritional benefits have been scientifically demonstrated to protect cells. Among gâc's potent phytonutrients are a unique and highly-bioavailable form of carotenoids called "lipocarotenes™" that provide powerful antioxidants which support healthy immune function. The g3® formula was developed with 3 additional super fruits - Chinese lycium, Siberian pineapple, and cili fruit - that synergistically provide exponential benefits. g3® has a refreshing flavour that is deliciously sweet, slightly tart and can be enjoyed daily by everyone in the family.
Take 1 to 2 capsules of ReishiMax GLp® twice daily with food and drink and 30 mL of g3® with your morning and evening meals (or 60 mL once a day with a meal) and see the benefits of these products in your immune system health.
With these smart tips you have now the perfect Winter health blast to enjoy all the best of this season!
---
---
Before commencing any health program always consult your healthcare professional.
ReishiMax GLp® ingredients: 5mg Ganoderma lucidium (reishi mushroom) dry spore, 6.2g Ganoderma lucidium (reishi mushroom) extract equiv. dry mushroom. Other ingredients: Gelatin, Stearic Acid, Water. Consult a doctor if you are currently using anticoagulants, receiving immunosuppressive therapies or have an immune disorder. Individuals with known fungal allergies should be cautious when taking Reishi products. If symptoms persist consult your healthcare practitioner.
g3® ingredients: Water, Proprietary Juice Blend (37%) (Gac, Siberian Pineapple, Pear Juice Concentrate, Grape Juice Concentrate, Apple Juice Concentrate, Acerola, Chinese Lycium, Cili), Natural Flavour, Citric Acid, Ascorbic Acid, Sodium Benzoate, Xanthan Gum, Pectin.