HOW DO YOU IMPROVE YOUR RESULTS?
SUPPLEMENTING WITH PHARMANEX® PRODUCTS
What Do Your Results Mean?
YOUR CAROTENOID SCORE
WHAT DOES MY SCORE MEAN AND HOW DO I IMPROVE IT?
WITH THE SCANNER YOU CAN EASILY TRACK LIFESTYLE IMPROVEMENTS OVER TIME.
HOW DO I KNOW MY SUPPLEMENTS ARE WORKING?
The answer is the Pharmanex® BioPhotonic Scanner. Pharmanex® was the first nutritional supplement company to provide you with a non-invasive, fast, and convenient way to determine your antioxidant status—and whether your supplements are actually working for you.
THE FREE RADICAL PROBLEM
Each day we are exposed to free radicals—many of the physical effects we call aging are a result of free radical damage, and no matter how healthy you try to be, you receive free radical damage every single day.
When left unchecked, free radical damage to your cells accumulates and can lead to serious health concerns later in life. In fact, free radical damage can cause premature aging and is a large factor in the deterioration of health over time.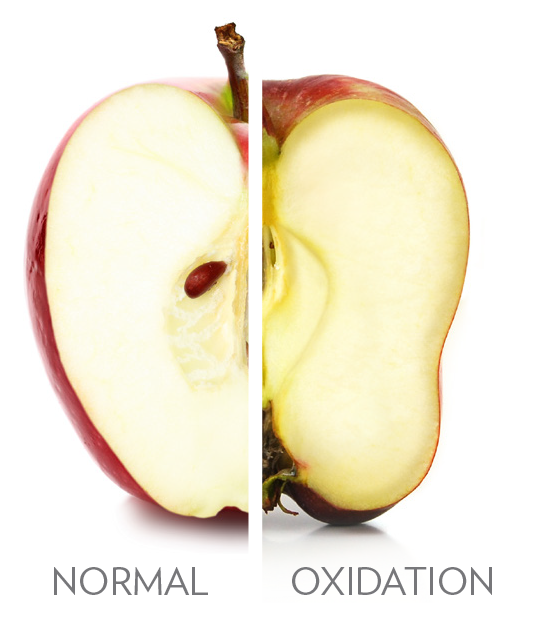 FREE RADICAL DAMAGE
A visual example of free radical damage is when you slice an apple and it turns brown. This natural process is called oxidation. As oxygen interacts with cells of any type – an apple slice, for example-oxidation occurs.
NATURE'S SOLUTION
Antioxidants are your first defense against free radicals—they freely share their electrons and stop the degenerative chain reaction of free radicals. Our bodies naturally generate some antioxidants, however, new research shows additional sources of antioxidants may provide added protection against a growing onslaught
of free radical invaders.
HOW DO I PROTECT MYSELF FROM FREE RADICALS?
To protect yourself from free radicals, you should develop and maintain a healthy lifestyle. You can limit your effects to free radicals by doing the following:
WHAT ARE CAROTENOIDS?
Carotenoids are an important category of antioxidants; primarily responsible for the reds, oranges and yellows we see in fruits and vegetables. In our bodies, non-carotenoid antioxidants rely on carotenoids to defend and replenish themselves so that they can continue their cell protective work.
"Our understanding of antioxidants and their effect on overall health has dramatically increased through the use of the Pharmanex Biophotonic Scanner. Since its inception in 2003, thousands of people have been empowered to make better life choices through the personalized feedback they receive from the Scanner."
JOSEPH CHANG, PH.D. CHIEF SCIENTIFIC OFFICER AND EXECUTIVE VICE PRESIDENT, NU SKIN ENTERPRISES