Istanbul Recognition

RECOGNIZING OUR STARS
Congratulations to our amazing 4 Star Creators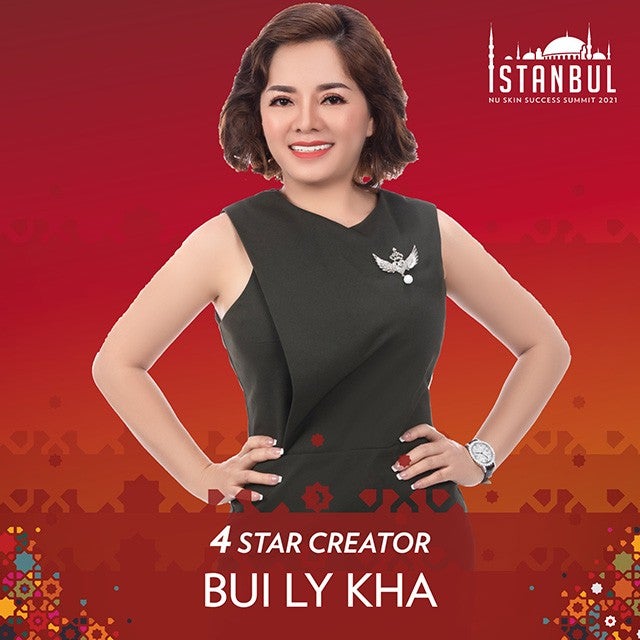 Congratulations to our 3 Star Creators!
You've worked hard to create new leaders just like yourselves.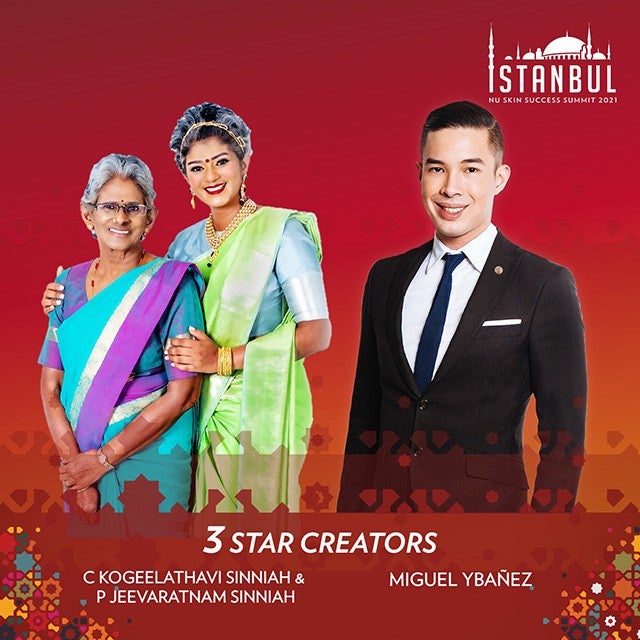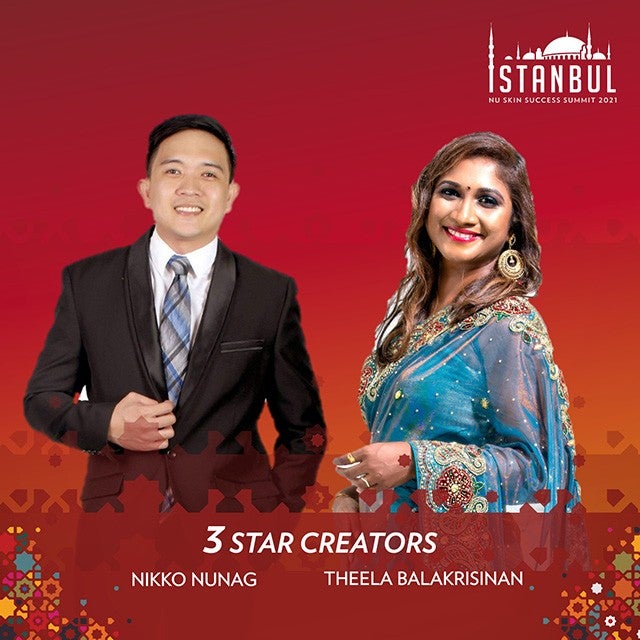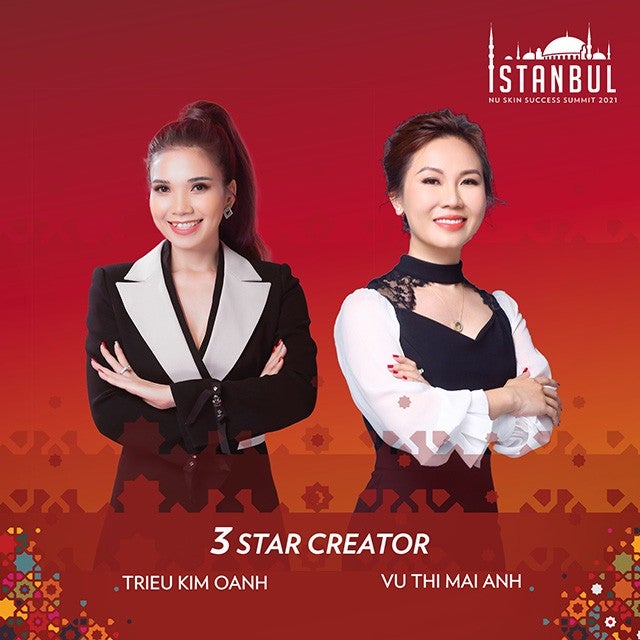 Congratulations to our 2 Star Creators!
Continue the BDM Strategy to Be. Duplicate & Multiply to create New Stars!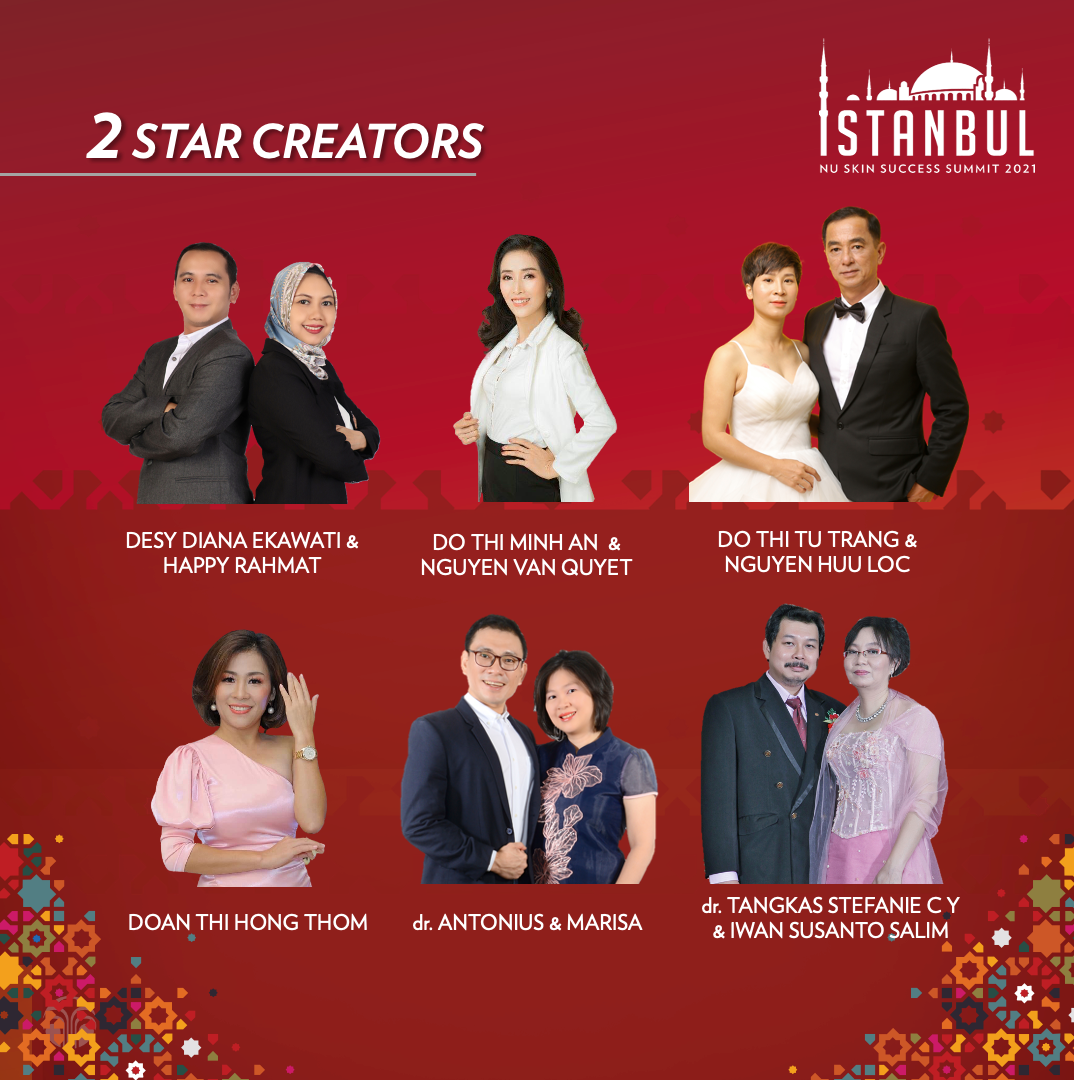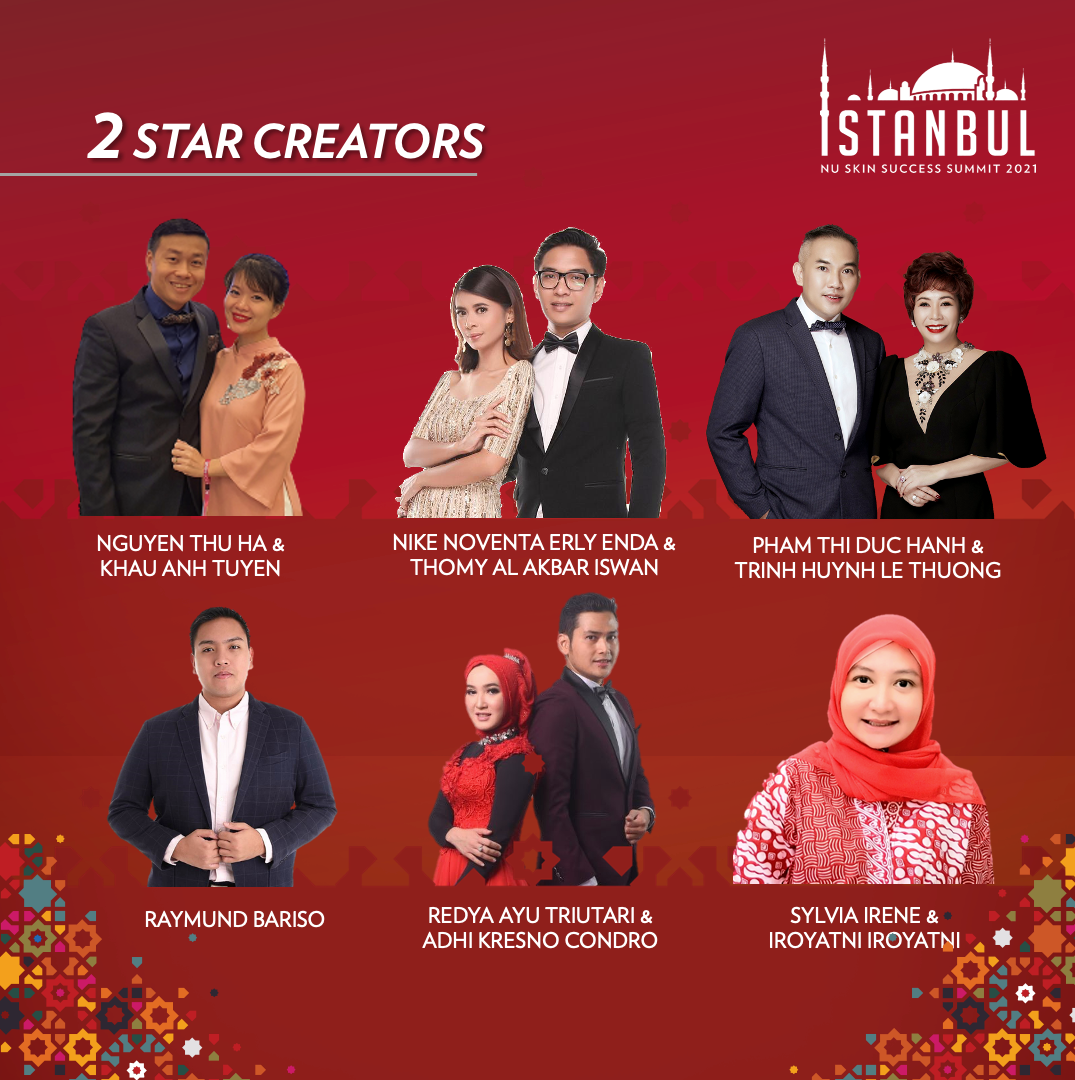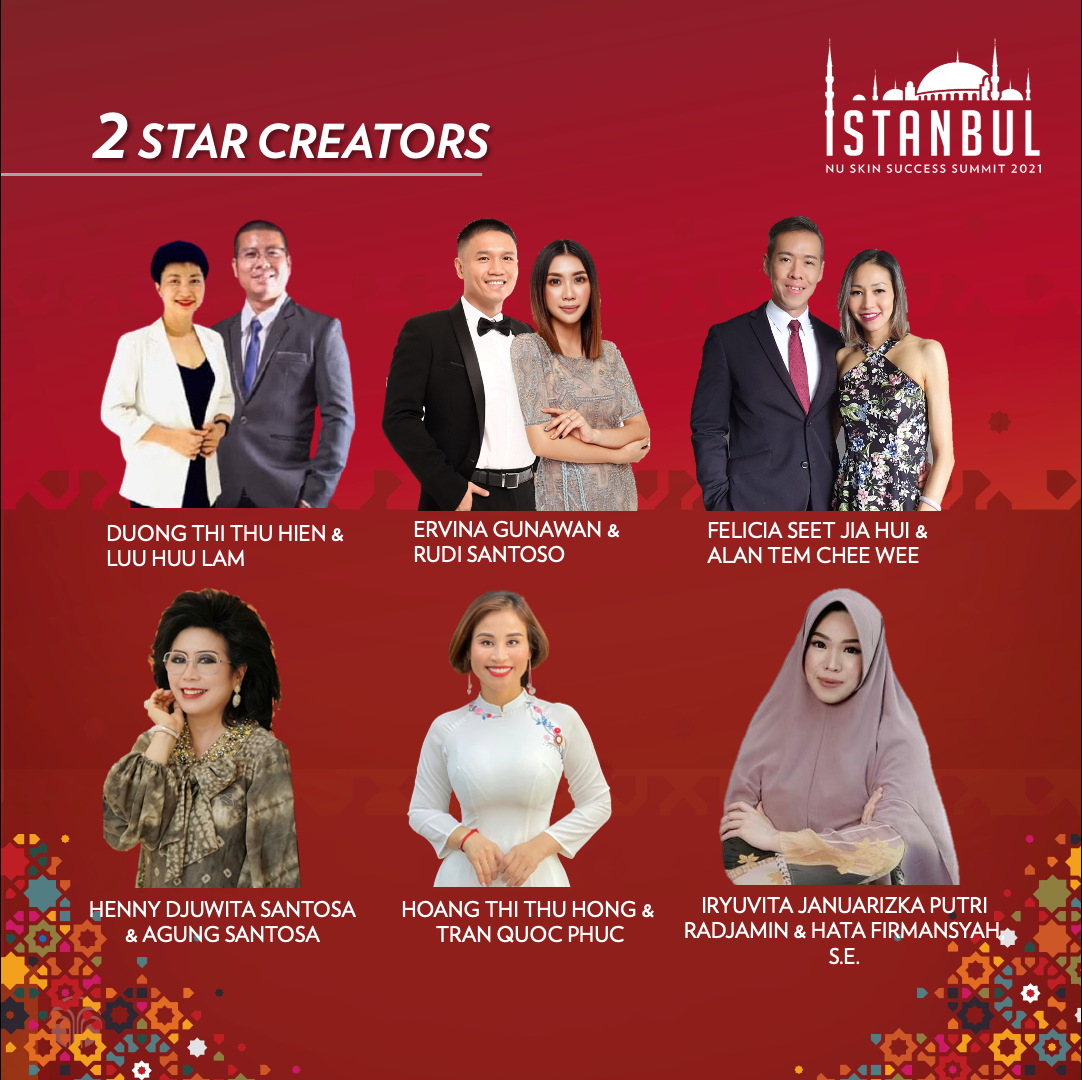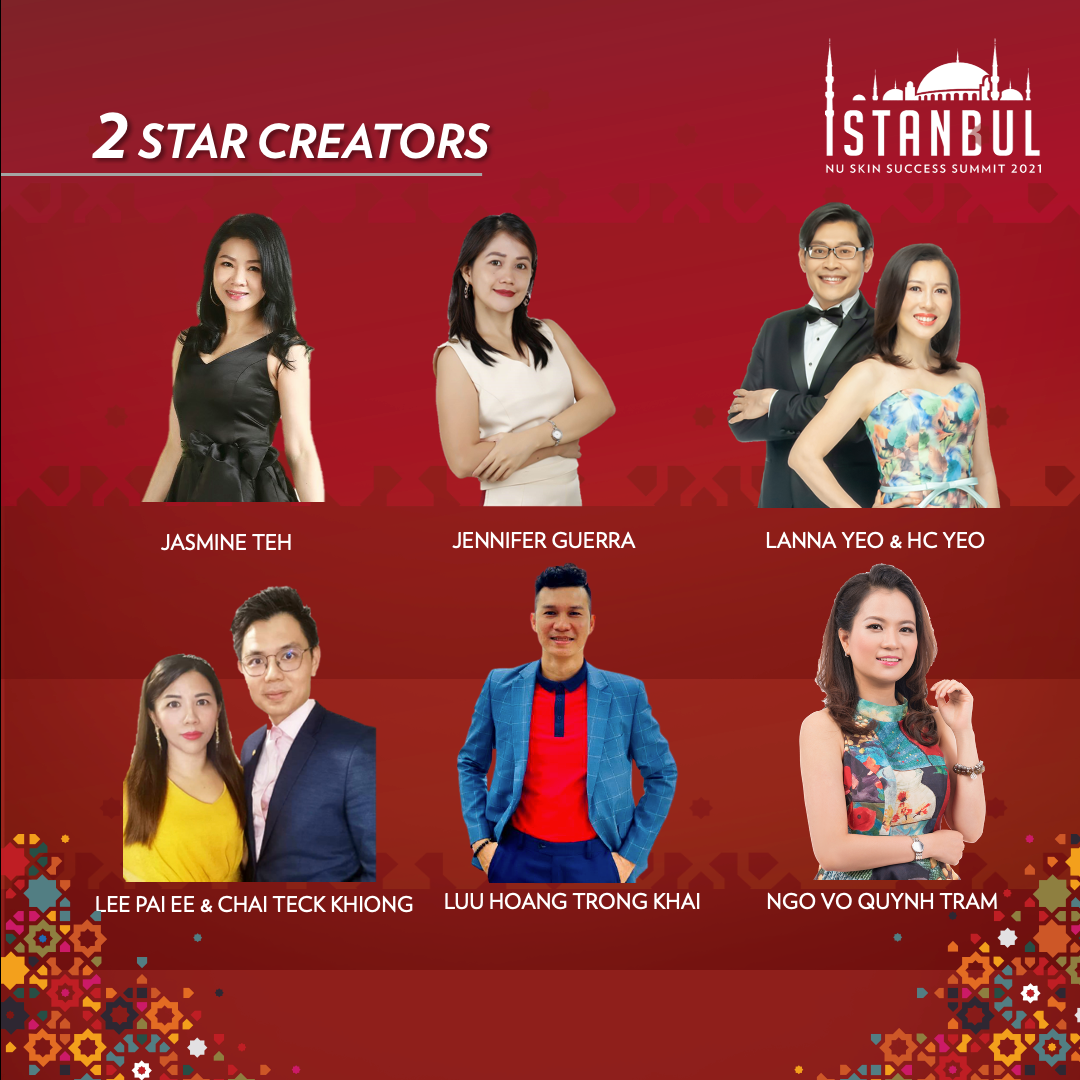 Congratulations to our 1 Star Creators!
Continue to set goals and qualify for the next trip.
Qualify for Moscow 2022!
A.ULFA ERYANTI & KUSMARDYANTO
ADRIAN HARTANTO & NOVIA AMELIA
AGUS PRIHANTORO & YENI ERVANI
ANDI FARIDA MERJAN & SURATMAN
ANDI ISMA SURYANI & EDI SUHERMAN SE
ANDY WONG & ANNIE WOO
ANGELYN SNG & TAN JUINN WEN
ANGGUN ESTI WARDANI
ANNA CALINGIN
ANNA LYNN & MICHAEL MATIGNAS
ANNE & VIC VILLANUEVA
BENZ & JENNIFER SOLCO
BERNADETH INDAH ALONA B. & dr. ELLY HERAWATI
BETTINA DE LEON
BRANDON NATAL
BUI HAI HA; NGUYEN THANH NHON
BUI THUY VY
CAROLYN TAN LAY LAY & KEVIN NG JUNE LI
CASSANDRA CHUA
CELESTE & NORRIS SEE
CHAN BAO YAN & ALAN TAN
CHARMAINE & MICHAEL YBIERNAS
CHAUNCHOM MAUNPASITPORN & CHANA LOHASAPTAWEE
CHEA FOOK YAN & CHUI KAM PONG
CHELSEY TAN YUNGSHI; TAN TECK SOON & YAP AH SIEW
CHENG KENG YEE & YONG WING SIONG
CHIN CHOOI CHUN & IVAN NGOH HON SENG
CHIN WEI WEI; CHAN KENG YENG & HO HENG WEI
CHING WEI & DION WONG
CHRISTENE CHOW & DR ANG
CHUAH HUI KOON & DR TAN CHUN KHUI
CLARICE BUTALID
CLINTON ZHENG GUANGRONG & TAY BENG HUAT
CUT DESNA APTRIANA & SUTRISNO EKI PUTRA
CYNTHIA SALAYA
DATIN SULIANA SHAMSUDDIN; ALYSHA ZAID & ZARIF JAFLUS
DAVID KEE HERNG CHIEH & ANG CHOON GAIK
DERRICK TIA & FRANN NG
DEVIA PUSPITA SARI & FIRDAUS
DEWI SARTIKA KASMAN & MUHAMMAD REZA PRATAMA KAMAL, ST
DO TRONG PHAT
DOMINIC TAN & YVONNE NG
DR FUSINOVANA & DODY HARTONO
DR. AXELLEL SHEE
DUONG THI OANH & NGUYEN THANH AN
EDDIE & MARGARET POON
EFENDI SALIM & VISION
ELISA THIEN LEE FUNG & KHOO THAU YAW
ELLY & HERMAN INDRI
ELSI SEPRIYANTI & DIDON MUHAMMAD TRI MULYA
EMMI TAURUSIA WIJAYA & HERWIN ADI ARJANA PUTRA
ERSHY RAFANTI & MAKSUN JATMIKO
ERWIN AGUSTIN
EUGINIA MEIRINA DITA PUTRI
EVA LEE & JOSEPH LEE
EVANS LEE & KOR NGE LEE
EVELYN LAI & JONATHAN CHONG
FAN YOKE HUI & YAP POH SUAN
FEBRIA LYSA LOURENA & SYAFENDI
FEBRIANA INDRIASARI & Dr INDRA CANDRA MANIKAM
FEMILIA KURNIAWATI & MIKO SAPUTRA WIJAYA
FENNY IRA MARLINA
FERGIE RAKTION & BERNAGO
FRANCIS YEOW & LILIAN WONG
FUI CIN & TJHANG DJUN FAT
GABRIEL STEVEN HARJANTO & RUDY HARJANTO
GALUH INDIRADINI
GENA TEO HWEE PENG & ONG BOON SENG
GISELLA REGINA WINARTO
GOH SEOW LEE & CHAN KOK WAI
GRACIA RUTYANA HARIANTO & ELIEZER AGUSTINUS
HAN EON ZHEN & LIM MOI KIM
HELEN THERESIA M SINAGA & FRIZT SORENTO SH
HELENA CAROLINE,SS
HERMAS PUSPITO & DANIELLA PRIMA MUSTIKA
HJ RINI EKA A SOEGIYONOw
HOANG TRAN KIM THAO & TRAN MANH HUNG
HUSSAPONG & KANSINEE WONGSRIVILAS
ICHIRO CHUAH & DAWN HOH
IDUL FAUZI & TRISMIANA
IFA URIFAH & ANANG TRI YULIANTO
IMANSYAH SUTRISNO, ST, MM & LIANA MARIZA
IPUNG ANDI PRASETYA & IRAWATI SANTI MANULANG
ISABEL & JOSEPH CRUZ
JACKIE & DR JAMES CHIA
JENNIFER GUERRA
JOE CHONG YEE HUNG & TAN KAI SHIN
JOHNNY & IVANNA WIDJAJA
JOVITA MULIANI & MIRACHEL TANU
JOYCE ONG & FUNG HWA YOONG
JUSTIN TEE & VICTORIA RODRIGUEZ
JUSTIN WAN & SYDNEY GOW
K C KANG & WILLING TAN
KASIRA KRUTHAROJ & MORAGOT KRUTAROJ
KATHLEEN DACERA
KAUSHALYA A/P BALA KRISHNAN
KEVIN MILAWIDJAJA & EFFIE JUNITA SANTOSO
KINGSLEY ANAND SAMANTHA
KOH CHEE KHUN & LOK SIEW HWA
KOH XIAO HUI & TAN SEOK SOON
KOK JENG LIN & TAN YI LIAN
LAILIA RACHMANI & IRFAN DWI ARYANTO
LAU JIA LI & CHAI JIAN HUI
LAURA OLIVIA RAMADHONA & BAYU PUTRA SUSILA
LE THI HOAI AN & LE THI THANH HUONG
LE THI THAO & PHAM NGOC ANH
LE TRUC GIANG & NGUYEN VAN DUNG
LE TUAN ANH
LEE JING WEN & LO TSHUN KHONG
LEE SI QI
LEE WEN YANG & LEE KOK ANN
LENY LEM & STEVEN CHANG
LEONITA ARYANI SH & ARIEF RAHARDJA ST
LEVIA NG
LILIAN ONG
LILIES HENDRI & KRISTIAN HADI
LIM FANG YUN & TOMMY TEO WEE PHIN
LIM KE WEI & NG CHUI HWA
LIM LEE HOON & KOK WEE FOO
LIM MENG LEE
LINAWATY & DATIA SUHARDIMAN
LINDAWATI & OBERLIN NAPITUPULU
LING JIN HONG & GOH SAW GIAK
LOH PING KHOON & TO LAY LENG
LOKE QISTINA
LOO MUN FONG & KOK KUNG SHEN
LUSSIA CHRISTINA & ARDHI YULIANTO
LUU HUU PHUOC
LUU THANH PHUONG
LUU THI THANH PHUONG
LYNN PECK
MAGGIE CHEK
MARIA DEWI CHANG & RUDY MUDITA
MARISA & ANTHONY
MARLINA & HENDRA RAMLI
MARSEL FUERTES & JERVIS SALVADOR
MAYRENEE NINGSANOND
MAZNIDA BINTI MOKHTAR & MAZNITA BINTI MOKHTAR
MEGA SURIYATI
MERLI CITRA & SUHENDI
MICHAEL CHRISTI SETIOBUDI & DR VERAWATY NUR
MINDY YEO MIN LEE & KOK FUH KEONG
MIRA KURNIAWATY & WAHYU HIDAYAT
MUHAMAD SYAFRUDIN & BD. SRI HERNIYATI
MURNIJATI TJAHJADI & AIK GOH LEE
NABILA RIFQIAH, S.E & SYAHRIL YANUAR CHAPRI
NAPHABONGKOCH PHUPHADASAWAT & PEERINPHONG SINTUPRAPA
NARISSARA SANRUANGDECH & WARIN TAPPONG
NATANAEL UNTARIO & SHELLA MARGA SEPTINA
NATTHA THANONTHANARAT & NUTTHANON SIRISOPHAPIROM
NG KIM HOOI DAYA & NG SWEE YI EILEEN
NG TZE YONG
NGUYEN HA LAM & LE QUYNH BAO TRAN
NGUYEN KIM PHUONG & LE PHUONG THAO
NGUYEN NGOC HIEU
NGUYEN QUYNH ANH & BUI DUC VIET
NGUYEN TAT THANG & NGUYEN THI LAN HUONG
NGUYEN THI DOAN TRANG
NGUYEN THI HUYEN & DANG DINH VIET
NGUYEN THI KIM ANH
NGUYEN THI LE HOA
NGUYEN THI NHUNG
NGUYEN THI QUYNH ANH; PHAM HONG THANH; VU THI HA & PHAN
 VAN MINH
NGUYEN THI THUY
NGUYEN TRONG VINH
NIA WIDIYANTI & NAUFAL
NICOLE POON YI MIN & RACHEL POON YI TING
NIKKI SAN NUNAG
NINA NURHAYATIN & YASINTA,DHEINA PUTRI
NIPUN & PARICHAT KESAVAYUTH
NIRA HAIRUNISA, AMK & HENDRIANA HENDRI
NIRAPORN KAEWTIPPAYANET & JIRAPORN PAKDEEPHAN
NONG THI NGOC & HA ANH TUAN
NOVIYANTI & YOPY TANAKA
NUNCHAYA THITICHAYASIRICHOT & NUTTAYA HOMHUAN
PANG MUNG SHIN & KWONG CHET YENG
PANG WOEI YUN
PHAM THI THU THAO & LO XUAN THONG
PHAN THI THANH THUY & VU DUONG MINH
PHIRAYA TAEPANICH & WORAPHON MAI-NGAM
POON E-LIN & DAVID HOOI KIEN YUEN@ HOI KIEN YUE
RACHEL NEO & RAY CHUA
RAPATSITH SASINONPAKORN & DUANPEN SOMPHOLTHAVEEKUL
RESANE TAN
RIA GUSTIAWATI & AGUS ADI PURWANTO
RIA MUHAJIRAH & HENDRAYADI
RITA & EVER SIERRA
RIZKY AYU PERMATASARI & AHMAD ADAM UBAIDILLAH
RONA KATRINA JASA
ROSITA
RUDI ARIYANTO & DENA MAINARI
RYAN & RHEA GUDANI
SAMUEL LAI & CONNIE LAI
SARAN APIRUKVORAVUT & KEAWALIN ROJSURIYAKUL
SHERLY GUNAWAN & YUDI ANDRI
SIAMY TAN & XAVIER LEUNG
SIM LING LING & LIM CHONG HIAN
SOW YOK HUA & LEE JIANXING
SRI DINAJAYA & M.ARDANI HASAN
SRI RESNOWATI & SATRIADI
SRI SUPARNI & ANTYANTI WIDYA PURWARINI
SUCIATI & SUCIATI & KAMAL ADIB
SUSI OKTARINA SITOMPUL & IR. IVAN JEFRI PARDEDE
SUZANNA & DAVID ALIMAN SE, MBA
TAN AI-LING & LIEW KHAI RHERN
TAN CARE LYN & CHIN SIEW KEE
TAN DANNY TANJAYA & ESTHERLITA SURYO PRAYOGO
TAN KEAN NI & LEONG JENN JIANG
TAN PHEK LYNN & LEE WEI CHIEN
TAN TING SEW; OOI POH SIM & TAN SENG KHOON
TANATSORN KRUERUECHAI & PAKNUTTAPOL AKKARAJIRANUTTAKUL
TEA ISMATIKA
TEOW CHIEW HOE & LYONN LEE LEAK YONG
TEOW CHIEW SUN & LOW WEE YIEN
THEERAT AKKARARATPORNKUL & DONRUTHAI AKKARARATPORNKUL
THEJASVINY A/P CHANDRA KASAM & KUMAR A/L GOVINDASAMY
TITIK CINTHIA DEWI & ARYA BRIMA NUANSA
TRAN NGUYET ANH & DO TRUNG THANH
TYAS DWI LESTARI
URASA SRIPANWONG
VALERIE
VENICE YAP & CHEN MUN KIT
VERNON & SHEENA MAULEON
VIA & RICO MIRANDA
VINCENT & EILEEN SIY
VONY SILVIA MARCELINA & ABENG FANDYANSYAH
WANDA EDIKA TRESNA AYU & RICKY HADIANTO
WENDY KEA
WENI SULASTRI & ELAN SUHERLAN
WIRDA & ANDHIKA PRADANA
WONG CHEE SIONG & NG LEE NAH
WONG MEE HUNG
WONG PHUI LYE & ANG CHONG HSIANG
WYONNA FILIA
YAP PHECK CHUAN & YOU YIN FEN
YAP SIEW FONG
YATNA ASINTIYO WIDAGDHO & TINI NURBAITI
YONG WING MENG & ONG CHIN HWAN
YUNI INDRIATI FATONAH & NASRULLAH
YUYUN MARIATI
ZAN ZHOU
Congratulations to our NEW Stars
who are first time qualifiers to join our SEA Nu Skin Success Summit!
ADITYA CHANDRA W,S.SOS. M.SI
AGNES INDAH CHARLITTA & YOSEPHINE INDAH DIANNA
AMON & PORNSUK SUNTIWONGWAN
ANA SUSANTI
ANDREAS EKO WIBOWO & INDRESWARI RADITA TRICAHYANI
ANDREW ROBERT DIYO & MARGARETHA KARTIKAWATI
ANG XIOU JIN & ANG KHAI HONG
BE MAI PHUONG
BOBBY YULIUS LOMAN & HELGA CHRISTINA
BUI THI HONG VE
BUI THI HUYEN
CARMELYN CALUBANDI
CHEE SOCK KION; NG JING-YI & NG KAM KEONG
CHIANG SOOK YAN
CHIN SHAN YING & CHAW WAI KEAN
CHISSNUPHONG WONGSRIVILAS & PIYANUT CHINONAVANIK
CHRISTOFEL IVANO PUTRA PARDEDE
CHU THI CHAM
DANG THI THU VAN; DO HUU HUY
DAO THI AI LAM; NGUYEN TRUNG DUC
DENIE ERMAWATI & KUNCORO SULISTYO ADHI
DESAK AYU PUTU NILA KASIH & NI KETUT RANEM
DESI ELISABETH
DEVI PAWESTI MINTO PALUPI & RONI PERDANA SP.SI
DEWI SARI
DINH THI TUYET MINH; TO HONG XA
DONA SILVIA & ISKANDAR BAKTHI
DR. ANDREAS WIDJAJA, SPPD
DUONG THI MINH NGUYET
DWI ERMI IRHAMI & MUTSNI ARIF FAIQ
ELIDON & MARIE MALABANAN
ELLY SETIAWATI & KRISWIRA IVAN LENGGONO
ELVINA KURNIA IMANUEL & DANIEL OCTAVIANO CHAN PURNOMO
ENDANG SRI LESTARI & HERU JOKO SANTOSO
ERI MITRI DAHLIA & RINALDI
ERNI FITRIYANI
ERVINA MATAHELUMUAL
ERWIN CATUR WICAKSONO
FAUZATUN MAGHFIROH & H. M. SYAHRONI
FIDA SONIA PUSPA ERYANTO
GABRIEL ARNI SABBATINA & PRAKASA EDDO RENDRYA
GERALDINE ONG & GINNY ONG
GOH BIBI
GOH BUN FU
HA LAN ANH; BUI HA THUY LINH
HANIFAH MAILANY & ALEX MAHDI
HERASARI YUNITA & MINGGUS KEIKO
HERYADI & MARCELINA YACOB
HILDA FRANSIS SAHUREKA & DAVID SALIM
I GUSTI AYU SULENDRI
IGIN GINTING
INEU YUNIAWATI
IR.NIA GUSNIATY
IVAN FADHILA & SRINGATI
JANICE NAVAROSA
JEMAIN SURIANI & MOHD ISMAIL MOHD HIDZIR
KANG WEI LING & LOY KIAN YANG
KARTIKA HISMAWARI & RAKHMAD KARTOLO
KAU YING
KHOR SZE WEI & LIEW GAIK HONG
KRISTINE & GERSON OLIVAR
KRITSADA KINGCHAR & Anongpat Kingchar
LAM BAO TRAN
LE THI BAO KIM
LE THI KIM DUNG & PHAM TRAN BAO QUOC
LE THI OANH
LE THU THUY
LEE WAN SING & GE SOOK MEI
LIDIA CHRISTIN
LIE CHIN & CEN CAI
LIEW YAU & WONG JIA HAUR
LILY CHANDRA
LIM JING HENG
LIM ZHI QI
LINDA HERVIANI
LUTFIA SARI & IMAN SAPUTRO
LUU VAN ANH
MAGDALENA IKA NINGTYAS
MAI THI TIET
MARIA SRIMULYATI
MEGA MARIANA & OTNIEL RENATO SIGIT
MEGA SARTIKA
MELLY TJOE
MERVYN YONG YEW KOON & CHEN LEE HONG
MONGKHON SAYGUAY & NATACHA RAKIAW
NGO THI SOA
NGUYEN HA LY
NGUYEN NHA PHUONG
NGUYEN THI DON
NGUYEN THI HOA & PHAN DANH THANG
NGUYEN THI KIM NGAN & PHAM MY LINH
NGUYEN THI LAN; TRAN HUYEN TRANG & TRAN HAI DUONG
NGUYEN THI LIEN & NGO HONG XA
NGUYEN THI MAI HUONG & DANG ANH TUAN
NGUYEN THI NGOC HANG
NGUYEN THI PHUONG TRINH
NGUYEN THI THUY TIEN
NGUYEN THI TRANG DIEM & NGUYEN VAN EM
NGUYEN XUAN TUAN & NGUYEN THI LOC
NI LUH ARI SINTYAWATI & I WAYAN DEDI SUPARTA
NOVIE SUSANTIE SH & MARTOMI WIRYATMO
OLLIN NOSTALGIA
OOI CHIANG WAY & TOH KOK HOO
PAPASSA SITTHIRACH
PASAPORN ANUNSIRIKAJOHN
PONGDEJ NILSIRPAIWAN & JITLADA PASUWAN
PRIMA AL AKBAR
Prof. Dr.DYAH SAWITRI,SE.,MM.
RAHMANIAH & FIRDAUS
RATU TRIANA NOVIANTI & WISDAR
RIKA GUSMAYA SARI & ANDRI
SA-NGUAN WONGKIJJALERT
SARANARAT RATANAPORN
SARITA MOHAN & T ARIVANANTHAN A/L TAMBAI @MUNIANDY
SASANTI PUTRI MAHANANI
SEOW SUL NA; LIM TZE CHWEN; SEOW KONG LUU & WAN MOOI TEIK
SHIVA NUR ANNISA & ELI DIAH RODIAH
SIOW WAN FENG & LEW CHEE YOONG
SITI FARHANAH AULIA
STEPHANIE GUNAWAN & ARIEF YONASIS
SUGENG PRAYITNO & SRI SOESILOWATI
SUHENDRA & MAHDALENA
SUPPAMAS RUNGROTKITTISIN
SWASTANTO & RASIH SRI DEWANTI
TAN POR LIN & LEE YEN FOONG
TAN SIEW GEK & OOI KAH PHUN
TAN THELMA LEVIANA
TAN YONG FONG & LIM PEI WOON JOCELYN
TANYATORN THONGDEE
TEO KIMBERLY
THANH THI NUI
THIRAWIT & NONPAWAN CHARAIRAT
TIAN BEE KIM
TONG BEE YOKE & LIM KOK SOON
TRAN THANH BAO
TRAN THI CAM LINH
TRAN THI LINH
TRAN THI PHUOC CHAU & PHAM NGOC CUONG
TRAN THI THANH TAM
TRI MARYANTO
WEENA PHETANAN
YAP POH HUA & NG SOON SHEE
YAYAH KOMARIYAH & ROHATI
YOGESWARI A/P MARIMUTHU & SATHISKUMAR A/L PUNUSAMY
YUSTINA SETIARINI
ZULFA YULIZA & DEDI SUPRIADI