Nikko Nunag
Nikko Nunag
My Transformation Story
---
"Hunky Body Back"
Way back, I was very conscious of my health and how I look like. As the years goes by, I lack discipline with food and I have a poor lifestyle, that it also came to a point that my cholesterol went 299.​
​
My 90 day challenge helped me get back to my motivation and consistency to bring my HUNKY BODY BACK with proper exercise, healthy choices of food and this what I am really proud of aside losing my fat, my body age became so young as well. Thanks to ageLOC TR90 for bringing my healthy body!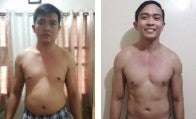 Before: 15 Dec 2017 | After: 15 Mar 2018
Total weight lost:
6.1 kg
Share this transfomation story
Start your own transformation with ageLOC TR90 weight management and body shaping system.