Awards
Awards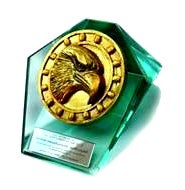 PHILIPPINES

19 Nov 2011--Nu Skin Philippines received the Corporate Social Responsibility Excellence Award, under the Delivering Equitable Healthcare Category, from the American Chamber of Commerce (AmCham) Philippines. The event was held at the Marriott Hotel, Resorts World Manila, simultaneous with AmCham's Thanksgiving Ball.

This recognition acknowledged the company's efforts in implementing outstanding and innovative programs that promote the good of the community. Nu Skin Philippines submitted the project "Nu Heart, Nu Life" which helps sponsor the operation of children suffering from heart conditions. This project started last December 2007 and to date, the company has sponsored the operation of 133 children.

The company was chosen out of 29 submissions from different member companies of AmCham. The Board of Judges consisted of Dr. Jaime Galvez Tan (former Secretary of Department of Health), Dr. Ma. Cristina Padolina (President, Centro Escolar University), Bebet Gozon (former Secretary of the Department of Environmental and Natural Resources), Chit Juan (Social Entrepreneur, Green Crusader) and Mike Hamlin (Managing Director, TeamAsia).

---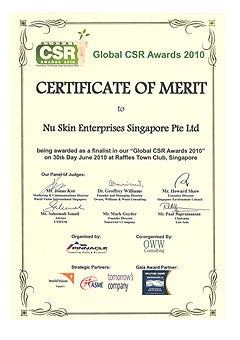 SINGAPORE
Nu Skin Enterprises Singapore was awarded the certificate of merit from Global CSR Awards in 2009 and 2010 for its local FFG efforts. The CSR Summit Awards is the Recognition Awards programme for Corporate Social Responsibility. The programme recognises and honors companies for outstanding, innovative and world-class products, services, projects and programmes implemented in 2007/2008. These projects should demonstrate the company's leadership, sincerity and on-going commitment in incorporating ethical values, compliance with legal requirements, and respect for individuals, communities and the environment in the way they do business.
Click here to view more awards from Singapore.

---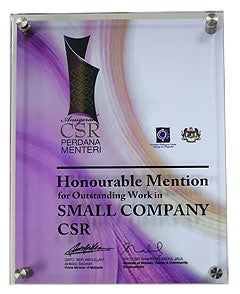 MALAYSIA
Nu Skin Malaysia was awarded Honourable Mention for Outstanding Work in Small Company CSR during the inaugural Prime Minister's CSR Awards ceremony on 14 November 2007, which was held at the Sime Darby Convention Centre in Kuala Lumpur. Nu Skin Malaysia was among the top 3 companies selected in the Small Company CSR category, and the only multi-level marketing company in Malaysia to receive an award in this inaugural event.

Michael Chen, President of Nu Skin Singapore, Malaysia and Brunei, accepted the award for Nu Skin Malaysia which was presented by Tun Abdullah bin Haji Ahmad Badawi Dato', Former Prime Minister of Malaysia.

This award is a great honour because it signifies Government recognition and appreciation of our CSR efforts to improve the lives of needy children locally (Harvest Centre), as well as our Force for Good culture which is the core of Nu Skin Enterprises.

The Prime Minister's CSR Awards which received a total of 316 entries from 161 companies saw various companies being recognized for their CSR work in categories such as Community and Social Welfare, Education, Environment, Best Workplace Practice, Small Company CSR, Culture and Heritage, and Special Award for Media Reporting. Other top companies recognized included Digi Telecommunications, Maxis, Intel Technology, Astro, Procter & Gamble, Petronas, BP Malaysia and Maybank.

This inaugural CSR Prime Minister's Award program was launched by the Ministry of Women, Family and Community Development to recognize the excellent work corporations are already doing in the community and as an encouragement for more corporations to embrace CSR.
Click here to view more awards.