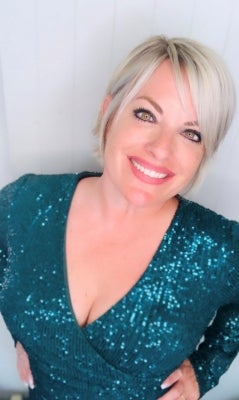 Mélinda Schumacher
My personal motto in life: "Once you REALLY decide and know WHY you're doing it, then nothing can stop you!"
In June 2018, I embarked on this fabulous journey. Despite being a customer of a few products already and a fan of the brand, I did not know what this journey would look like.
Today, I can say that thanks to Nu Skin, I have become a better version of myself, I feel much happier, more fulfilled and healthier. I have gained confidence in myself, and I am passionate about what I do every day. I have always felt from a young age that I wanted to do something where I could build an expertise and share it with those around me. Nu Skin has taught me over the past 4 years that my true passion is to share – whether it's sharing my love for products or coaching my team members to achieve their goals.
Through the NTC initiative, we have the opportunity to help the lives of malnourished children, something we would have massively struggled to do on our own. As an ambassador for the past 2 years, I am proud to contribute each month with my team to feed more and more children.
We simply need to take action and stay in motion. When you see yourself taking significant action in your own business, others in your team will want to do the same. It's up to us to lead by example!
When others achieve their goals, you will be motivated to achieve yours as well. It's all about teamwork. Remember that together we can do more, together we go further! BETTER TOGETHER!
Surround yourself with people who pull you up, with motivated people and ask yourself the question: What are your goals? and how much work are you willing to put in to reach them? Every morning I wake up and I am filled with energy, an energy that makes me vibrate & that I want to transmit to my team in order to reach new heights! Once you have REALLY decided what you want to do and  know WHY you are doing it, then nothing can stop you!
I am grateful every day to have my own business! 2023 will be a year to remember & I'm sure of it!
Best wishes to all,
Mélinda
January 2023
"Generating sales compensation as a Brand Affiliate requires considerable time, effort and dedication. Success will also depend upon your skills, talents and leadership abilities. This is not a get rich quick program. There is no guarantee of financial success and results will vary widely among participants. A complete summary of earnings at each level in the Sales Performance Plan can be found at www.nuskin.com."
*Nu Skin is a for-profit distributor of nutritional and skin care products and is traded on the New York Stock Exchange (NUS). Nourish the Children is an initiative of Nu Skin and is registered in some states as a commercial co-venture. The initiative enables Nu Skin's sales force and customers to purchase VitaMeal from Nu Skin and donate it to charitable organizations to help solve the complex world problem of feeding malnourished children. The price of VitaMeal includes the cost of manufacturing, general overhead, distribution and sales. As is the case with other Nu Skin products, our sales force receive compensation and Nu Skin earns a profit margin from the sale of VitaMeal.