ageLOC® GALVANIC SPA® PowerMask Product Information

Skin is the largest organ in the human body which evaporated several hundred ml of water every day. When the moisture level of the skin cuticle decreases, some may experience dry and sensitive skin while some may even lead to fine lines and dullness. It may also accelerate the aging process and bring irreversible harm to the skin, causing prematurely aging and "dessert" dry skin.
---
3 Tips to Moisture and Youthful Skin
The keys to rescue dry skin are moisturizing, retaining moisture, and anti-aging!

Moisturizing ·
Skin Hydration Blend
A blend of trehalose, glycerin and charged hyaluronic acid that provides instant nourishment to the skin.
Moisture Retention ·
Charged Moisture Magnets
When paired with the Galvanic current of the ageLOC® Galvanic Spa®, the moisture magnets mobilize to deliver an intense surge of refreshing hydration
Anti-aging ·
ageLOC® Blend
Targets the sources of aging to preserve the look of youth.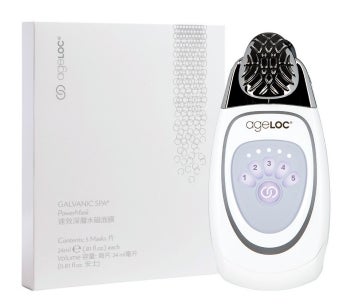 ---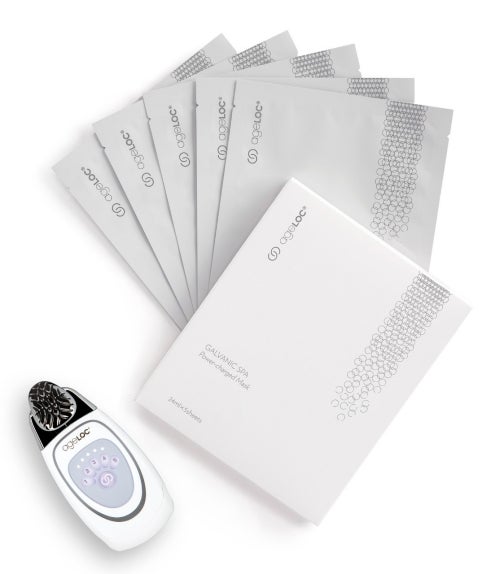 Deep Hydration
Paired with Galvanic current to provide an instant treatment delivers a blend of moisture particles for intense hydration
Instant Nourishment
Instantly nourishes and visibly plumps, giving skin a youthful bounce
Skin Brightening
Increases skin radiance for a brighter, more even complexion
Refreshing and Awakening
Nourishes and hydrates tired skin for a healthy, well rested appearance
Anti Aging and Smoothing
Supports softer, smoother-looking skin
Skin Refining
Reduces the appearance of fine lines and wrinkles
Skin Fit
Biocellulose mask fits snugly and delivers excellent levels of hydration
---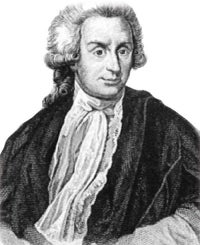 In 1791, Italian scientist Luigi Galvani discovered that the body conducts electric currents. The "Galvanic current" used today for cosmetic benefits is named after him. The gentle massaging action of Galvanic treatment helps focus cellular energy and enhance circulation to improve skin clarity and complexion.
ageLOC® GALVANIC SPA® can release positive or negative charged "Galvanic current" automatically in each treatment program. Based on the basic principle that like charges repel each other, when paired with the negatively charged ageLOC® GALVANIC SPA® PowerMask, the repelling of like charges forms a "pushing force" that mobilizes the charged hyaluronic acid in the product to deliver a surge of refreshing hydration to your skin.
---
Dr. Joe Chang's introduction of Galvanic current
---
Improvements after applying ageLOC® GALVANIC SPA® PowerMask with GALVANIC SPA® treatment number <4> for 5 minutes:
25%

INCREASE SKIN HYDRATION
23%

IMPROVE SKIN SMOOTHNESS
30%

IMPROVE SKIN BRIGHTNESS

INSTANT SKIN COOLING EFFECT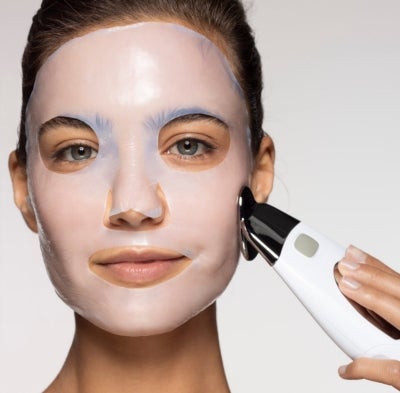 ---
Direction of Use
1. Begin with clean skin. Delicately unfold the mask and remove the mesh lining on one side.
2. Apply the mask to your face, with the unlined side on your skin.
3. Remove the mesh lining on the other side.
4. Adjust the mask to your face.
5. Begin your ageLOC® Galvanic Spa® treatment, gently placing the device to your skin, starting at the center of your face and moving outward. Use Galvanic Spa® setting selection 5 for 2 minutes. For a more intensive treatment, use Galvanic Spa® setting selection 4 for 5 minutes.
6. After the Galvanic Spa® treatment, relax and leave the mask on for another 10 – 15 minutes.
7. Remove the mask and follow with your regular skin care regimen.
---
Dr. Helen Knaggs' advice on how to improve skin moisture
---
Suggested Weekly Treatment Regimen
We recommend using ageLOC® Galvanic Spa® PowerMask with ageLOC® Galvanic Spa® 2 to 3 times a week to nourish and hydrate skin. It is suggested to complement your weekly treatment with ageLOC® Facial Gels to cleanse and treat skin for the rest of the week. It can also be used before a special event to give your skin a radiance boost and smoother texture.