Do you need healthy metabolism?

It's generally believed that young and having normal weight will be metabolically healthy.
But it's not true! Modern lifestyle easily gets us into health trap that you don't even notice.
We All Need Healthy Metabolism!
---
Purple Up Your Day, The Nu Skin Way
7 years of science research brings you ageLOC® META -
the unrivaled industry disruptor!
Scientifically proven
biological benefits
Targets sources
that impact metabolic health
Proprietary science
& exclusive research
Unique anthocyanin
formula
---
Researches by Nu Skin found out anthocyanin appears in food helps support core metabolism,
Cyanidin and Delphinidin are the most effective types to cellular protection and improve metabolism,
while black currants, bilberries and black rice are rich in these 2 types.
Therefore, ageLOC® META extracted these foods with anthocyanin to bring along
the best results in supporting metabolic health!
---
Counteract Modern Lifestyle


The product may
assist in stabilizing
blood sugar*

Promote a healthy microbiome
for better gut health

Improve
antioxidant defence

---
8 Times up Anthocyanin in take !
Shifts your body chemistry towards a healthier mode easily!
---
Nu Skin – Pioneer of Anti-aging Science
Since developed, Nu Skin has always been the leader in anti-aging science.
By continuous investing in anti-aging and genetic research,
we developed a comprehensive anti-aging product line.
Since 2008, Nu Skin invented innovative ageLOC® technology,
and established Scientific Advisory Board and anti-aging research center.
Then in 2010 set up "Nu Skin Innovation Center",
and acquired "LifeGen Technologies" for its over 30 years of
vital aging-related genes database, genetic data points and
expertise in gene expression research, to explore process of gene aging and
find the way to target the sources and adjust the gene expression.
---
ageLOC® - The US$10 Billion Brand
ageLOC® is a trademark technology of Nu Skin,
to target the genetic sources of aging (YGCs),
and by adjusting the expresson of related genetic sources
of aging (YGCs) to improve signs of aging.
ageLOC® series includes skincare and supplement products for
inner and external anti-aging solution. The brand has sold more than US$10 billion
of ageLOC® products during 2008 to 2020.
But Nu Skin keeps moving on anti-aging research and launched ageLOC BoostTM
with innovative "variable microcurrent", when used with Activating Treatment
containing ageLOC® Blend, enhances skin elasticity and brightness in just 2 minutes daily.
In 2021, new Pharmanex® product ageLOC® META launched,
which is a unique supplement in the market that targets the sources affect metabolic health.
In the world with rapid aging population, Nu Skin brings us the ultimate solution for living younger.
---
Nu Skin has developed own standards for development and manufacturing processes,
by maintaining quality, efficacy, and safety controls through each and
every stage to ensure unsurpassed results that meet only the highest standards and
comply with all relevant government requirements. This process involves a set of rigorous,
highly integrated activities and includes multiple layers of scientific testing and attention to detail.
This 6S Quality Process requires consistent collaboration and a unified commitment to quality.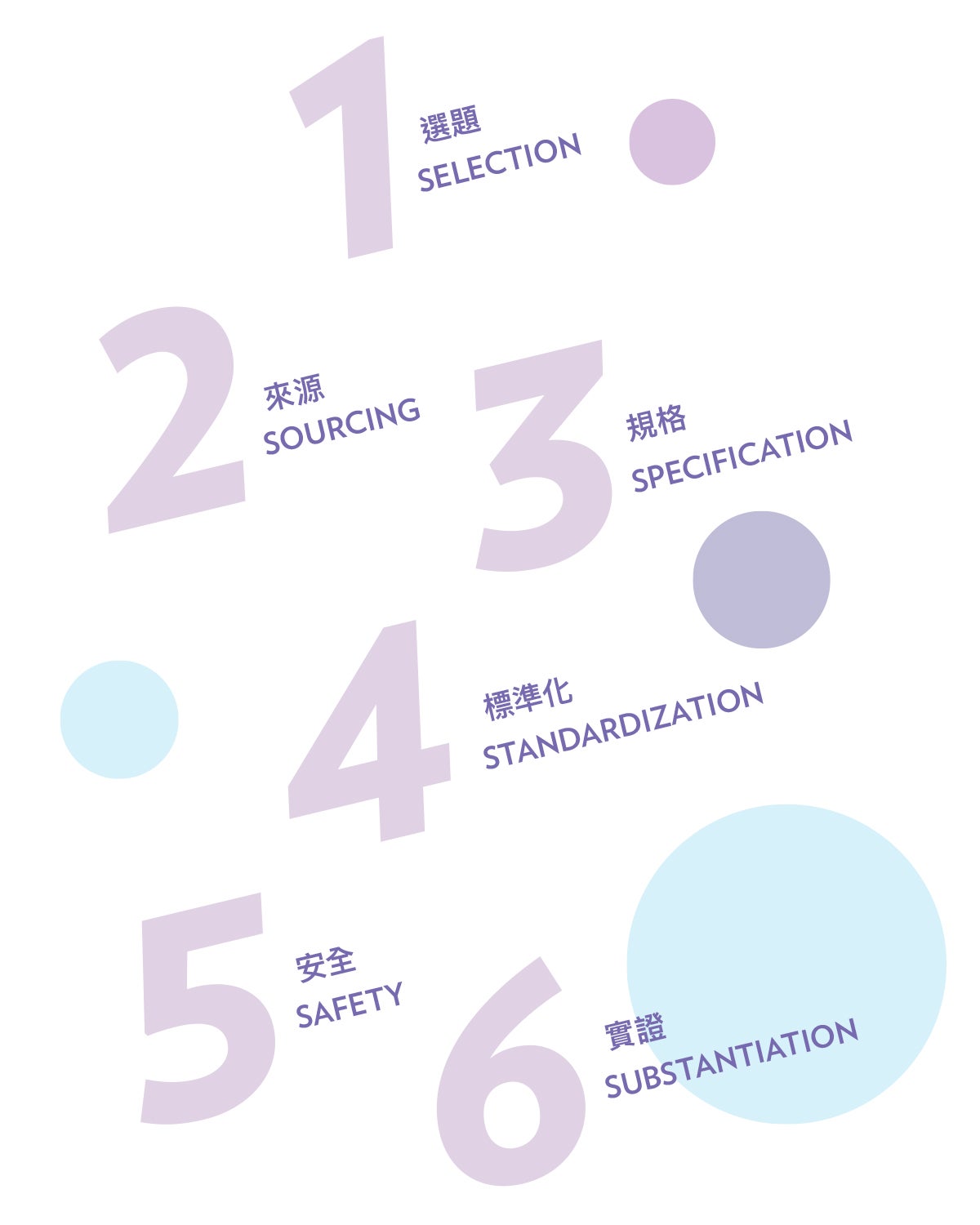 ---
ageLOC®Anti-aging Supplements
代謝健康不僅受我們所吃的食物和活動影響,
它更會影響身體對各樣生活方式因素作出的反應。
研究發現,於進食高糖分的食物後,
擁有代謝健康的身體更有效控制及穩定血糖。&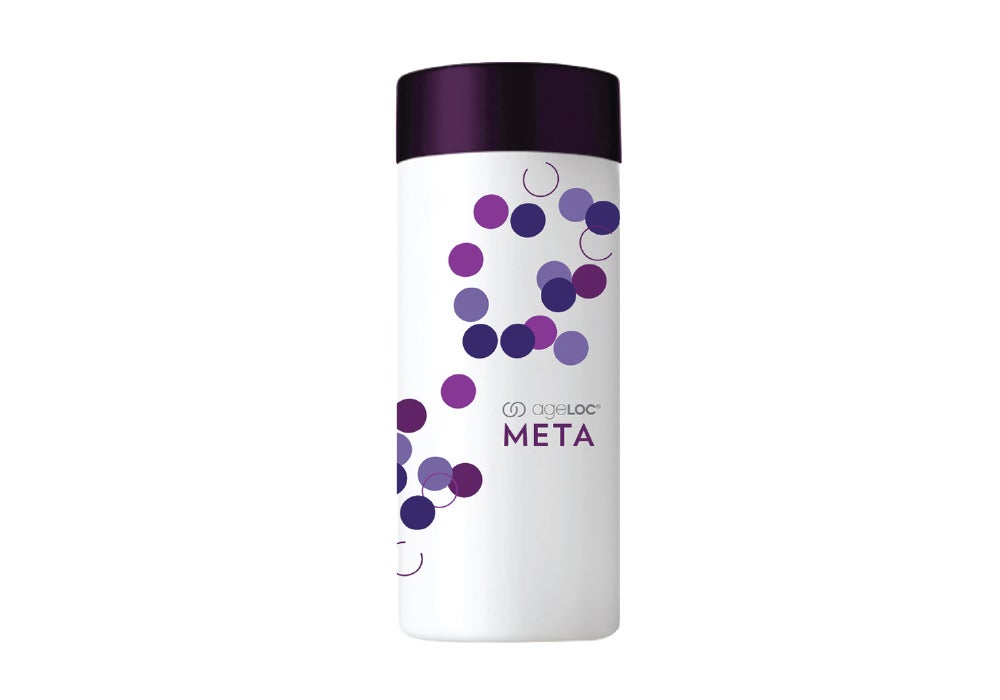 Suitable for people concern
metabolic health
Key Benefits
Everyday renewal
Enhance metabolic health
Suitable for who exhausted &
wants to feel young & energetic
Key Benefits
Enhance vitality
Help staying energized
Suitable for people desire a more positive,
revitalized and heathier life
Key Benefits
Maintenance Provide overall health benefits
for living younger
Suitable for people love gym &
concern weight & shape
Key Benefits
Weight management
Maintain muscle
---
ageLOC® META
Product Information Leaflet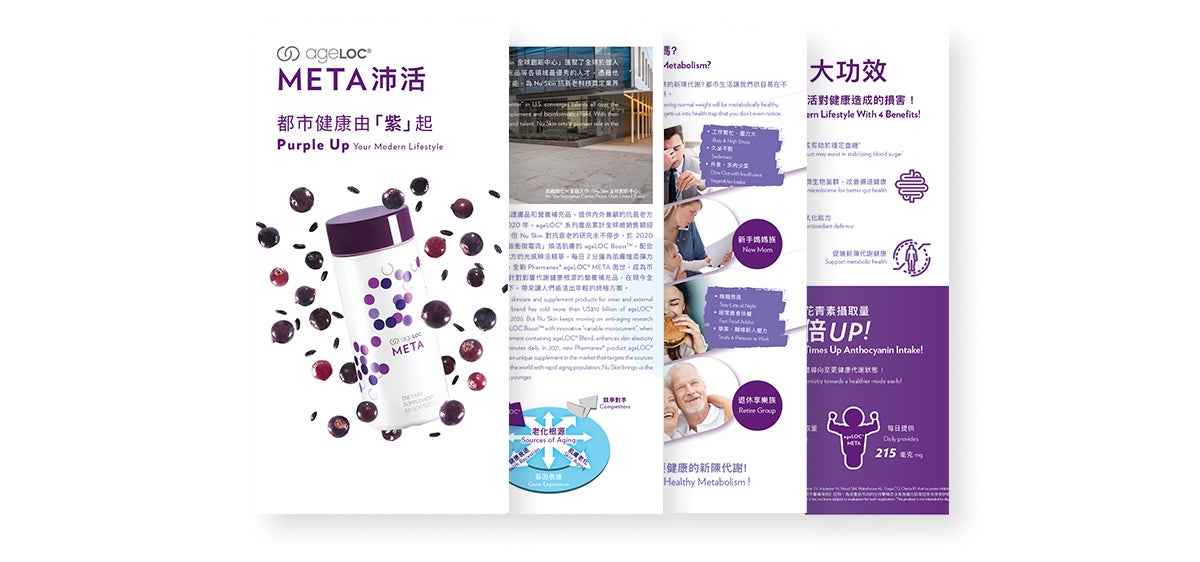 ---
& Cremonini E, Mastaloudis A, Hester SN, Verstraeten SV, Anderson M, Wood SM, Waterhouse AL, Fraga CG, Oteiza PI. Anthocyanins inhibit tumor necrosis alpha-induced loss of Caco-2 cell barrier integrity. Food Funct. 2017 Aug 1;8(8):2915-2923.
* This product is not registered under the Pharmacy and Poisons Ordinance or the Chinese Medicine Ordinance. Any claim made for it has not been subject to evaluation for such registration. This product is not intended to diagnose, treat or prevent any disease.