Creating Success , the best one is this in 2018! Let's witness the power of model together (June 15, 2018)
Creating Success , the best one is this in 2018! Let's witness the power of model together.
2018 NU SKIN Greater China Regional Convention has constant climaxes and uninterrupted excitements. It will bring you an honor and grand ceremony of recognition for One Million Circle Member *.
A group of Nu Skin dreamers are starting from a "dream", being with full enthusiasm and giving full power to the heart of life, remembering the original intention, acting positively and setting an example for others. They not only go beyond themselves, but also take it as their own mission to help others to succeed. They are the witnesses of realizing their own dreams and the best models as well as successful models of Nu Skin. While we are applauding for them and the most important thing is to learn from them.
The event specially invites Ms Vera Waters, Ten Million Dollar Circle Member and Team Elite for 18 sessions to share how she builds up Nu Skin Business. It is a chance of lifetime to speed up your career, how I wish I could fly to Hong Kong at once!
Learning, from ordinary to extraordinary!
Guest Speaker: Vera Waters
The creative equation: Learning→Persevering→Never giving up
Maxim of success: You won't fail in this business unless you give up.
The first impression of Ms Vera Waters is her superior temperament and elegance. She had already been a significant and influential business elite before she joined in Nu Skin. Why she switched her career path when she was over 50 years old, and chose Nu Skin? She said, it was giving up the good and pursuing the better!
Vera was born in a family of three sisters, her father held traditional concept of regarding men as superior to women during her childhood, so her mother had to bring up her three daughters alone, which was very difficult in Hong Kong in 1940s. But her mother would rather work hard to ensure her three daughters to get opportunities of equal education and personal development. In this way, although life is not easy, thanks to her mother's persistence, Vera was also well educated and completed the business course at the Hong Kong industrial special school (it is called The Hong Kong Polytechnic University today).
When Ms Vera Waters was young
In 1956, Vera got into a well-known foreign bank as a junior secretary. She clearly realized that she must learn from the successful people first if she wanted to succeed. She kept an eye attentively on every superior and colleague who worked with her, and kept their strengths and weaknesses firmly in mind. Whether it was malicious suppression or kind instructions, she regarded it as a learning opportunity. When opportunities came, she was more obliged to shoulder responsibilities and her competent performance had gradually influenced the employment situation of male preference. In 1966, she broke the bank's 120 years tradition and stepped into the management.
Vera said she was also frustrated when she first started working in the society, but her mother's words "You can lose a job, but you can't lose your ambition" became a force to support her facing difficulties bravely. She went to Britain to study courses of cosmetology, deportment and public speech, in order to build a professional, confident, dignified and beautiful personal brand.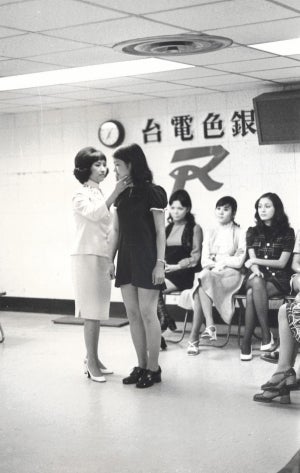 Ms Vera Waters was teaching a course in deportment for actresses' training class in 1970
At the age of 29, Vera founded the first school of cosmetology and deportment in Hong Kong. Since then, the ordinary girl had soared to great heights and created her own rich life: she became the first female manager of the well-known foreign bank in Hong Kong when she was 30 years old, the first woman in Hong Kong who wins the "Top Ten Outstanding Youth Awards" at 38; she was awarded the Honor of China's 100 Outstanding Female Entrepreneurs when she was 68 years old and became a member of the Hong Kong association of management at the age of 72.
The Top Ten Outstanding Youth Awards in 1974
In 2008, Ms. Vera Waters was receiving the certificate of member of Hong Kong Management Association awarded by Dr. Li Guobao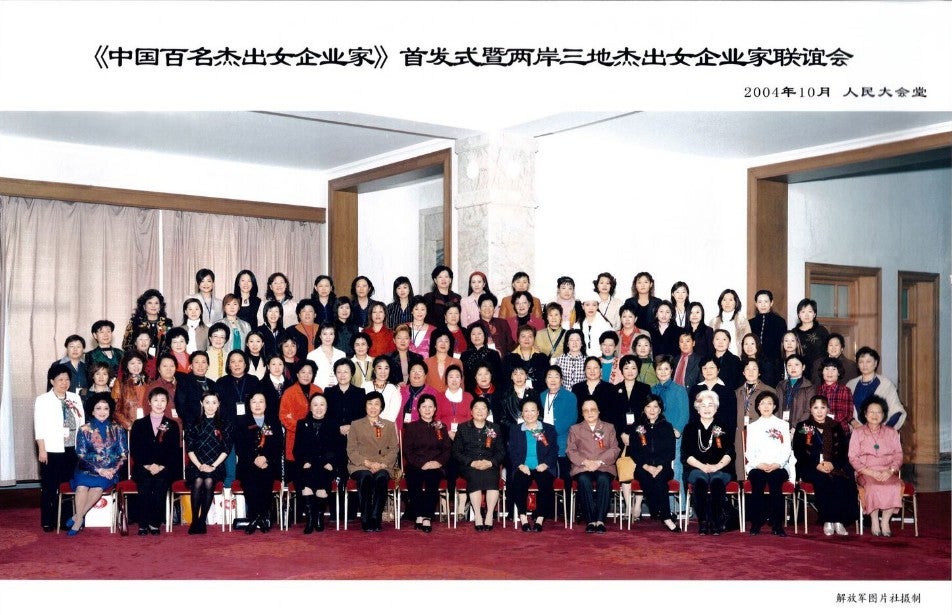 The Honor of China's 100 Outstanding Female Entrepreneurs
Switching her career path and building up new business at the age of 55 adds color to Vera's wonderful life course. She chose to join Nu Skin with Benny Chung who was at the time in financial investment. "Nu Skin combines the business with charities, and always remembering to help people in need while developing business. Such a real "force for good" is hard to find nowadays."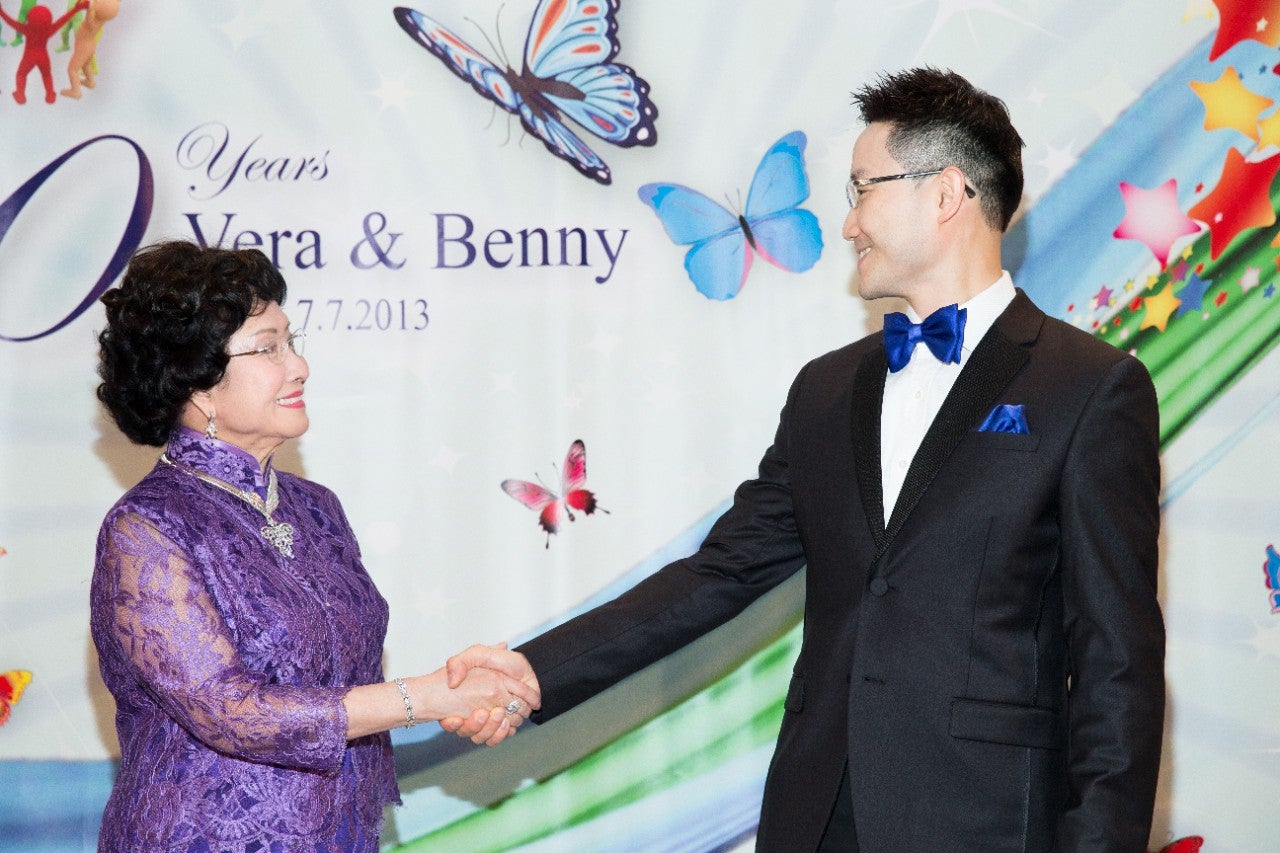 In 2013, Ms. Vera Waters and Mr. Benny were on the 20th Anniversary to celebrate their business cooperation in Nu Skin
Upholding the spirit of tireless diligence and hard work, when Vera meets new things and ideas each time in Nu Skin, she always gives a lead and goes to learn immediately, and makes sure that all partners have the opportunity to learn. While promoting herself, she also constantly enhances the capability of all partners in the team so that they can be more confident and competitive.
It has been over 26 years in Nu Skin, Vera's beautiful face and bright smile always glints with the colorful butterflies in her cheongsam (Her cheongsam has been exhibited at the Hong Kong Heritage Museum, Hong Kong Museum of History and China National Silk Museum in Hangzhou successively). Time does not leave many marks on her face, and it does not affect her quick thinking or unyielding perseverance either.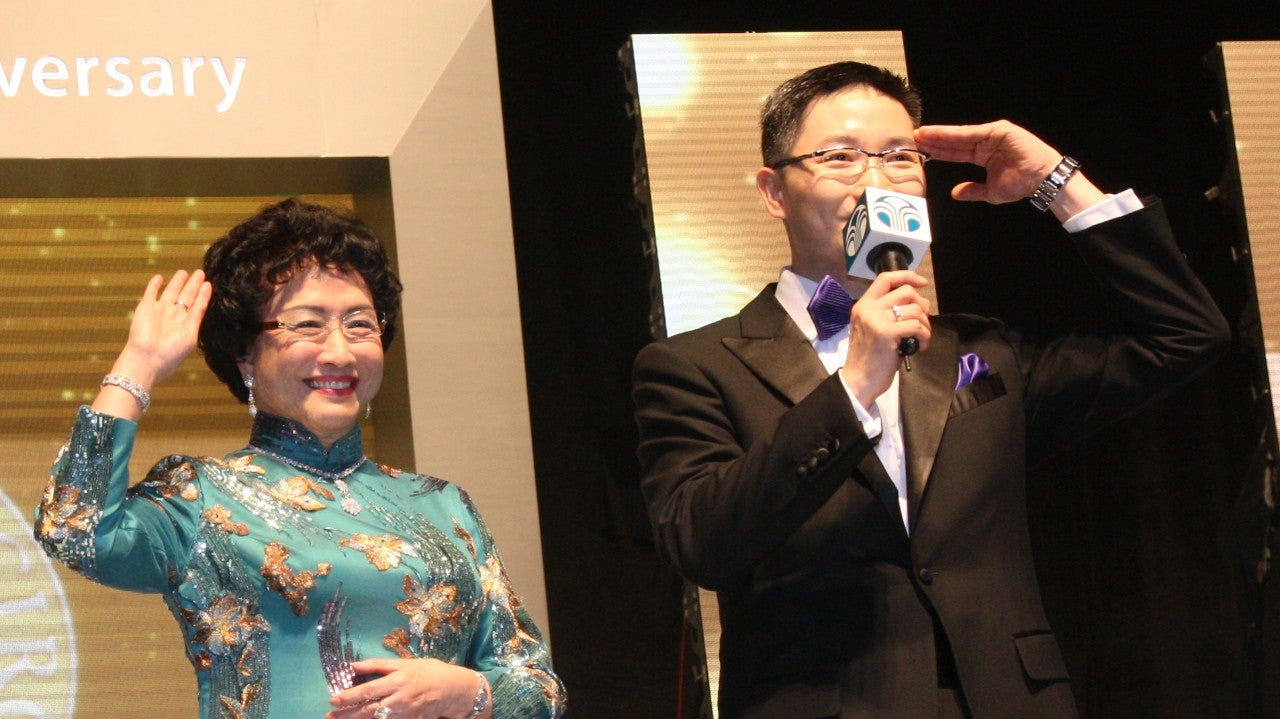 In 2011, she achieved the title of Ten Million Dollar Circle Member, and was recognized at 2012 Greater China Regional Convention
She says, it all depends on human efforts, only if you are willing to learn, there is definitely something to do. Her motto is "working hard without complaints, doing things seriously, treating people with sincerity and keeping your promise". She hopes to carry forward the Hong Kong spirit, which is practical, brave, and unremitting self-improvement, so that she can spare no effort to realize dreams with those who enter her life track.
*The guest comes from the Hong Kong market.
*To qualify for any pin level you must meet all the requirements of the Sales Compensation Plan, including retail sales.
Million Dollar Circle Members are independent distributors who have earned over one-million US dollars in commissions over the lifetime of their Nu Skin distributorship. Not all distributors succeed or make money. Generating meaningful compensation as a distributor requires considerable time, effort, and commitment. For more information about the Sales Compensation Plan of Nu Skin, please contact Nu Skin office at your home market or go to www.nuskin.com
The term "Million Dollar Circle Member" is not applicable to our Mainland China business, as we operate under a different business model there. Individuals from Mainland China recognized here, are recognized for achieving the Million Circle under that business model.