1 Step. 2 Minutes. 7 Skin Benefits | The Source
1 Step. 2 Minutes. 7 Skin Benefits—ageLOC LumiSpa
October 08, 2017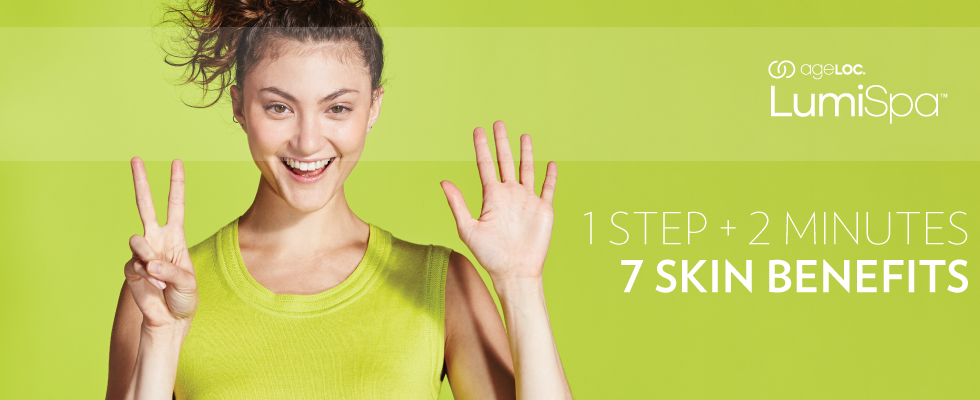 1 STEP.
ageLOC LumiSpa delivers both visible skin renewal and deep-cleansing all in one simple step. Unlike other skin cleansing devices, ageLOC LumiSpa was designed to do more than just clean the surface of your skin.
The Micropulse Oscillation technology sweeps away rough skin to reveal touchably smooth skin after just one use. The device increases cell turnover to improve skin density and volume, so that your skin appears renewed each day. This is what we mean when we talk about LumiSpa's visible skin renewal benefits. The counter oscillating Treatment Heads stimulate your skin to look energised and feel toned and firm.
And of course, LumiSpa provides a deep cleansing of your skin by removing daily grime, pollution, oil and makeup. We call it "deep cleansing" because the oscillation technology pumps your pores for an improved cleansing extraction – resulting in the minimised appearance of pores.
2 MINUTES.
This visible skin renewal and deep-cleansing occurs in a quick two-minute treatment. That's all you need to gain instant benefits so that your skin feels softer and smoother.
The ageLOC LumiSpa Treatment Heads move at a precise frequency, validated through clinical studies, to promote skin renewal by removing dead skin cells and improving skin brightness and softness. The Treatment Heads are embedded with antimicrobial silver and have a nonabrasive silicone surface that is more gentle and hygienic than brushes commonly used with other devices. The thoughtful design of ageLOC LumiSpa results in a quick two-minute treatment that will leave you feeling renewed and cleansed, revealing radiant and youthful looking skin.
And you now have the option to use a cleansing device that is fully waterproof! ageLOC LumiSpa is even safe to use in the shower, so your two-minute treatment can become a simple and enjoyable part of your everyday routine.
7 SKIN BENEFITS.
The ageLOC LumiSpa device and Treatment Cleansers are clinically backed by scientific research to have seven key skin benefits after repeated use, including:

- Visible skin renewal
- Smoothness
- Radiance
- A more refreshed look
- Purified skin
- Minimised appearance of pores
- Increased appearance of skin volume and density

These diverse range of benefits are ideal for both women and men seeking to maintain a youthful appearance, while minimising signs of ageing. One Step. Two Minutes. Seven Skin Benefits. It's as simple as that.
Get yours this summer - Coming to the Pacific in January 2018.