Nu Skin R&D Top 10 Countdown for 2015
Nu Skin R&D Top 10 Countdown for 2015
February 25, 2016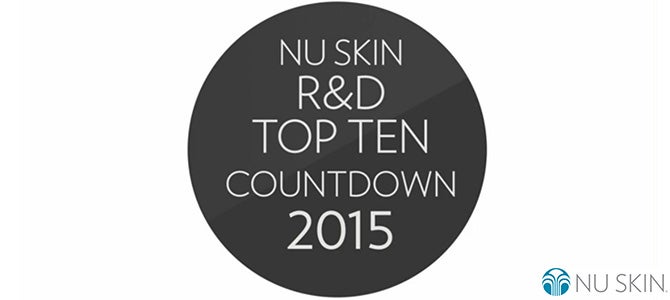 2015 was an exciting year for Nu Skin. Ongoing research and development continued to cultivate our culture of innovation through our comprehensive portfolio. Our scientific leadership in both skin care and nutrition further established Nu Skin as a premier beauty and wellness company. We are proud of our dedicated and hardworking science team and the strides they have made. Read on for an overview of our "Top 10 Research and Development Highlights for 2015!"
10. Posters and Presentations
Our scientists are continually involved in new research and present regularly at prestigious international conferences. Through 2015, our R&D scientists have published 17 articles in scientific journals; spoken at 31 medical, scientific or trade conferences around the world; and presented 59 posters at scientific conferences.
9. Study published in PLOS ONE
A manuscript was published in PLOS ONE, a top scientific journal read by scientists worldwide, that highlighted the results of collaboration between our scientists and LifeGen Technologies. The study provides strong scientific support for analyzing gene expression to identify interventions that impact aging.
8. Nu Skin Scientific Advisory Board (SAB)
Nu Skin SAB Member Koji Nakanishi was featured on the cover of C&EN magazine and in an article about his drive for learning about natural products, particularly ginkgolides. We also mourned the passing of two members of our SAB -- Dr. Carl Djerassi and Dr. Lester A. Mitscher. Dr. Djerassi was a founding scientific advisory member of Pharmanex and helped shape the company's original approach to science-based nutritional supplementation. He was subsequently appointed as the chairperson of Nu Skin's Scientific Advisory Board upon acquisition of Pharmanex by Nu Skin, where he actively served for nearly 20 years until his passing. Dr. Mitscher actively served as a member of the Nu Skin Scientific Advisory Board (SAB) for nearly 20 years. He was a renowned chemist, and his knowledge of the intersection between biology and chemistry contributed valuable insight to the science behind many of our Pharmanex products. Both of these men provided extremely valuable contributions that continue to influence the scientific research and advancements at Nu Skin.
7. Dr. Helen Knaggs Honored
Our very own Dr. Helen Knaggs received two awards last year recognizing her lifelong achievements in anti-aging science. She was named Most Innovative Person of the Year from Women World awards and was also a finalist in the Women Technology Council (WTC) awards.
6. Product Awards
Nu Skin received several product awards in 2015 including a Good Design award for ageLOC Me. This prestigious award from The Chicago Athenaeum: Museum of Architecture and Design recognizes the most innovative and cutting-edge industrial, product and graphic designs produced around the world. Our innovative product development resulted in many more awards for several products such as ageLOC Tru Face Essence Ultra, ageLOC Future Serum, Epoch Essential Oils and the Pharmanex S3 BioPhotonic scanner.
5. Essential Oils
We are excited to continue our longstanding partnership with one of the world's leading ethnobotanists, Dr. Paul Cox, and have applied his expertise and Nu Skin's scientific rigor to the essential oils market. This had led to launches in the Americas, China and Europe. Essential oils provide a variety of sensory and wellness experiences and benefits. Our Essential oils line includes blends formulated with scientific insights from ethnobotany and features natural ingredients used by indigenous cultures throughout history.
4. ageLOC Youth and ageLOC Me at Global Convention
Nu Skin "Celebrated Stars" at its Global Convention this past October, welcoming over 10,000 of our sales leaders to take advantage of opportunities to learn, network, and enjoy recognition surrounding their business growth and success. During the product session, we presented two new ageLOC products: ageLOC Me and ageLOC Youth. This presentation highlighted the science and clinical studies behind ageLOC Youth and the research that went into ageLOC Me as well as the results of initial consumer studies. This session also helped to build momentum for the two newest products in our ageLOC portfolio that we believe will help drive growth for the coming year and beyond.
3. Bringing Customization to Skin Care
Through the development of ageLOC Me, we have delivered a unique anti-aging skin care system that provides a personalized daily regimen based on individual preferences and skin care needs. The product development of ageLOC Me represents the convergence of two important trends – the growing consumer demand for personalization and the growth in anti-aging skin care and home beauty devices. This smart device dispenses a customized regimen of anti-aging product based on a skin care self-assessment. Our app-based assessment takes into account skin care needs, environmental factors and personal preferences to determine a customer's specific set of products from almost 2,000 combinations. The result is a truly unique product that provides an equally individualized experience.
2. Our Most Advanced Anti-aging Supplement
ageLOC Youth is an anti-aging supplement that helps revitalize the body's aging defense mechanisms to promote healthy aging. Each ingredient was carefully selected for its unique health benefits and ability to positively impact gene expression to promote the years individuals can enjoy life being more active, energetic and healthy. The ingredients in ageLOC Youth include nutrients that are not all readily available from even a healthy diet. In addition, ageLOC Youth takes advantage of a unique capsule technology, called Licap®, that allows delivery of both liquids and solids together in a hard shell capsule. Delivering ageLOC Youth through this technology improves the bioavailability of fat-soluble ingredients, which helps ensure the delivery of anti-aging benefits. ageLOC Youth is Nu Skin's most advanced anti-aging supplement yet.
1. ageLOC Growth and New Products
In 2015, Nu Skin's ageLOC branded products reached $5 billion in total sales , and we believe it is poised for continued growth. Our ongoing collaboration with LifeGen in genetic research to better understand the relationship between genomics and the signs and symptoms of aging has led to the launch of our most advanced anti-aging supplement and a customized skin care system. These new products represent Nu Skin's unique balance in both skin care and nutrition, capitalizing on the ability to provide consumers with product solutions that address the full spectrum of anti-aging.
It was indeed an exciting year in 2015 for our research and development team at Nu Skin, but I'm even more excited to build on that momentum in 2016. To stay updated on the latest news Nu Skin, follow us on social media [links]. To learn more about the awards and media coverage in this article, please visit Nu Skin Awards and In The News. ■

Written by:
Joe Chang
Chief Scientific Officer
Nu Skin Enterprises