Nu Skin Japan Created Smiles for FFG Day
July 23, 2015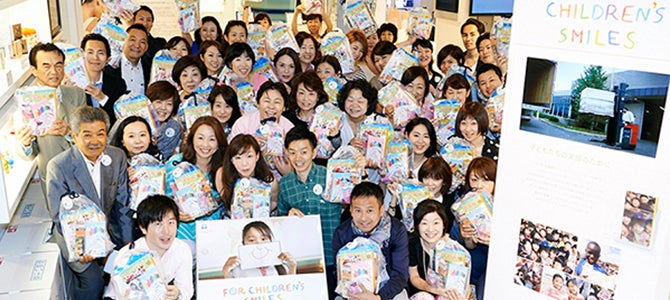 Each year in June, Force for Good Day is held in Nu Skin markets globally, serving as an opportunity for participating employees and distributors to deepen their understanding of social contribution activities.
To celebrate the month of giving, Nu Skin Japan started the "More Smile Campaign" on its official facebook page. For every "Like" or "Share" on each article in June, the company donated 10 yen to FFG Foundation. In addition, the company invited participants to share a picture of their own smile on the Nu Skin Japan facebook page using #FFGsmile to help create more smiles around the world.
Nu Skin Japan held "FFG Day 2015" on Monday, June 8. This year's activites focused on "Kits for Kids Project" to create 3,500 stationery sets which will be delivered to children at all the 17 elementary schools in Kesennuma, Miyagi, as part of the company's supports and effort for the areas affected by the Great Eastern Japan Earthquake. Nu Skin distributors and employees prepared sets of six kinds of stationery goods together in the Experience Centers across Japan (Tokyo, Nagoya, and Fukuoka) to create smiles for the children. Those kits, including the kits to be prepared on the 16th at Osaka Experience Center, are going to be directly delivered to the children by Second Harvest Japan.
In addition, the company started a campaign called "FFG 1% Campaign". For every set of designated products purchased, the company will donate the 1% of purchased amount to create smiles for children.
Nu Skin Japan will continue to make a difference in the world by expanding Force for Good activities. ■
To see more picutures, please visit the Nu Skin Japan Facebook page.