Executive and Senior Management
Executive and Senior Management
Ritch N. Wood
Chief Executive Officer
Ritch Wood was appointed Nu Skin's chief executive officer in 2017. Previously, Ritch has served in various capacities at Nu Skin including chief financial officer from 2003 to 2017, vice president of finance, vice president of new market development, director of finance of new market development and controller of the Pharmanex division. He also played a key role in opening many European countries for Nu Skin during an expatriate assignment from 1995 to 1997. Prior to his assignment in Europe, he served as the assistant director of international tax.
Ritch worked for the international accounting firm of Grant Thornton prior to joining Nu Skin in 1993. He earned a Bachelor of Science and Master of Accountancy, taxation emphasis, from Brigham Young University and in 2010 was named a CFO of the Year by Utah Business magazine.​
Beyond Nu Skin, Ritch loves to spend time with his family and go running. As a huge sports fan, he loves to watch his favorite BYU and Utah Jazz sports teams play. 
---
Ryan Napierski
President
Ryan Napierski currently serves as Nu Skin's president and member of Nu Skin's executive committee. Prior to his current appointment, he served as president of global sales and operations, president of Nu Skin's North Asia region and president of Nu Skin Japan. ​
Since joining the company in 1995, Ryan has fulfilled multiple positions for Nu Skin including vice president of global business development, general manager for the United Kingdom, vice president of European business development, key account manager for United States executives, vice president of business development and chief operating officer for the North Asia region. ​
Ryan holds a bachelor's degree in business, a master's degree in business administration from Duke University and a master's degree in international business from Goethe Universität in Germany. He also holds positions on the Direct Selling Board of Directors, Direct Selling Education Foundation, Direct Selling Association, ​
and The World Federation of Direct Selling Association. ​
In his free time, Ryan loves to spend time with his family, including his three kids. He also loves traveling, skiing, and surfing. 
---
Mark Lawrence 
Chief Financial Officer, Executive Vice President 
Mark Lawrence was appointed Nu Skin's chief financial officer in March 2017. Mark brings 20 years of operational and financial experience to the role. He recently served as the head of finance for Amazon-Lab126, where he was responsible for the company's global finance functions and played a key role in the launch of several Amazon devices. In addition, he has held senior financial leadership roles at Silicon Valley-based companies Polycom and Brocade as well as Utah-based Vivint Smart Home.
Mark holds a bachelor's degree from Brigham Young University and a Master of Business Administration from the University of California, Davis. In his free time, he enjoys anything BYU, playing golf, and spending time with his family.
---
D. Matthew Dorny
Executive Vice President and General Counsel
D. Matthew Dorny has served as general counsel for Nu Skin since 2003. From 1998 to 2003, Matt served as the assistant general counsel. Prior to joining Nu Skin, Matt was a securities and business attorney in private practice. ​
Matt received B.A., M.B.A. and J.D. degrees ​from the University of Utah. 
---
Joseph Y. Chang, Ph.D.
Chief Scientific Officer and Executive Vice President, Product Development
Joseph Y. Chang, Ph.D., was appointed chief scientific officer and executive vice president of product development in 2006. A prolific author, Dr. Chang has published numerous articles, reviews and books on pharmacological research, including the New York Times best seller, The Aging Myth. With over 35 years of experience in the pharmaceutical and dietary supplement industries, Joe enjoys a comprehensive knowledge of both of these industries. Prior to the acquisition of Pharmanex by Nu Skin Enterprises in 1998, he served as the vice president of clinical studies and pharmacology at Pharmanex.​
Prior to Pharmanex, Joe served as president and chief scientific officer of Osteoarthritis Sciences, Inc. from 1991 to 1994 and Binary Therapeutics, Inc. from 1994 to 1997. He has also held various research management positions at Wyeth-Ayerst, Rhone Poulenc Rorer and other biotechnology companies, where he was involved in researching natural products for arthritis and immunosuppressive treatment. He received a B.S. degree from Portsmouth University and a Ph.D. from the University of London. ​
Joe loves to go fishing with his family, even if his wife always catches a bigger fish than him. He's also a huge fan of the New England Patriots! 
---
Ruth Todd
Senior Vice President, Public Affairs
Ruth Todd was appointed as senior vice president of public affairs and a member of Nu Skin's global management committee in 2017. She oversees the company's sustainability, social responsibility, community, and corporate communications initiatives. ​
Before joining the Nu Skin team, she worked as a spokeswoman for The Church of Jesus Christ of Latter-day Saints from 2010 to 2013. Prior to that, Todd was an award-wining television news anchor for KSL-TV. Throughout her 25-year career in the news industry, she anchored for NBC, CBS and ABC affiliates across the country in Washington, D.C., Phoenix, and Salt Lake City. 
Ruth is active in her community having worked with multiple charity organizations including the United Way, Utah Youth Village, the Muscular Dystrophy Association and the American Cancer Society.  She recently served as the 2016 Executive Chair of the Light the Night Walk for the Leukemia Lymphoma Society. Additionally, she was the Salt Lake Spokesperson for KSL's "Family Now" initiative. ​
Ruth currently serves on several community service boards including the Wells Fargo Women in Banking board, The Wheatley Institution Ethics in Business board and the BYU Alumni executive board. She is also a volunteer host for the Mormon Tabernacle Choir. Ruth graduated from Brigham Young University with a degree in communications, and is currently pursuing her MBA from Brigham Young University. ​
When she's not working, Ruth enjoys visiting new places with her family and learning new things. A native Arizonan, Ruth loves the sunshine and being outdoors. She's an avid sports fan, music enthusiast, loves to read, and is inspired every day by the wonders of nature.  ​
---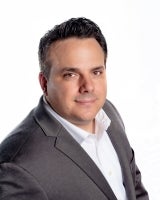 Vince Perfetti
Chief Digital Officer and Senior Vice President of Technology
Vince Perfetti was appointed chief digital officer in April 2020 and oversees Nu Skin's Technology organization and all work that impacts the company's digital ecosystem. Vince joined Nu Skin in May 2019 as chief transformation officer, senior vice president of technology.​
He came to Nu Skin from Amazon Web Services where he was a principal consultant on the cloud advisory team, advising enterprise executives on program development to maximize cloud adoption and transformation. He also has senior leadership experience from GE Digital and Dow Jones and Company, where he led the transformation of technology teams and culture.
Vince's core strengths lie in merging technology and business strategy to create and an enhanced environment built upon a foundation of teamwork and innovation. He has a master's in technology management from Columbia University and an electrical engineering degree with a pre-med minor from Manhattan College. ​
In his spare time, Vince likes to go on outdoor adventures such as hiking, backpacking, mountain climbing, and swimming with his three daughters and wife.
---
Steve Hatchett
Senior Vice President, Global Manufacturing 
Steve Hatchett was appointed senior vice president of global manufacturing and a member of Nu Skin's global management committee in 2018. Hatchett brings more than 26 years of manufacturing experience with him to ​Nu Skin, including significant experience in the direct selling industry. ​
Previously, Steve worked at Forever Living Products, Cornerstone Research and Development, and Elevate Health Sciences, a company he founded. He served as a board member at Cornerstone Research and Development and served as one of the youngest CEO's of a subsidiary of Mitsui. He was recognized by Utah Business Magazine as one of Utah's Top 40 Under 40 in 2008.​
In his free time, Steve enjoys running and spending time with his family. Any day that he gets to spend time outdoors or in the mountains is a perfect day for him! 
---
Jeff Bettinger
Senior Vice President, Global Human Resources 
Jeff Bettinger serves as senior vice president of global human resources. He is an award-winning senior HR executive known for leading cultural transformations that connect to the heart and impact business results. His peers and team members respond to his collaborative approach and ability to build inspired teams. His warm and personable style has created a legacy of team members that serve in leadership positions throughout the HR industry.​
Previously, Jeff served on the HR executive leadership team for Alcon, the world leader in medical devices, pharmaceuticals and consumer products for the eye. ​
He led significant organizational change including a $29 billion dollar spin-off of Alcon to an independent, publicly traded company from Novartis. 
He has held various executive and leadership positions with well-known brands such as USAA, Petco, State Farm and Walmart. His experience in financial services, retail, pharmaceuticals, medical devices and engineering have earned recognition from regional and national organizations for leadership development and culture transformation. ​
He is also published on topics such as diversity and inclusion, leadership development and culture change. Jeff earned a bachelor's in communication and a master's in organizational communication and educational administration from Idaho State University, as well as a master's in business administration from Liberty University. Jeff has served as an executive board member for several non-profits tied to youth and personal improvement causes.​
In his free time, Jeff enjoys spending time with his wife of 28 years, four children and three grandchildren. He loves to travel, play on beaches, visit historic sites, cruise ports of call and play rounds at Topgolf.