Careers
"Nu Skin employees are an important part of the company's efforts to be a force for good in the community and all around the world. This is a company that legitimately cares about its employees, offering a fun and engaging culture that also allows them to make a difference in the lives of others. Nu Skin is a truly unique employment opportunity." -David Daines, Vice President Human Resources
Nu Skin Enterprises is committed to creating a work atmosphere that is conducive to producing a culture of doing good in the world while creating opportunities for personal and professional growth and development.
To apply for any of these openings, please complete and submit an online application.
---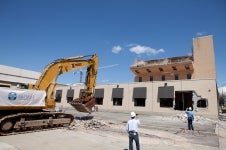 Nu Skin Enterprises demolition started next to its downtown Provo high-rise office to make way for construction of the Nu Skin Innovation Center. The new Innovation Center will join all Nu Skin campus in Provo to Downtown Provo, there will be a network operations center, call center, retail space, Nu Cafe' and distributor recognition areas.
Employees enjoyed watching the founders of Nu Skin and CEO start the demolition process, while other employees accross the global and distributors were albe to watch it live online. New and exciting things for Nu Skin Enterprises.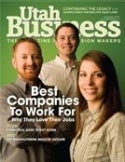 Utah Business Magazine's "Best Company To Work For"

Utah Business Magazine recognized Nu Skin as being a "Best Company to Work For" in the larger company category for 2009 and 2010. Nu Skin was highlighted for its generous employee benefits and its uplifting, enriching culture that unites its worldwide employee force.
Nu Skin believes its "force for good" culture sets it apart from other companies. As part of its mission to improve lives, Nu Skin's culture is a key component of employee satisfaction. Employees multiply their efforts by combining their donations to make a difference around the world through the company's Nourish the Children initiative, the non-profit Nu Skin Force for Good Foundation, as well as local outreach efforts.
Utah Valley BusinessQ "Top Companies to Work For"
Utah Valley BusinessQ magazine awarded Nu Skin Enterprises as one of "Utah Valley's Top Companies to Work For" in its spring 2007 issue. The company was selected from a host of entries throughout the county, with the editors narrowing the list to only five contenders. Editors chose to feature Nu Skin Enterprises on the cover and their top story titled, "A Nu Style of Business: Nu Skin is a 'force for good' in the world and the workplace."
---
Our hiring policy is simple:
WE FOLLOW THE LAW!
This company hires lawful workers only — U.S. citizens or nationals and non-citizens with valid work authorization — without discrimination.

Federal immigration law requires all employers to verify both the identity and employment eligibility of all persons hired to work in the United States.
In its efforts to meet the law's requirements, this company is participating in the Basic Pilot program established by the Department of Homeland Security and the Social Security Administration (SSA) to aid employers in verifying the employment eligibility of all newly-hired employees. Our participation in the pilot program does nt exempt us from the obligation to complete a Form I-9 for everyone we hire.
For additional information on the verification program contact the:

Department of Homeland Security
USCIS/SAVE Program
111 Massachusetts Avenue, 2nd Floor
Washington, DC 20001
Phone (888)464-4218
Nuestra póliza de empleo es simple:
NOSOTROS SEGUIMOS LA LEY
Sin disriminación, esta compañia emplea solamente trabajadores legales — ciudadanos o nacionales de los Estados Unidos y extranjeros con autorización de trabajo.
La Ley Federal de Inmigración y Nacionalidad requiere que todas las empreses verifiquen la identidad y elegibilidad de las personas que buscan empleo en los Estados Unidos.
En su esfuerzo de cumplir los requisitos de la Ley, esta compañia participa en un programa Piloto Básico de verificación de empleo, establecido por El Departmento de Seguirdad Nacional (DHS) en conjunto con la Administración de Seguro Social en esta forma los empleadores, verificaran la elegibilidad de todos los nuevos aplicantes. Nuestra participación en esta programa piloto, hace que no exista ningun tipo de excepioón en la Ley, tenemos la obligación de completar el formulario I-9 para toda persona que nostros empleamos.
Para mayor información de este programa de verificaión, puede usted comunicarse:

Department of Homeland Security
U.S. Citizenship and Immigration Services
Systematic Alien Verification for Entitlements (SAVE)Program
Washington, DC 20529
Phone (888)464-4218
Our Mission:
"Our mission is to be a force for good throughout the world by empowering people to improve lives with rewarding business opportunities, innovative products, and an enriching, uplifting culture."
Our Vision:
"Our vision is to become the world's leading direct selling company by generating more income for distributors than any other company."