TR90 巧克力 M 棒 30包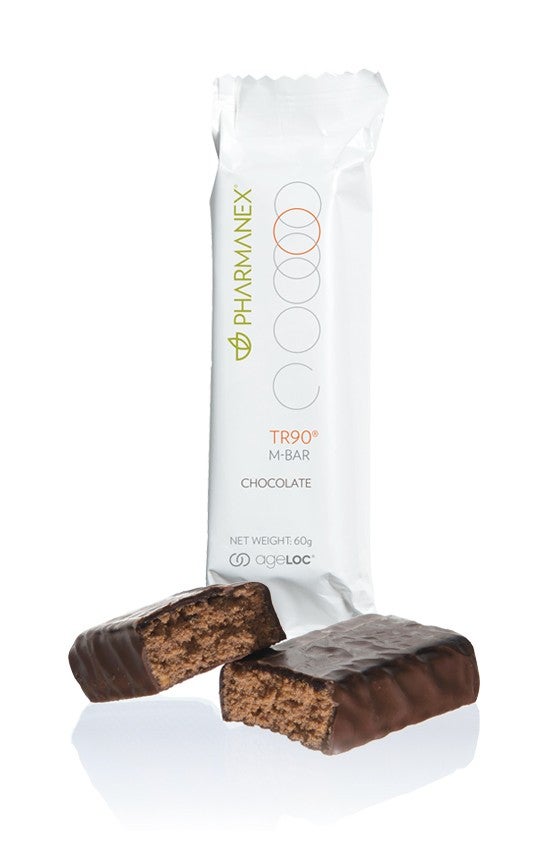 TR90 巧克力 M 棒 30包
Your fast-paced lifestyle often has you rushing out the door with no time for healthy habits.
The TR90® M-Bars are developed to keep you satisfied on a daily basis. Best of all, it can be easily integrated into your lifestyle as it is. The bars are convenient, discrete and ready for use on-the-go.
Here are other great advantages this chocolate bar will provide you:
• Contain an appropriate amount of proteins, which contribute to the growth and maintenance of muscle mass in a convenient and easy way.
• Contain one portion of Build, one Protect and one Fuel, the three important categories of the eating plan.
• Provide minerals and vitamins.
• Contains the right quantity of fats/carbohydrates to fuel your body.
Try this mouthwatering chocolate flavour today.
Product Details
usage

Take one bar once per day with a large glass of water.

ingredients

Milk proteins; Dark chocolate (17%) (Cocoa mass, Sugar, Cocoa butter, Anhydrous milk fat, Emulsifier: Soy lecithin, Vanilla flavouring); Stabilisers: Sorbitol and Glycerol; Caramel chocolate sauce [caramel: Glucose-fructose syrup, Water, Sugar; Chocolate powder (1,1%), Fat reduced cocoa powder, Thickeners: Modified starch, Xanthan gum, Pectins; Anti-foaming agents: Mono- and Diglycerides of fatty acids]; Polydextrose; Oligo-fructose; Potassium phosphate; Sodium phosphate; Calcium carbonate; Magnesium citrate; Potassium citrate; Ferrous sulphate; Zinc citrate; Cupric gluconate; Manganese sulphate; Potassium iodide; Sodium selenite; Sugar; Pea proteins; Sunflower oil; Dextrose; Hydrolyzed wheat proteins; Hazelnuts; Glucose syrup; Fat reduced cocoa powder; Milk chocolate (1,1%); Almonds; Flavouring; Collagen hydrolysate; Wheat flour; L-ascorbic acid; D-alpha–tocopheryl acetate; Nicotinamide; Retinyl acetate; D-pantothenate, Calcium; Cholecalciferol; D-biotin; Pyridoxine hydrochloride; Riboflavin; Thiamin hydrochloride; Cyanocobalamin; Folic acid; Emulsifier: Soy lecithin; Maltodextrins; Concentrated butter (milk); Margarine (Palm and Rapeseed oils); Skimmed milk powder; Barley malt; Salt; Antioxidant: Alpha-tocopherol

Allergy advice:

For allergens, including cereals containing gluten, see ingredients in bold.

It also contains traces of the following allergens: eggs, peanuts and products thereof, sulphur dioxide and sulphites.

warnings

It is important to follow the instructions for use. Maintain an adequate daily fluid intake and a varied and balanced diet, and a healthy lifestyle. An excessive consumption of the product could induce laxative effects. This product is useful for the intended use only as part of an energy-restricted diet: other foodstuffs should be a necessary part of such diet. Do not use if the foil integrity is compromised. Consult a doctor before using this product if you are pregnant, lactating or under medical treatment.