Nu Skin Surprise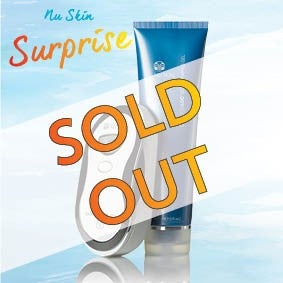 Nu Skin Surprise
For a smoother and firmer appearance!
The days are short and cold, and the urge to cosy up under the blanket is ever so tempting. But before you know it, winter will be a distant memory. Now is the perfect time to prepare yourself for a confident body reveal. The Nu Skin Surprise is just what you need to be body proud this spring and summer.
It includes one ageLOC Galvanic Body Spa and one ageLOC Body Shaping Gel, both based on Nu Skin's exclusive anti-ageing science and breakthrough galvanic current technology. When used together, they help you smooth the appearance of cellulite and help stimulate the skin on your thighs, arms and abdomen. Best of all, it's fast and easy to add to your routine.
Seize the chance to be ready for summer with this Nu Skin Surprise!
Save 20% on this package from 27 June until stock lasts.*
*Or midnight (SAST) 30 June at the very latest
Product Details
USAGE

For optimal results, use your ageLOC Galvanic Body Spa with ageLOC Body Shaping Gel once a day, three days a week on thighs, arms, buttocks and/or abdomen. Apply gel liberally to the desired area then rinse hands. Use instrument to gently massage area until application cycle is complete. Wipe away excess product with a damp cloth. For best results, follow with ageLOC Dermatic Effects, to be applied daily morning and night on targeted area. Read through owner's manual completely before starting your galvanic treatment.

HEALTH NOTICE: The ageLOC Galvanic Body Spa instrument is only for use on healthy skin. Do not use if you have open sores or wounds, skin inflammation, allergies to metal, or problematic or overly sensitive skin. Check with your physician before using if you are pregnant, have a pacemaker or similar device, are epileptic, have any metal implants, or in case of illness.

INGREDIENTS

ageLOC Body Shaping Gel:

ageLOC blend – proprietary Nu Skin technology contains specific ingredients that targets arSupermarkers, the ultimate sources of ageing.
Laminaria Digitata – helps increase fat breakdown.
Theobromine (Theobroma cacao extract) – shown to inhibit a certain enzyme in fat cells. Inhibition of this enzyme activates the dermatic fat breakdown, leading to a more contoured and smoother appearance.

Terms and Conditions

The Nu Skin Surprise Sales Event is a unique offer available from 27 to 30 June 2017, in all EMEA markets where Nu Skin is opened for business. By purchasing products available under the Sales Event, you fully agree to and accept the following terms and conditions between you and Nu Skin.

PRODUCTS

This Sales Event allows you to purchase one exclusive set composed of 1 ageLOC Galvanic Body Spa and 1 ageLOC Body Shaping Gel at a discounted price. Please, note that the discounted price is calculated on the standard price. No additional discounts will be granted.

SHIPPING

In addition, 70% discount on the shipping rate applies during the Sales Event period for standard shipping (and not for express shipping) when you purchase at least the exclusive set of the Sales event. You can add any other product to your order and continue benefiting from the reduced shipping rate. The shipping discount is not automatic and will apply only if you enter a valid "shipping code" provided by Nu Skin.

ORDER AND PURCHASE LIMITS

The Sales Event period runs from 27 June 2017 at 9:00 (SAST) and ends on 30 June at 00:00 (SAST) or until stocks lasts, this means that the quantity of products available under the Sales event is limited and promotion will end as soon as the entire stock is sold out, but no later than the time specified for the Sales event. The products are only available for purchase as a single order through the web and cannot be ordered through the ADR program (Automatic Delivery Rewards).

RETURN AND EXCHANGE POLICY

Products purchased during the Sales Event should be returned pursuant to Nu Skin's standard return policy.

MISCELLANEOUS

Nu Skin reserves the right to cancel the Sales event at its sole discretion and at any time, without any prior notice. Complaints about the current Sales Event and its conditions can be addressed to your usual customer service. These terms and conditions are without prejudice to Nu Skin's General Conditions of Sale (for purchase made by Nu Skin's customers) or Nu Skin's Distributor Agreement (for purchase made by Nu Skin's Distributors).