17-12 Celltrex CoQ10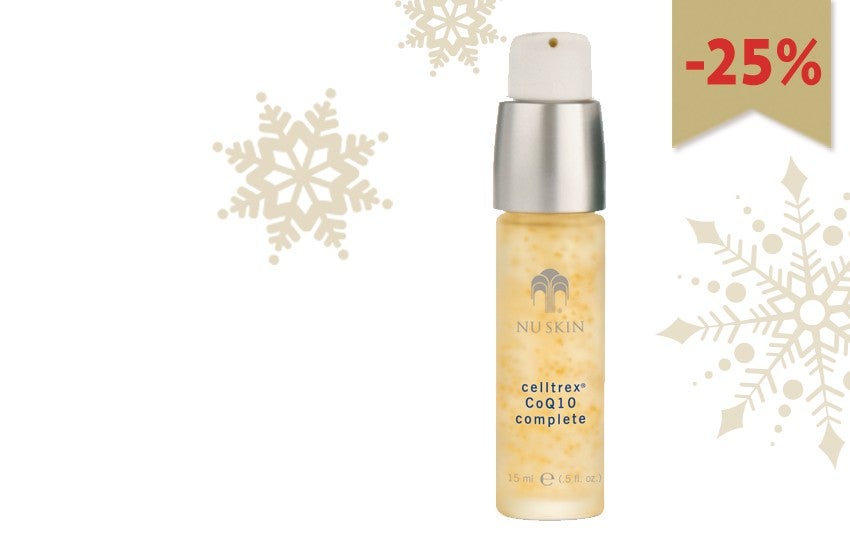 Nu Skin Village Deal of the Day: Celltrex CoQ10
The youthful energy your skin needs to get through the holidays!
Celltrex CoQ10 infuses your skin with the antioxidants it needs to keep it full of energy and helps it fight signs of ageing. Powerful but gentle, this patent-pending technology combines coenzyme Q10 with an antioxidant network of colourless carotenoids and vitamins C and E for optimal CoQ10 bioactivity.
Reduced shipping will not apply to express shipping. Reduced shipping will only apply to the winter village deals. If you add any other products to this order you will need to pay full shipping.
Product Details
key features

In addition to being a powerful antioxidant, CoQ10 can also act as a coenzyme in cellular energy production, which is essential for healthy, youthful looking skin. Based on the scientific studies conducted by Dr. Lester Packer, the world's foremost antioxidant research scientist, Nu Skin has developed a product that protects and promotes energy production while harnessing the full power of CoQ10.

Celltrex CoQ10 promotes cellular energy production, allowing your skin to rebound beautifully from daily oxidative stress for a radiant, youthful appearance. Only this serum combines coenzyme Q10 with a protective antioxidant network of colourless carotenoids and vitamins C and E for optimal CoQ10 bioactivity.

usage

Use in the morning after cleansing and toning. Dispense two drops onto your fingertips and gently smooth over face and neck. Follow with the Nu Skin® moisturiser of your choice. To ensure accurate dispensing, refer to the recommended usage marks located on the side of the bottle next to the directions. Each mark represents one week of product use. Apply Celltrex® Ultra Recovery Fluid in the evening for optimal night-time recovery.

ingredients

CoQ10—an essential antioxidant naturally found in your cells that functions as a coenzyme in generating cellular energy (CoQ10 acts only as a free radical fighter if unprotected by an antioxidant network)

Colourless carotenoids—function as blotter antioxidants, absorbing a significant number of attacking free radicals. In this way, carotenoids provide direct protection, enabling other antioxidants such as CoQ10 to perform their critical functions

Vitamins C and E—two powerful redox (regenerating) antioxidants that contribute to cellular health and longevity by helping form a protective antioxidant network so CoQ10 can perform optimally.

Water (Aqua), Butylene Glycol, Raffinose, Lactose, Ubiquinone,* Ascorbyl Palmitate, Tocopheryl Acetate, Tocopherol, Dunaliella Salina Extract,** Disodium Adenosine Triphosphate, Artemia Extract, Sodium Hyaluronate, Dipotassium Glycyrrhizate, Mannitol, Diglycerin, Polydecene, PEG-80 Hydrogenated Castor Oil, Cellulose, Hydroxyethylcellulose, Hydroxypropyl Methylcellulose, Carbomer, Phytic Acid, Potassium Hydroxide, Methylparaben, Ethylparaben, Iron Oxides.

*Coenzyme Q10
**Colourless Carotenoids