8-12 Vitameal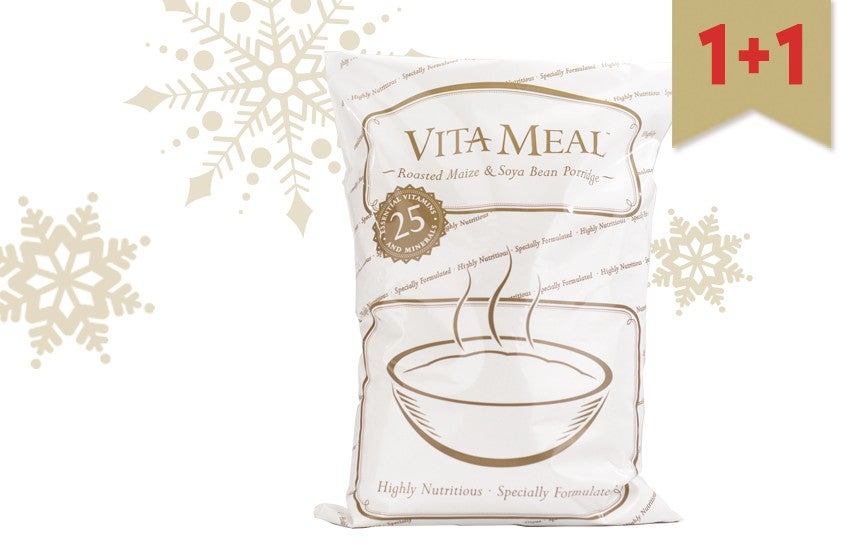 Nu Skin Village Deal of the Day: VitaMeal (buy 1, Nu Skin adds 1)
Enjoy the joy of giving
This is the season for giving, so why not give a gift of smiles by donating this VitaMeal bag. To make it extra special, Nu Skin will match this donation by adding an extra VitaMeal bag.
Product Details
key features

Roasted Soybeans: have been a major source of protein for many around the world for over 5,000 years. Soybeans are high in protein and fibre, low in carbohydrates and are nutrient-dense. Soybeans, compared with other legumes, are higher in essentials fatty acids and are a good source of calcium, magnesium, thiamin (vitamin B1), riboflavin (vitamin B2), fibre, folic acid and iron.

Roasted Maize: It is used to produce grain that is the basis of a number of foods. Maize is produced in many countries around the world and is the third most planted field crop, after wheat and rice.

nutritional facts

Nutritional Facts
Serving size: 128g
Servings Per Container: 15 (30 child servings)
Amount Per Serving
Calories
Calories from Fat
Calories from Saturated Fat

480
90
15

% Daily Value*
Total Fat
Saturated Fat
Stearic Acid
Polyunsaturated Fat
Monounsaturated Fat
10g
1.5g
0g
5g
2.5g
16%
7%
Cholesterol
0mg
0%
Sodium
10mg
0%
Potassium
890mg
25%
Total Carbohydrates
Dietary Fibre
SugarsOther
Carbohydrates
85g
14g
1g
67g
28%
56%
Protein
16g
Vitamin A
50%
Vitamin B2
120%
Vitamin B12
100%
Vitamin C
100%
Vitamin D
50%
Vitamin E
120%
Vitamin K
50%
Calcium
50%
Zinc
70%
Iodine
80%
Copper
70%
Chromium
70%
Iron
45%
Thiamin
120%
Niacin
60%
Folate
70%
Biotin
35%
Phosphorus
70%
Magnesium
80%
Selenium
100%
Riboflavin
110%
Pantothenic Acid
110%
Manganese
120%
* Percent Daily Values are based on a 2000 calories diet.

ingredients

Roasted Maize, Roasted Soybeans, Dicalcium Phosphate, Potassium Chloride, Magnesium Oxide, Calcium Carbonate, Ascorbic Acid, Zinc Gluconate, Vitamin E, Foli Acid, Beta-Carotene, Pantothenic Acid, Niacinamide, Copper Gluconate, Manganese Sulfate, Reduced Iron, Vitamin K, Vitamin A, Sodium Selenite, Vitamin B6, Vitamin D3, Thiamine Mononitrate, Riboflavin, Vitamin B12, Chromium Chloride, Potassium Iodide, Biotin.