LifePak Essentials Super A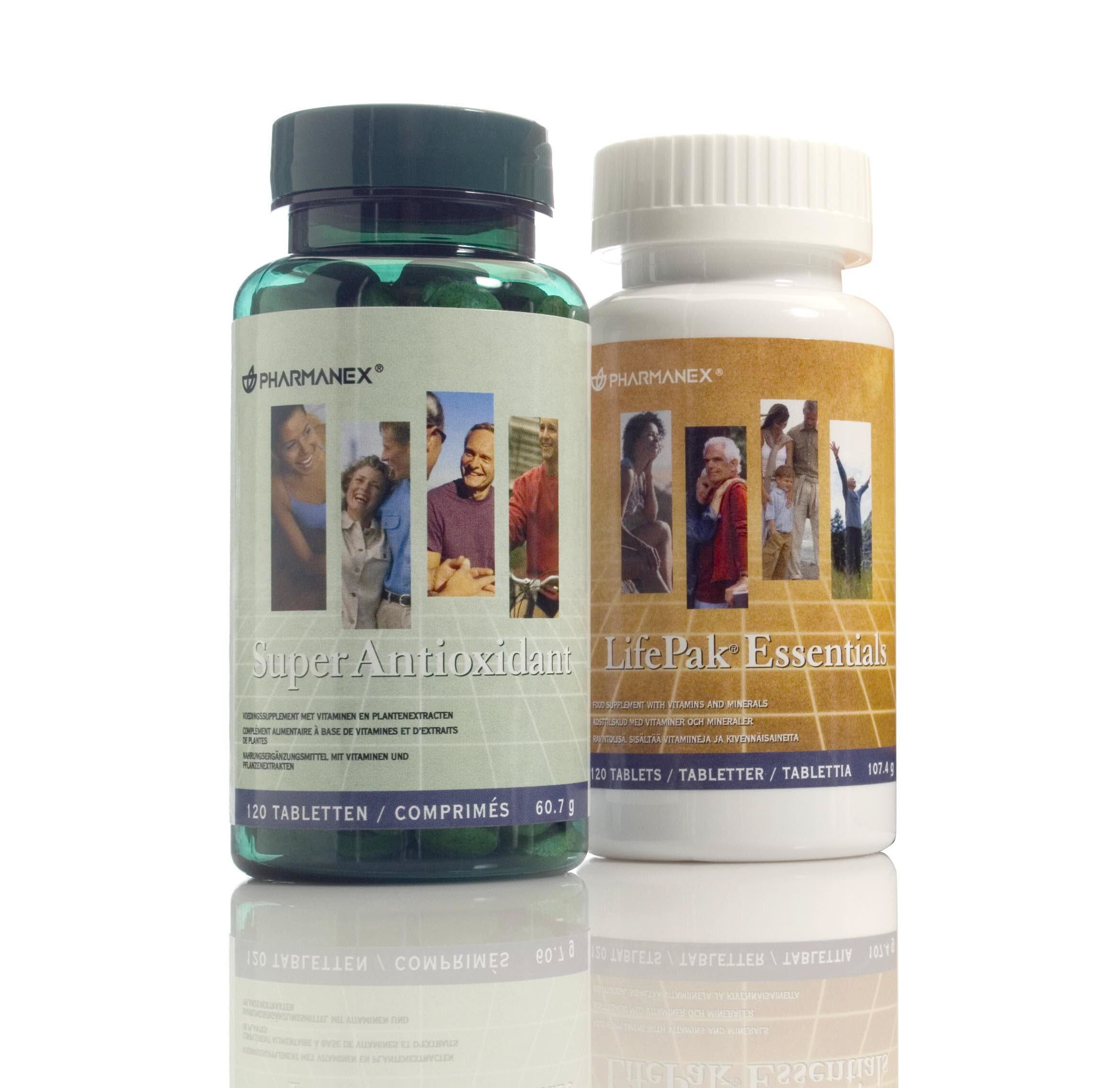 LifePak Essentials Super A
LifePak® Essentials Super A provides a good foundation on which to build your nutritional programme. LifePak® Essentials Super A offers a rich blend of antioxidants, a balanced mixture of B-vitamins, bio-available sources of minerals, bone nutrients and a variety of phytonutrients from multiple sources. LifePak® Essentials Super A consists of two Pharmanex® products: LifePak® Essentials and Super Antioxidant.

LifePak® Essentials supports health and wellbeing through a premium blend of essential vitamins and minerals. It incorporates high quality, bioavailable sources of minerals, a well-balanced ratio of vitamins like vitamin A for normal cell differentiation and vitamin C to protect the cells, in addition, magnesium and iron for a normal functioning energy yielding metabolism and zinc that supports the immune system.

Antioxidants are substances found in certain food and supplements, which help protect against free radicals. Antioxidants scavenge free radicals and help protect healthy cells and tissues. Unfortunately, your body cannot make antioxidants, so we need to consume them through our diet.



Product Details
benefits

LifePak® Essentials

Balanced trace mineral formula, which includes copper to protect cell constituents from oxidative damage: magnesium for muscle and nerve functioning and cell division, selenium, which contributes to the protection of body cells constituents from oxidative damage and zinc for a normal DNA synthesis and cell division.
A well-balanced antioxidant formula rich in vitamin A, B, C and E.
Rich in calcium, magnesium, selenium, zinc, manganese, vitamin C and D, Biotin, vitamin B1, B2, B6, B9 and B12


Super Antioxidant 

Improves your antioxidant protection network.
Contains antioxidant ingredients to help scavenge free radicals.


usage

Usage
Recommended adult use: Take two (2) LifePak® Essentials tablet and one (1) Super Antioxidants tablet once a day with your morning or evening meals.

Super Antioxidant is not to be taken on its own. Super Antioxidant is one element of the LifePak® Essentials Super A product.

Warnings
Do not exceed the recommended daily dose. A food supplement should not be used as a substitute for a varied diet which contains sufficient vitamins. Do not use if safety seal is damaged or missing. Store in a cool dry place. This product contains vitamin A. Do not exceed the recommended daily dose of vitamin A if you are pregnant or likely to become pregnant.



ingredients

LifePak® Essentials

Bulking agents (E460, E468), Calcium carbonate, Calcium ascorbate, Calcium citrate, Magnesium citrate, Magnesium oxide, D-Alpha tocopheryl acetate, Anti-caking agents (E551, E470b), Nicotinamide, Nicotinic acid, D-Calcium pantothenate, Zinc gluconate, Ferrous lactate, Manganese gluconate, Pyridoxine hydrochloride, Riboflavin, Thiamine mononitrate, Retinyl palmitate, Copper gluconate, Beta-carotene, Folic acid, Biotin, Kelp powder, Cholecalciferol, Sodium selenite, Cyanocobalamin.

Super Antioxidant

Bulking agents (E460i, E468), Green tea extract, Calcium ascorbate, Ascorbic acid, D-Alpha tocopheryl acetate, Beta-carotene, Quercetin, Acidity regulator (E570), Alpha-lipoic acid, Citrus bioflavonoids, Anti-caking agents (E470b, E551), Grape seed extract, Tomato extract, Colour (E160d), Soy isoflavones, Antioxidant (E306), Marigold flower extract, Sodium selenite, L-Selenomethionine.