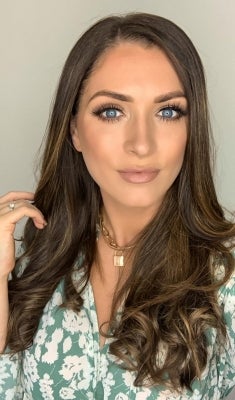 Louise Spencer
The biggest change I have experienced since I started my Nu Skin Business has most definitely been my growth as a person. At first, I had no idea about the personal development journey that I was about to embark upon with Nu Skin! Now, I am a much happier, healthier, passionate, fulfilled and more confident version of my former self.
At Nu Skin, it's remarkable that you get to surround yourself with positive, empowering, ambitious, caring people. Both our corporate partners and the wider Nu Skin family do a lot for your core thinking and beliefs. I have gone from living for the weekends, to living a life steeped in gratitude.
I knew from a very early age that I wanted to do something where I could be of value to people.  And Nu Skin has taught me that my true passion in life is to help others, whether that is by sharing my love for the products or assisting my team members to work towards their goals.  
What I love about Nu Skin, is that as you help others, you also build friendships for life. You get to watch your team grow and develop with your guidance and see the positive impact that has on them! That's what makes me spring out of bed every morning, the prospect of being able to positively impact someone.
Working with Nu Skin has also taught me to be a better communicator, to be a better team player and to work with a wide variety of people. It's taught me to be a better listener, to be more solution-focused and to become the best version of myself by learning from all of the amazing, inspiring people I come in contact with day in, day out.
While helping others is the most important thing for me, I also appreciate that I am able to build my business around my other commitments, as time with my loved ones is important. I have a huge heart, and an even bigger vision and mission to match! My mission is to positively impact the lives of others, to help people unlock their true potential and help them get closer to reaching their goals.
Thank you Nu Skin, not only for having impacted my life, but for making me a better person and helping me align with my higher purpose. I am so excited for what's in store in the future!
April 2022
"Generating sales compensation as a Brand Affiliate requires considerable time, effort and dedication. Success will also depend upon your skills, talents and leadership abilities. This is not a get rich quick program. There is no guarantee of financial success and results will vary widely among participants. A complete summary of earnings at each level in the Sales Performance Plan can be found at www.nuskin.com."
*Nu Skin is a for-profit distributor of nutritional and skin care products and is traded on the New York Stock Exchange (NUS). Nourish the Children is an initiative of Nu Skin and is registered in some states as a commercial co-venture. The initiative enables Nu Skin's sales force and customers to purchase VitaMeal from Nu Skin and donate it to charitable organizations to help solve the complex world problem of feeding malnourished children. The price of VitaMeal includes the cost of manufacturing, general overhead, distribution and sales. As is the case with other Nu Skin products, our sales force receive compensation and Nu Skin earns a profit margin from the sale of VitaMeal.