Skin Beneficial Tinted Moisturizer - Honey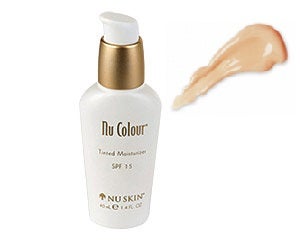 Tinted Moisturizer II Honey
Naturally sheer color. Mirror and reflect your natural skin tone with Skin Beneficial Tinted Moisturizer. This lightweight tinted moisturizer uses microprism powders to impart an even, healthy glow. While highlighting your true color, it also delivers skin-beneficial vitamins A and E, oil-free moisture, and SPF 15 to help prevent environmental damage.
Product Details
Benefits

Sheer tinted coverage reflects an even natural skin tone.
Weightless finish.
Oil-free moisture keeps skin feeling soft and supple.
Beneficial ingredients help protect skin and fight aging.
Long-wearing, talc-free, petroleum-free formula.
SPF 15 protects against skin-damaging UVA and UVB rays.

Usage

Smooth over face and neck area, blending at the jawline. Seal with a light dusting of powder.

Key Ingredients

Micro-prism powders reflect skin's natural tone, creating an even, healthy glow.
Vitamins A and E offer antioxidant protection to help fight the signs of aging.
Essences of lavender, lime, orange, tree moss, and frankincense offer soothing effects to the skin.