Tri-Phasic White Mask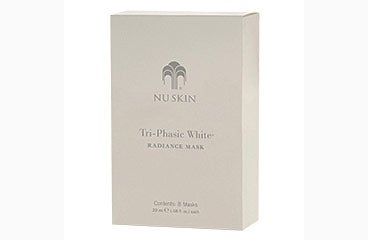 Tri-Phasic White® Radiance mask
Enjoy a relaxing, full facial treatment that unveils your skin's natural radiance with Tri-Phasic White® Radiance Mask.
Designed to enhance the benefits of your Tri-Phasic White® regimen, this moisturizing mask features a potent blend of ingredients that works to inhibit the activation and synthesis of skin discoloration.
Now you can reveal your brilliant, translucent skin tone and enhance skin softness and pliability.
Size: 8 mask sheets per box
Product Details
Key Ingredients

Portulaca oleracea (purslane) extract—a plant extract that targets the activation of discoloration by helping calm and soothe the skin.
Tetrahydrodiferuloylmethane (THDM)—a skin brightening ingredient that blocks the synthesis of skin discoloration by inhibiting tyrosinase, an enzyme that catalyzes the production of melanin.

Meadowfoamate complex—conditions and softens the skin while enhancing radiance and pliability.

Usage

Use twice a week in the morning or evening after cleansing and toning. Tear open pouch and remove moistened mask. Place on face, aligning holes in mask with eyes. Relax and leave on face for 5 - 15 minutes. Remove mask and dispose in trash (do not reuse). Massage remaining liquid on face into skin. Follow with treatment product of your choice.

Product Claims

Inhibits the activation and synthesis of skin discoloration.

Illuminates skin tone, promoting a radiant complexion.

Calms and soothes skin by minimizing irritation and redness.
Enhances skin softness and pliability by providing essential moisturization.