Epoch Blemish Treatment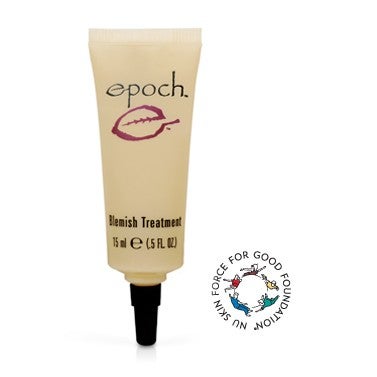 Epoch® Blemish Treatment
Diminishes the discomfort of breakouts. Once a pimple is formed, it needs to be treated kindly, or it will become more irritated and pronounced.
Epoch® Blemish Treatment combines proven pore-clearing acne medicine with Job's tears, used historically in Asia to reduce redness; yarrow, used for centuries to help soothe the skin; burdock, which helps clear up troubled complexions; and skin-soothing chamomile extract.
Size: 15ml
Nu Skin contribute US$0.25 from each Epoch® product sale to the Nu Skin Force For Good Foundation - giving back to the communities that share their wisdom with us.
Product Details
Key Ingredients

Job's tears— Rich with amino acids, and well known for its ability to target and help relieve the pressure associated with blemishes. Job's tears extract is a key ingredient in Epoch Blemish Treatment to help soothe the skin affected with acne blemishes.
Yarrow, burdock, and chamomile—these botanicals have been widely used for centuries by Native Americans to calm a variety of irritating skin conditions. Found in Epoch Blemish Treatment to treat and reduce the redness associated with troubled skin.
Salicylic acid—a medication clinically proven to effectively treat acne blemishes.

Usage

Apply directly to blemishes. Safe for frequent applications to affected areas.