Nu Skin 180 AHA Facial Peel & Neutralizer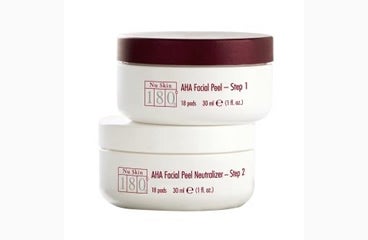 Nu Skin 180° AHA Facial Peel & Neutralizer
Looking for a dramatic, immediate way to turn your complexion around?
Wipe away dull, aged skin in minutes. Utilizing a 10 percent lactic acid solution, this scientifically proven formula sweeps away the appearance of aging and sun damage without the recovery time required by aggressive clinical peels.
Effective alone or as part of your Nu Skin 180° System, this powerful facial peel helps stimulate cell renewal and enhance collagen synthesis to create a smoother, younger look.
Size: 18 pads per bottle
Product Details
Key Ingredients

AHA Facial Peel (Step 1):
Lactic acid—this aggressive alphahydroxy acid stimulates cell renewal and breaks apart dead cell build up. Chemical exfoliation works to diminish the appearance of lines and wrinkles, improve texture, and reduce the appearance of pores.

AHA Facial Peel Neutralizer (Step 2):
Avena Sativa (Oat) Kernel Extract—rich in the antioxidant compound avenanthramides, this extract exhibits exceptional calming properties that soothe the skin and reduce topical sensitivity.

Usage

Use Nu Skin 180°® AHA Facial Peel and Neutralizer three times a week in place of Nu Skin 180°® Cell Renewal Fluid. Apply for six weeks.

Step 1 (AHA Facial Peel)
Use three times weekly after cleansing and toning. Apply one AHA Facial Peel pad over face and neck, avoiding the eye area. Allow solution to remain on the face for at least 10 minutes and follow with AHA Facial Peel Neutralizer. A mild tingling sensation may occur with application, which is normal.

Step 2 (AHA Neutralizing Pad)
After using AHA Facial Peel, apply one neutralizing pad over face and neck area. Follow with Nu Skin 180°® UV Block Hydrator or a Nu Skin® moisturizer of choice with SPF protection.

Product Claims

Promotes a youthful cell renewal rate.
Stimulates collagen production to diminish visible lines and wrinkles.
Helps retexturize rough skin.
Chemically exfoliates to lighten surface discoloration.
Suited for those who requires a more intensive anti-aging treatment.