36113523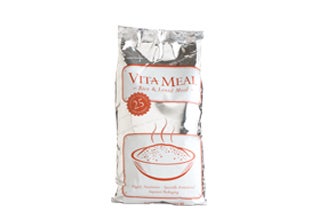 VitaMeal® for Contribution (1 bag)
Our Pharmanex® scientists consulted with world experts in child malnutrition and reformulated VitaMeals® to offer an ideal food solution. The new food has over three times the number of calories per serving! Fat per serving increased form 0 to 4.5 grams. It also contains a balance of carbohydrates, protein, and fat. We've increased the number of essential vitamins and minerals from 20 to 25. Children will receive twice the food -- from 1/2 cup serving to a one-cup meal -- over three times the calories. Each bag contains 30 child meals, and the new bag has 5 lbs. 3 oz. of food. That's 48% more.
Product Details
BENEFITS

Contains 290 calories per child meal and 590 calories in a youth or adult meal
Contains a balance of carbohydrates, protein, fat, and fiber
Provides essential fatty acids required for normal brain development, skin health, and immune defense
Provides electrolytes which are needed to maintain normal fluid balance and muscle function
Includes 25 essential vitamins and minerals
Provides vitamin A, which is essential for normal sight and immune functions
Provides bone nutrients for normal growth and skeletal development
Nutrients are microencapsulated to optimize potency
Kosher and Halal certified
Ingredients can easily be added for every taste and culture (vegetarian, non-dairy, etc.)
Superior packaging contributes to longer shelf life
Excellent for family and home storage use
Each bag (5lbs. 3 oz. ) contains 30 child meals of nutritious, delicious food

INGREDIENTS

Rice (45.3%), Lentils (35%), Rice Flour, Canola Oil (with Antioxidant - BHA), Seasoning Blend (Maltodextrin, Salt, Autolyzed Yeast Extract, Dehydrated Vegetables [Onions, Celery, Parsley, Spinach, Garlic, and Carrot], Potato Flour, Thickener ((Xanthan Gum), Emulsifier [soy lecithin]), Anticaking agent (Silicon Dioxide), Flavour enhancers [Disodium Guanlyate, Disodium Inosinate]), Vitamins (Vitamin A, Thiamin, Riboflavin, Niacin, Vitamin B6, Vitamin B12, Biotin, Pantothenic acid, Vitamin C, Vitamin D), Minerals (Calcium, Iodine, Iron, Magnesium, Phosphorus, Zinc).