OVERdrive®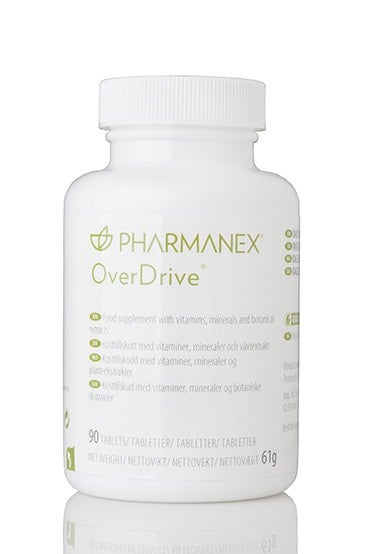 OVERdrive
Athletic performance depends on numerous important factors. One of the most important is proper nutritional status. Overdrive® is formulated to provide nutrients, including vitamins and minerals:

• Vitamin B5, B6 and B12 contribute to normal energy-yielding metabolism and to the reduction of fatigue and tiredness.
•Chromium contributes to the maintenance of normal blood glucose levels.
•Antioxidants like vitamin C and E and grape seed contribute to the protection of cells from oxidative stress.
•Grape seed extract contributes to a healthy blood pressure.
Product Details
Usage

Take one (1) tablet with water one hour prior to exercise. Maximum one tablet per day.

INGREDIENTS

Ascorbic Acid, Bulking Agents (E460), Papaya Extract, Pineapple Extract, Dicalcium phosphate, Bulking agent: E466, Magnesium Sulfate, Magnesium Oxide, Brewer's Yeast, Citrus fruit extract, ), d-alpha-tocopheryl acid succinate, Anti-Caking Agents (E470b), Beta-carotene, D-Calcium Pantothenate, Grape Seed Extract, Pyridoxine Hydrochloride, Thiamine Mononitrate, Riboflavin, Chromium chloride, Cyanocobalamin.

WARNINGS

Do not exceed the recommended daily dose. A food supplement should not be used as a substitute for a varied and balanced diet and a healthy lifestyle. Do not use if safety seal is broken, damaged or missing. Keep away from heat and humidity. Keep out of reach of young children. This product contains vitamin A. Do not exceed the recommended dose of vitamin A when you are pregnant or likely to become pregnant. Consult a doctor before using this product if you are pregnant, lactating, diabetic, hypoglycaemic or under medical treatment.