Nutriol Hair Fitness Treatment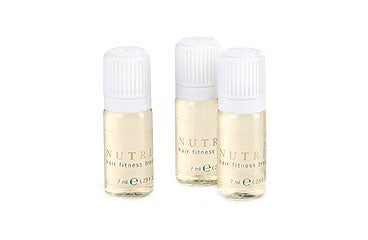 Nutriol Hair Fitness Treatment 12 x 7ml
Works with the Hair Conductor to accelerate the initial onset of benefits by facilitating the transport of key ingredients to the scalp.
Product Details
Product Claims

Promotes healthy, abundant hair.
Revitalizes and strengthens hair.
Increases the availability of key nutrients and vitamins to the hair follicle.
Remineralizes and hydrates hair, improving volume and shine.
Safety-allergy-dermatologist tested.

Key Ingredients

Tricalgoxyl, rich in kelp sulphated oligosaccharides (polysaccharides), was developed by a European laboratory with over 40 years of experience in the field of trichology (the study of hair and scalp treatment). Derived from a particular species of brown algae (seaweed) grown and collected on the Iroise BiosphereReserve in France, Tricalgoxyl works with other essential ingredients to remineralize the scalp and help hair regain its natural health, strength and shine.

Direction for Use

Usage for Women
Attack phase: one bottle every other day for eight weeks*
Maintenance phase: two bottles per week for four weeks
*Usage for 1 box of Nutriol Hair Fitness Treatment per month.

Usage for Men
Attack phase: three bottles per week for eight weeks*
Maintenance phase: two bottles per week for six weeks
*Usage for 1 box of Nutriol Hair Fitness Treatment per month.

When to Apply?
Treatment may be used continually. Duration of treatment should be evaluated on the basis of the results obtained. Minimal recommended use is two cycles of treatment per year (spring and fall). Each box provides 12 treatments.

Clinical Test

Note: This clinical is not allowed in the United States, please check with legal counsel in your market before using this study.

Clinical Results:

In a clinical study conducted by Foltene Laboratories on Tricalgoxyl, researchers found the following after 90 days of treatment with the active ingredient:

An increase in the number of hairs in anagen (growth phase) from 22.1% to 32.4% (10.3%).

A decrease in the number of hairs in telogen (falling phase) from 77.8% to 67.6% (10.2%).

Demonstration

The bioavailable mineral content of Nutriol Hair Fitness Treatment can be measured with a conductivity pen (available on the Internet). Follow the steps below:

Remove Hair Fitness Treatment cap without releasing powder. Pour the solution into a glass jar with a wider opening.
Dip conductivity pen into solution - record measurement.
Using a new bottle of Nutriol Hair Fitness Treatment, release the powder into the solution. Shake until mixed.
Remove cap and test the conductivity.
Compare this result with the solution-only measurement.

Minerals, when dissolved in solution, help conduct an electrical charge. A higher mineral content will create a higher conductivity. Nutriol Hair Fitness Treatment has a high conductivity, demonstrating that it is nutrient and mineral rich. Research indicates the hair follicle requires multiple nutrients and minerals for optimal vitality and abundancy.

FYI

Unique Sea Story
The ocean is the largest deposit of life resources on our planet and also the last exploited by man. This incredible rich "eighth"continent is the cradle of life. It is in fact from the sea, three million years ago, that the first form of life developed: microscopic algae. Because of an extraordinarily rich composition, all the essential life elements are contained in algae.

Hair Physiology
Each hair follicle cycles through 3 phases:
Anagen phase – active growth (3-7 years).
Catagen phase – transition/growth stops (2-4 weeks).
Telogen phase – resting, then fallout (3-4 months).

Hair is continually shed and renewed in alternating cycles of growth, rest, fallout, and renewed growth. Clinical studies have shown optimal nutrition to the hair follicle may help extend the anagen (growth) phase of the hair growth cycle. The longer hair remains in this phase, the thicker and fuller hair will appear.