37182445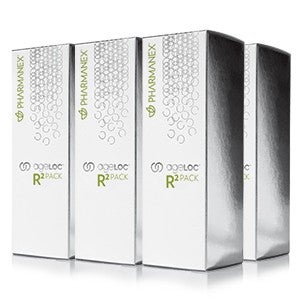 ageLOC® R-Squared PACK 500 PSV (6 BOXES)
Are you ready to feel and live younger? To remind your body how to act young again? To experience the freedom of your mind and body working together at their absolute best? You're not alone. One noticeable sign of aging is that we lose our youthful spark; we begin to feel flat, sluggish, and out of tune. Starting today, you have the power to feel young again. ageLOC® science identifies, targets, and promotes Youth Gene Clusters (YGCs) to retune your youth—helping you feel healthier, younger, and more vibrant than you have in years.
As we age, the expression, or activity, of our genes changes and this affects our ability to feel young. ageLOC® R2 Pack is a powerful product combination that works by promoting the YGCs related to cellular purification and cellular energy production toward a more youthful time. Taken in the evening, ageLOC® R2 optimizes each cell's natural purification process, helping you start each day feeling refreshed and renewed. Taken in the morning, ageLOC® R2 Day optimizes cellular energy production to help you recharge and take control of a new day. Renew and recharge with ageLOC® R2 Pack.
Be part of a true revolution in anti-aging. If you want to feel younger longer, you need ageLOC® R2 Pack. Available only through Nu Skin, ageLOC® is the perfectly balanced opportunity that combines proprietary products and exclusive, breakthrough science.
(Note: R2 is pronounced "r-squared.")
Product Details
Benefits

Targets aging at its source.*
Promotes healthy YGC expression related to cellular purification and cellular energy production.*
Helps you feel younger and more vibrant—renewed and recharged.*
Promotes three dimensions of vitality that typically decline with age—physical vigor, mental acuity, and sexual health.*
90% of consumers felt positive changes in fatigue levels while taking the product or noticed an increase in fatigue after discontinuing use.2
Raises and sustains baseline energy levels.*
Supports the body's ability to neutralize and remove cellular waste and toxic byproducts.*
Helps protect and fortify cells against damage from external toxins by improving the body's own protective mechanisms.*
Helps restore normal cellular function.*

*These statements have not been evaluated by the Food and Drug Administration. This product is not intended to diagnose, treat, cure, or prevent any disease.

Directions For Use

Suggested Dosing: Take six (6) ageLOC® R2 Day capsules in the morning, and take two (2) ageLOC® R2 capsules in the evening.

WHO SHOULD USE THIS PRODUCT?

Men and women over the age of 18 who have ever felt tired, weighed down, sluggish, or the inability to fully engage in an active life, and who want to feel youthful and vibrant.